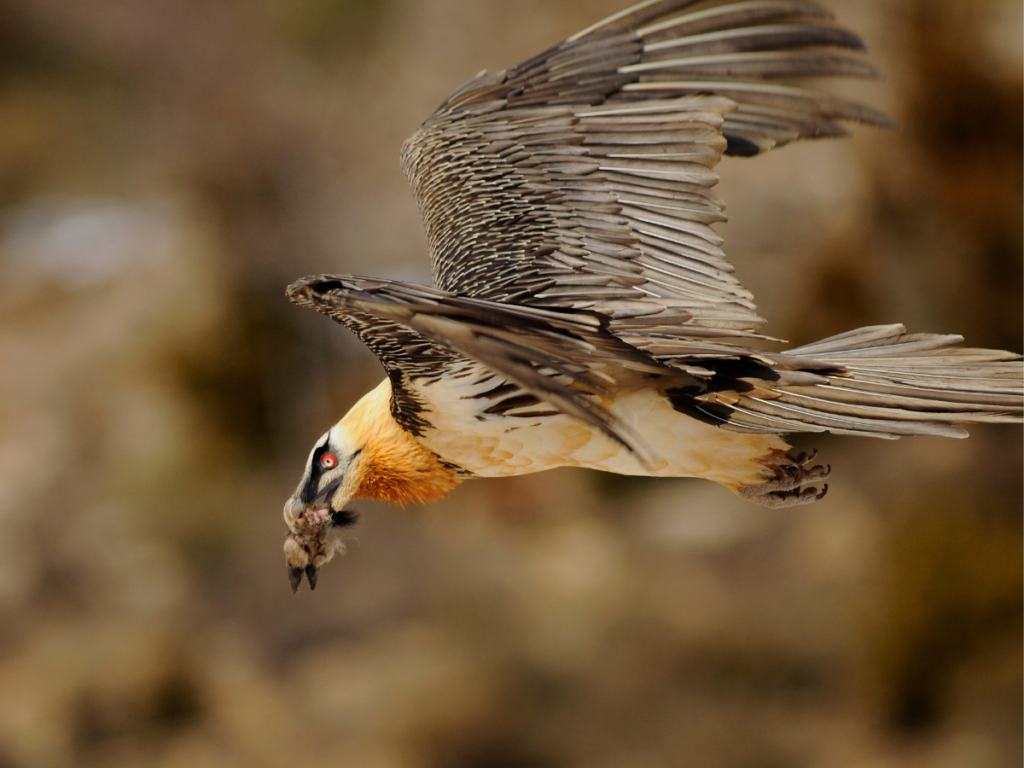 A recently published scientific paper confirmed the presence of a Bearded Vulture (Gypaetus barbatus) nesting site in Portugal, 29.000 years ago. Through the analysis of coprolites (fossilised faeces), the archaeological site "Lagar Velho," a rock shelter in Lapedo Valley (Leiria – Portugal) used by Upper Paleolithic hunters-gatherers for short-term stays, became the oldest place in the Iberian Peninsula with the proven presence of a Bearded Vulture nesting-site.
Characterisation of coprolites confirms the presence of a Bearded Vulture nesting site in Portugal 29.000 years ago
Since 2018, large quantities of coprolites have been found in archaeological excavations at Lagar Velho, a well-known area where significant remains of human occupation from the Upper Palaeolithic were found. To analyse the coprolites, researchers did a direct comparison with modern Bearded Vulture scats. The cylindrical shape, diameter, pointed extremities and homogenous porous texture were some of the criteria that enabled identification.
Researchers have also highlighted the coprolites' massive internal texture, their hard consistency and a total absence of bone inclusions, attributable to Bearded Vultures' highly acidic stomach (pH less than 1), capable of dissolving and digesting bones. Therefore, the main inorganic component in the analysed scats and coprolites were calcium phosphate compounds, a large component of bones and teeth.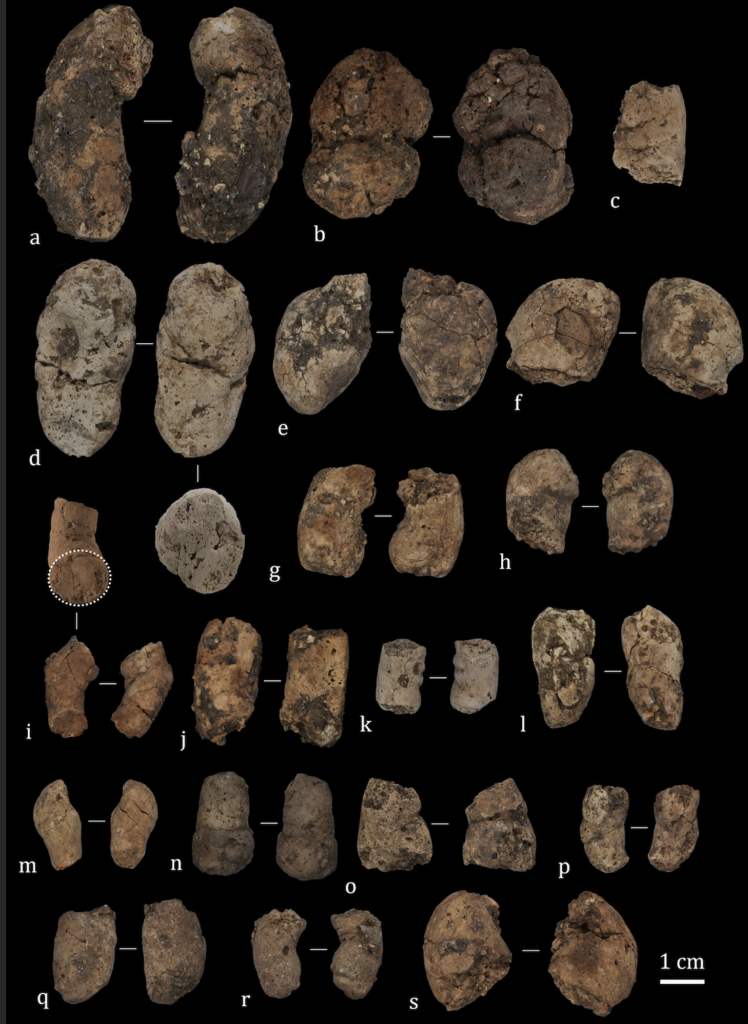 Bearded Vulture, the bone accumulator
As scavengers, Bearded Vultures feed only on carcasses, but unlike other Vultures in Europe, they have a bone-based diet, a competitive advantage that allows them to thrive even in the most remote mountain ranges and rough climate conditions. While the meat and soft tissues of a carcass can quickly decay, dry bones and marrow are edible for longer periods and can retain 90% of the protein found in fresh bones. They acan swallow and digest bones the size of a sheep's vertebrae!
Bearded Vultures build their nests in caves, rock shelters or on the overhangs of steep cliffs. They tend to accumulate bones in the nest, primarily for adult feeding, of which some will be consumed, regurgitated or digested, and some will never be consumed. At Lagar Velho rock shelter, located at the base of a limestone cliff, besides the coprolites, other bones and regurgitations were also found, confirming the presence of a nesting site. Previous studies in caves in Spain, France and Crete, reinforced the Bearded Vulture as a bone accumulator agent in archaeological sites.
A new morphotype of coprolites has been proposed
The analysis of scats is a non-invasive technique that provides useful information for biologists on species' health, diet, and dispersion. In archaeology, however, coprolites have attracted little attention and few articles are published. In the scientific article, researchers proposed a new morphotype of coprolites (morphotype 4) based on features that allow the differentiation between other carnivores, hyenids and non-hyenid.
The identification of coprolites at Lagar Velho shelter complemented previous investigations and reinforced the importance of their analysis in archaeological and paleontological sites. The new morphotype proposed will certainly be useful for the investigation of other sites and help shed light on past interactions between hunter-gatherers and Bearded Vultures.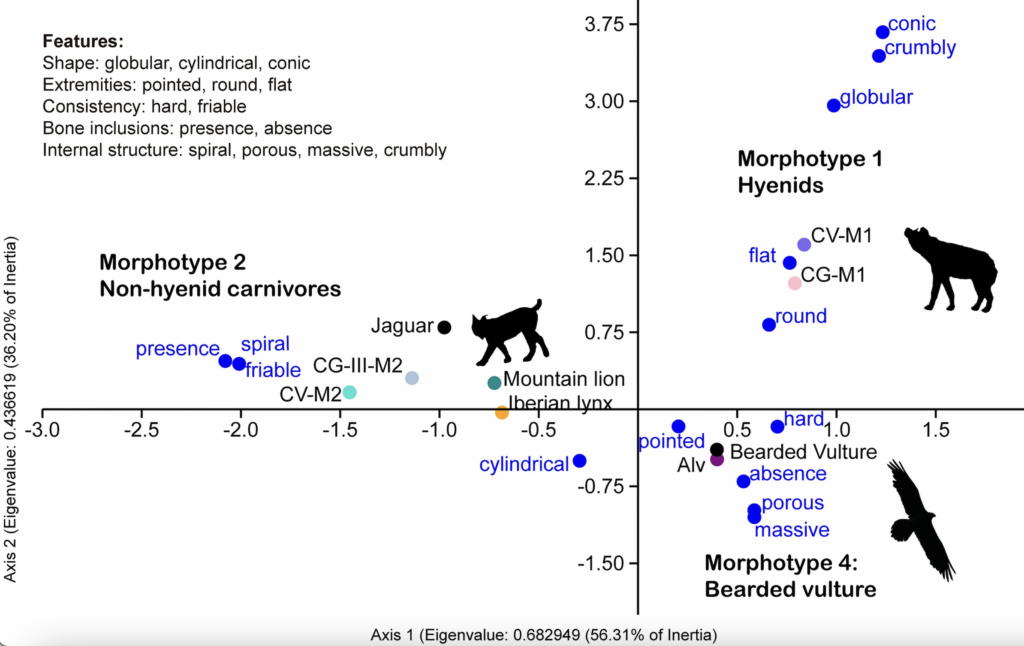 Bearded Vultures in Portugal
Once distributed across the entire Iberian Peninsula, the Bearded Vulture became extinct in Portugal at the end of the 19th Century. Food availability, animal husbandry and human persecution were the main reasons for the species' decline. The last two individuals, shot by King D. Carlos I in Southern Portugal, can be visited at the Science Museum of Coimbra University.
Over the last 100 years, there were 9 observations of Bearded Vultures crossing Portuguese skies, vagrants from the population established in Andalusia. Transhumance, a GPS tagged Bearded Vulture was one of the last observations, although many others fly over the country unnoticed.
Source
Sanz, M., Daura, J., Costa, A.M. et al. The characterization of bearded vulture (Gypaetus barbatus) coprolites in the archaeological record. Sci Rep 13, 57 (2023). https://doi.org/10.1038/s41598-022-25288-x