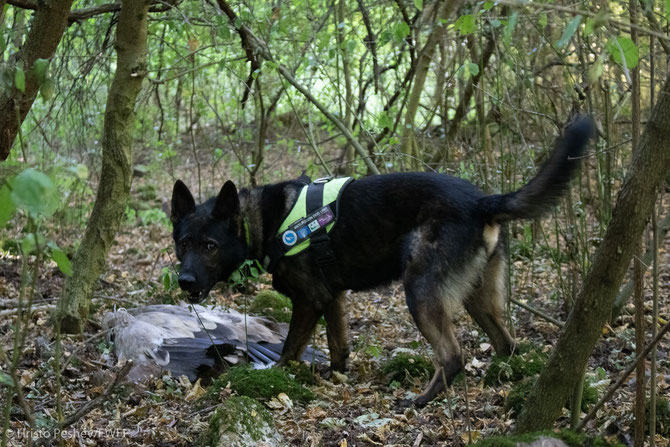 The illegal use of poison baits is the most significant threat for vultures worldwide – this was the conclusion of the Vulture Multi-Species Action Plan (Vulture MsAP), co-developed by us at the Vulture Conservation Foundation (VCF) and endorsed by the CMS. Not only that, poisoning threatens other wildlife, and it also poses a severe threat to public health.
There are different ways to tackle the issue of illegal wildlife poisoning, and one of the ways is through dog units!
Anti-poisoning dog units
Despite being illegal, poison baits are frequently used to kill predators such as foxes and other animals that are perceived as a threat to livestock. This, in turn, can have adverse consequences on wildlife and vultures, which forage widely for such carrion.
Dog units are widely used in certain regions to fight illegal wildlife poisoning. For instance, in Andalucia, Spain, dog units, alongside handlers, inspect daily rural and remote areas in search of illegal poison and are considered the experts in Europe. Dogs can help detect poison baits, which can help prevent or minimise the impact of wildlife poisoning incidents.
Dog units are an essential component in many vulture and wildlife conservation initiatives. These include the LIFE Imperial Eagle Project in Hungary LIFE Re-Vultures in the Eastern Rhodopes, LIFE Against Poison Crete, the Egyptian Vulture New Life including dog units in Bulgaria and Greece, thanks to the LIFE Under Griffon Wings Project one dog unit is operating in Sardinia Italy. LIFE With Vultures in Cyprus will also set-up an anti-poison dog unit to improve the process for responding to and handling poisoning incidents.
Spanish Anti-Poisoning Dog Unit Meeting
The VCF participated at a recent Anti-Poisoning Dog Unit Meeting in Spain that took place in the Spanish Ministry of Environment (Ministerio de Transición Ecológica). WWF Spain organised the meeting as part of the MAVA poisoning project, and the meeting's objective was to improve the coordination at the national level.
The event brought together experts from different regions as well as the canine units from Guardia Civil and discussed ways to improve the results obtained by dog units in the fight against poison/poisoning. Junta de Andalusia was once again presented as the best example for dog units searching for poison, and Iñigo Fajardo gave a fantastic presentation.
To improve coordination and operation across the various anti-poisoning dog units in different regions, the Ministry took the responsibility to organise a technical meeting, establish a working group and work on a coordination manual.
There were also very interesting examples and practices presented by various organisations from different regions. In Castilla La Mancha, they have eight dogs that proved valuable in the fight against poisoning. Thanks to their dog unit, they managed to minimise the poisoning incidents by 70% in the Albacete province.
We want to thank WWF Spain for the kind invitation to attend this important meeting as well as all the organisations that shared their valuable insights on the issue.
Sign up to our newsletter and never miss any vulture news!