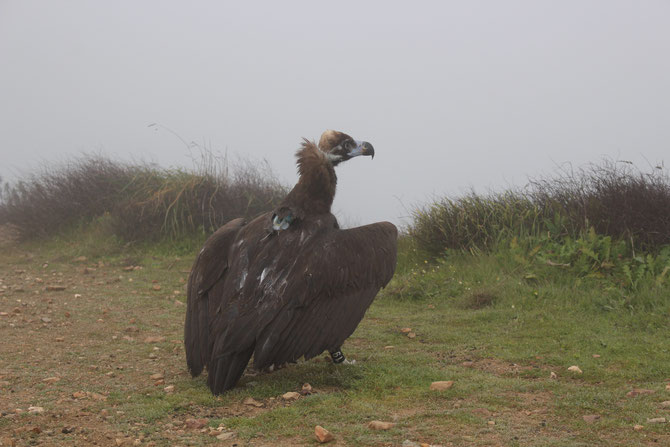 The day dawned foggy and mysterious on 14 January, when yet another Cinereous Vulture, considered Critically Endangered in Portugal, was released in Mértola after a rescue and rehabilitation mission gave it a second chance at life. Ahead of its release, the vulture was also equipped with a GPS tag, enabling conservationists to know if it ever needs assistance again while also helping better understand Portugal's small population, which naturally recolonized the country following the species' extinction.
Rescue, rehabilitation and release of Cinereous Vulture and Griffons
Several Griffon Vultures and a Cinereous Vulture were recently found weakened and malnourished in Portugal. The Griffons had been collected exhausted in different areas of southern Portugal (Baixo Alentejo & Algarve), while the Cinereous Vulture had been collected in Serpa (Alentejo). They were rescued and transferred to the wildlife rehabilitation centre RIAS to recover.
After the vultures were nursed back to health, staff from the ICNF -Instituto para a Conservação da Natureza e Florestas (the Portuguese government agency for nature conservation) and wildlife rehabilitation centre RIAS released the birds at Mértola, in southern Portugal.
The team did not hesitate to baptize the Cinereous Vulture Bruma (fog). This Cinereous Vulture was equipped with a tag provided by us here at the Vulture Conservation Foundation (VCF) and then released from a vantage point overlooking the Guadiana River in Mértola, together with 5 Griffon Vultures. The area is a frequent foraging ground for wintering Griffon and Cinereous Vultures.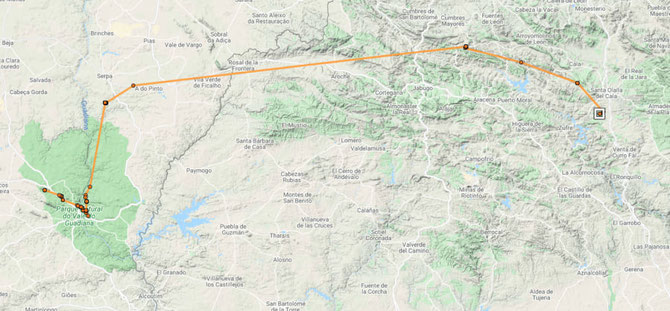 Thanks to Bruma's GPS tag, we are now tracking the fascinating movements of yet another young Cinereous Vulture in Portugal that already moved to the east following its release and reached Spain.
Cinereous Vultures in Portugal
Cinereous Vultures became extinct as a breeding species in Portugal in the 1970s, mostly due to the widespread use of poisoned carcasses targeting unwanted predators. This practice is now illegal and hopefully decreasing.
An increasing population in Spain saw the species regularly visiting Portugal to forage, with the first pair breeding recorded in central Portugal (Tejo Internacional) in 2010 (where now there is a small colony of about 20 pairs), and then in the Douro canyon in north-eastern Portugal (two pairs there now). In 2015 the species recolonized Herdade da Contenda in south-eastern Portugal, and has bred there successfully ever since – there are now at least ten breeding pairs there.
Monitoring Cinereous Vultures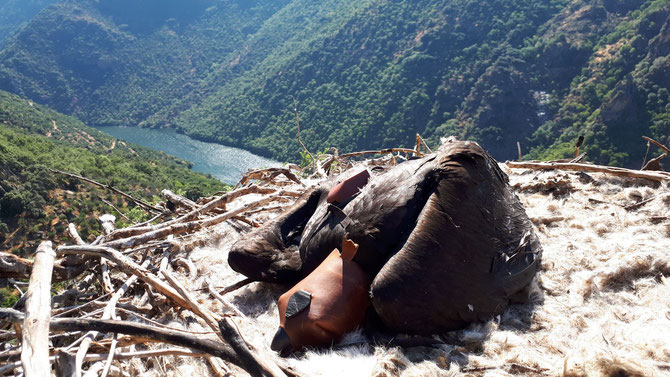 Over the last few years, Portuguese conservationists have been trying to monitor closely the growing Cinerous Vulture populations. With the help of the VCF and the MAVA Foundation, tags have been deployed in 12 Cinereous Vultures – 5 nestlings from the Douro and Contenda colonies, and 7 Cinerous Vultures coming from wildlife rehabilitation centres. The transmitter weighs only a few grams and yet it provides invaluable information that will help inform more accurate conservation actions. With the data provided, we understand the movements, foraging ranges and habits of these birds, and it also allows us to detect when the vultures are no longer moving and potentially injured. The data also reveals any threats the vultures may face during travelling, providing insights that will allow conservationist to carry out actions that reduce risks and help support the species comeback in the area.
You can follow the movements of Bruma and all those Cinereous Vultures by visiting our online public maps.
Working for the recovery of Cinereous Vultures
With the recovery of the species in Spain, there has been a range of conservation projects supporting the conservation of the Cinereous Vultures in Portugal such as the cross-border LIFE Rupis project in the Douro Canyon. The Liga para a Protecção da Natureza (LPN) also led on the LIFE Habitat Lince Abutre, which came to an end in 2014. This project established a network of 10 feeding sites and constructed 30 artificial nesting platforms in southern Portugal, which were instrumental to the successful breeding of pairs in Contenda.
Wildlife rehabilitation centres like the one run by RIAS also play an important role in the efforts to conserve Cinereous Vultures and other vulture species, as they often receive and rehabilitate injured or weakened vultures that are found across Iberia. One year ago, RIAS rehabilitated and released another Cinereous Vulture (named then RIAS, after the centre) – this bird is currently in Spain, in the Monfrague area.