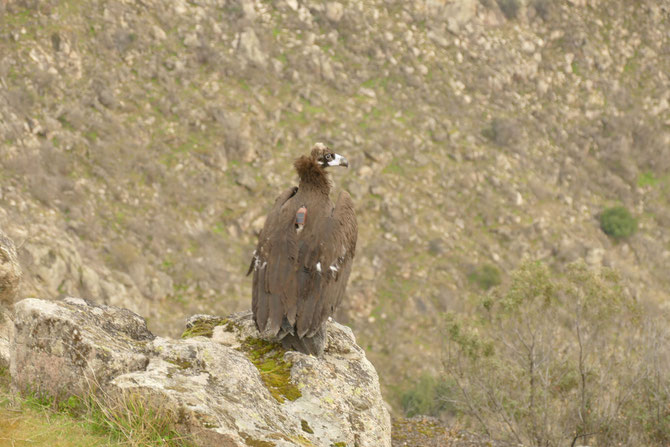 Do you remember the Cinereous Vulture Carrascalinho? Well, he was responsible for bringing together conservationists, authorities and stakeholders from the energy sector in aid of vulture conservation. Last summer, he was flying in the face of danger, soaring between wind turbines in Northwest Spain. To prevent a possible collision that could lead to severe injury or death, we managed, together with our Spanish partners, to shut down the turbines temporarily. Once again, thanks to the GPS tag on his back, we noticed that the young vulture is undertaking new adventures, recently visiting the stadium of Real Madrid.
Carrascalinho's story
The juvenile Cinereous Vulture was recovered in the Porto area and re-released in the LIFE Rupis project area in January 2019. Ahead of his release, the bird was equipped by Associação Transumância e Natureza (ATN) with a GPS transmitter, provided by the Vulture Conservation Foundation and funded by the MAVA Foundation, to monitor his movements. Since then, the bird has moved extensively in northern Spain, even travelling as far as Bilbao! Last summer, the bird was attracted to the Serro do Cando in Galicia Autonomous Region, apparently due to an abundance of carrion, and this is when he was moving hazardously close to the wind turbines. Since then, the VCF continued to monitor his movements closely to ensure his safety. He has traversed a large area across central Spain, spending the most time in Extremadura and Salamanca regions, but also briefly visited the same wind farm in Galicia that it frequented last year. A couple of days ago, he flew over the Spanish capital.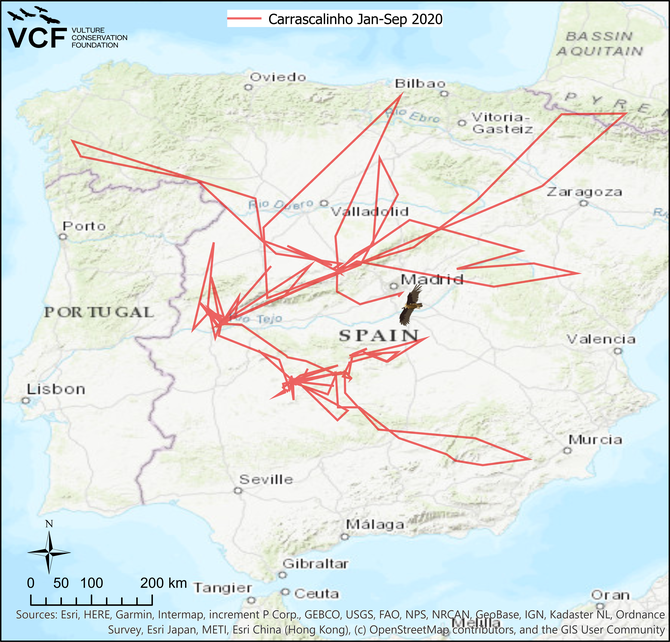 Carrascalinho visiting Real Madrid's stadium
The young Carrascalinho recently soared above Madrid. He approached the Spanish capital from the south, after spending a few days foraging in the Dehesas south of Madrid, and passed on top of the Retiro Park and of Atocha – one of the busiest crosses in Madrid. He then followed the famous Paseo de la Castellana, flying above Real Madrid's Estadio Santiago Bernabéu at a height above ground level of 900 metres, before continuing north towards El Pardo and the Sierra Madrileña.
Since Spain is the vulture land of Europe, hosting approximately 90% of the continent's population, seeing vultures, especially Griffon Vultures in cities, is not that rare. With the Cinereous Vulture population increasing in Spain in recent years and reaching approximately 3,000 pairs, the largest European raptor can also be seen in cities. Cinereous Vultures cover vast distances in search of food, and young vultures wander extensively, exploring new areas.
This might also lead to vultures encountering some perhaps unexpected threats. For example, on the 8th September just before 16:00 Carrascalinho travelled directly over Madrid-Barajas International Airport at the height of ~850 metres above ground level, presenting a possible risk of colliding with the many aircraft flying overhead! This is an area of concern, which is currently being investigated by a group of researchers in Spain, and VCF have contributed data to the project.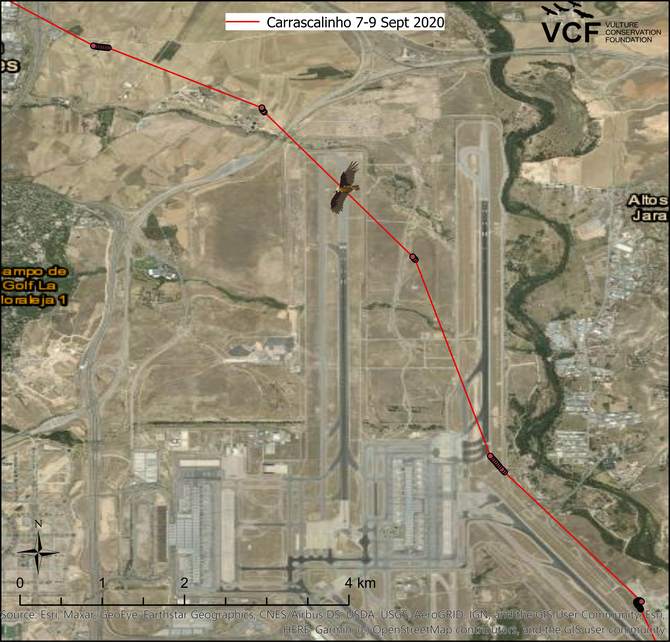 Thanks to GPS technology, the VCF monitors all European vulture species, tracking their exciting movements across Europe and beyond.
You can keep track of the travels of Cinereous Vultures by visiting our online public maps.