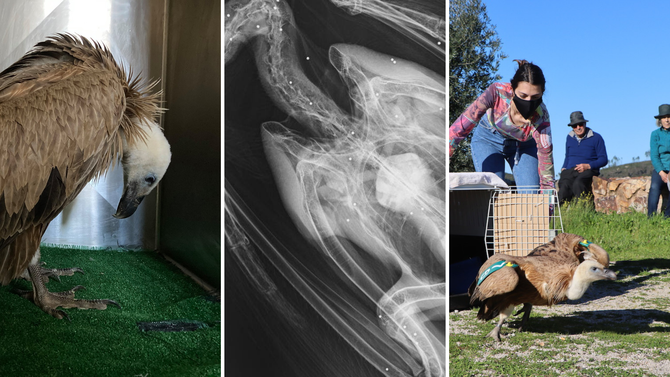 A juvenile Griffon Vulture found weak in Portugal experienced a troubling incident early on in life. This individual was a victim of illegal shooting, with 38 lead shot pellets dispersed in his body, which resulted in lead poisoning. But the story had a happy ending since the Griffon Vulture was rescued and rehabilitated in time, allowing for his return to the wild!
Rescued
At the beginning of November 2020, a weak, underweight and dehydrated Griffon Vulture in Portugal needed urgent help and was swiftly transferred by Instituto da Conservação da Natureza e das Florestas (ICNF) to the CERAS wildlife rehabilitation centre in Castelo Branco.
Rehabilitation
The initial examination, which includes an X-ray, revealed that this juvenile vulture was a victim of illegal shooting, with 38 shot pellets scattered across his body. Thankfully, for the unlucky yet lucky vulture, the shot pellets didn't hit any vital organs, nor did they cause injuries that could make the bird unreleasable. However, as the team discovered by further testing, these were lead shot pellets. The laboratory quantification of lead confirmed the bird's high exposure to this heavy metal, which corresponded to subclinical intoxication caused by some of the pellets in his body. When lead is absorbed, it can affect the entire organism, damaging general health as well as reproductive and mental capacities. 
The team had to act fast to save the bird's life, but they faced another hurdle. CERAS provided the necessary fluids and vitamins to help the bird recover. Still, they also needed calcium disodium EDTA, a lead chelating agent used to treat such poisonings, but there was a problem as it is not available in Portugal. They reached out to us here at the Vulture Conservation Foundation (VCF), asking if we could provide this medication, which we did. Now, months after the hard work and constant care by the team at CERAS, the Griffon Vulture regained his strength and made a full recovery!
Release
This male Griffon Vulture was baptized Tiroteo to symbolize his survival from the shooting. Ahead of his release back to the wild, CERAS equipped the vulture with a unique ring and wing tags to be able to identify him in the future.
Last Tuesday, on 23 February, they released the bird in Vila Velha de Ródão, an area close to the rescue site and where a Griffon Vulture colony is present. There, Tiroteo, who hatched last year, will be able to join other juveniles of the same species while the adults are busy these days taking care of their nests and eggs.
Fighting illegal bird killing
We here at the VCF are working alongside multiple partners to minimize illegal bird killing along key migratory flyways. One large-scale project funded by the MAVA Foundation is now underway, with actions in many countries, including communications campaigns, increased enforcement on particular black spots, training of enforcement agencies, and lobbying for strengthening environmental protection legislation and regulations.
Tackling the threat of lead poisoning
We are committed to tackling the threat of lead poisoning as it poses a limiting parameter in the conservation of vultures in Europe. We are working together with many partners towards a gradual and consensual elimination of lead ammunition from vulture habitats. We have also contributed to calls for evidence from the European Chemical Agency (ECHA) of the European Union. More information on what is currently being done as well as VCF's future goals regarding minimizing this threat can be found in this blog post.
Although everything turned out in the end, it is unacceptable that a protected species was illegally shot. When such cases occur, thorough investigations should take place to identify and prosecute the criminal(s) responsible to help deter similar instances from occurring in the future! This case also highlighted the danger lead poisoning poses to vultures and the urgent need to tackle this threat.
Sign up to the VCF's newsletter to stay tuned with Europe's vulture species!