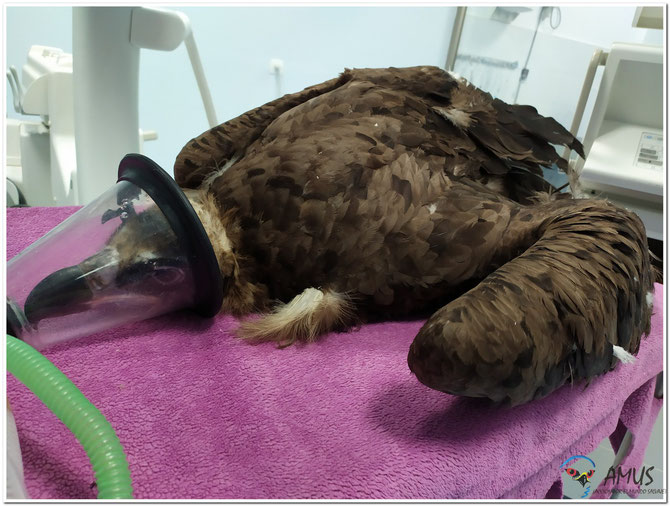 Electrocution poses a significant threat to vultures and other birds, but it is often overlooked and undocumented. For example, in Spain, only 20% of the mortality caused by electrocution is recorded. In the unlikely event where a vulture manages to survive the shock, it is difficult to nurse it back to health and requires intensive treatment. One of the latest victim, a Cinereous Vulture in Spain, is currently under the care of the AMUS staff who work around the clock to save this bird. Will this bird make it?
Rehabilitation of electrocuted Cinereous Vulture
Electrocution with power lines is considered one of the leading and most deadly threats to birds. It is very challenging for electrocuted birds to make a full recovery as injuries can be morbid and lead to amputations in the affected areas.
A Cinereous Vulture was recently rescued in Spain and admitted to AMUS for rehabilitation on 1 May 2020. The team have a complicated task ahead as the bird was gravely wounded. The bird had a severe injury to the elbow joint of its right wing. The team at AMUS already operated on the fractures wings, and now a long recovery phase awaits. The team will continue to take care of the vulture to see it fly again in the wild.
Threat of electrocution
The Vulture Multi-species Action Plan, co-developed by the VCF and endorsed by the Convention for Migratory Species, concluded that electricity infrastructure, particularly electrocution and collision, are an overlooked threat to vultures.
Unsecured pillars are just one of the many threats that vultures and other birds face daily. Unfortunately, vultures and other birds are not always able to see the wires in front of them, which causes collisions. When flying or landing on dangerous pillars, birds often touch the wires and die as a result of an electric shock. These incidents have adverse effects on the populations of protected bird species, including vultures, so it is important to reduce and eliminate any potential threats.
This threat is relatively easy and cheap to mitigate, as the insulation of cables in high-risk poles is relatively easy and inexpensive. In the long term, selecting pole designs that are less dangerous, or even burrowing lines in high-biodiversity areas seem better options. There are many projects, including our own LIFE-funded projects such as LIFE Rupis, Vultures Back to LIFE, LIFE GYPHELP and LIFE Re-Vultures, that are working to tackle the threat of electrocution with electricity infrastructure. The MAVA Foundation is also funding projects across the eastern Mediterranean flyway to minimise the threat of electrocution.
In Spain, the SOS tendidos initiative, a consortium of Spanish NGOs such as SEO, WWF, AMUS and GREFA, among others, are actively working against electrocution and collision – something similar that was established 20 years ago on poisoning called SOS veneno.
Sign up to our newsletter and never miss any vulture news!