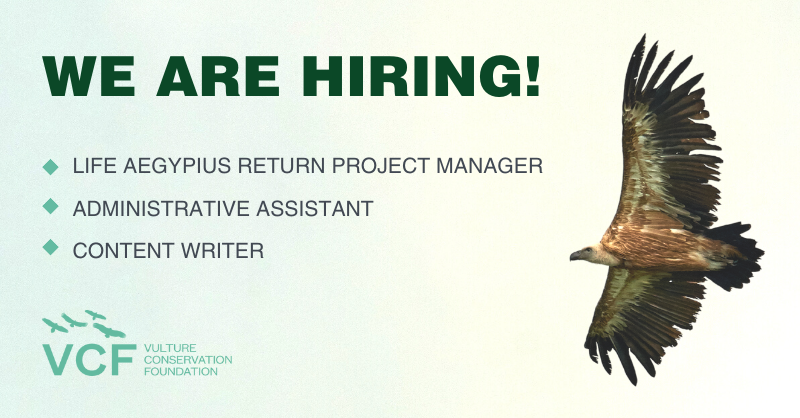 Our team is growing! The Vulture Conservation Foundation (VCF) has three new job openings: LIFE Aegypius Return Project Manager, Administrative Assistant and Content Writer.
The VCF is the leading organisation dedicated to vulture conservation in Europe and is now managing several large-scale projects, including EU-funded LIFE projects, in many different countries. As the VCF's project portfolio, activities and ambition have been steadily growing, so has its team. We are now looking for three new experienced and versatile staff members to help us carry out our work and reach our goals!
LIFE Aegypius Return Project Manager (Remote in Portugal)
We are looking for an experienced Project Manager to manage on the ground a new LIFE-funded project starting in Portugal/Spain.
Administrative Assistant (Remote in Spain)
We are seeking to hire a qualified Administrative Assistance to strengthen our administrative capacities in Spain.
Content Writer (Remote in Europe)
We are searching for a digital savvy Content Writer to contribute to our communication goals.
If you are passionate about vulture conservation and are qualified for one of our open vacancies, we would love to hear from you!