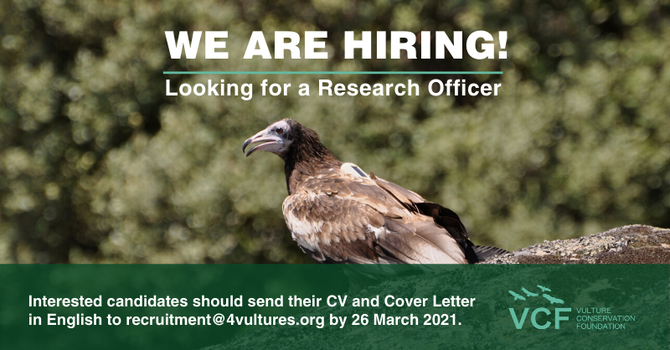 The Vulture Conservation Foundation (VCF) seeks to recruit an ambitious and versatile conservation scientist to support the organisation's scientific and research work on vultures.
About the Vulture Conservation Foundation
The Vulture Conservation Foundation is an international NGO and the leading organisation on vulture conservation in Europe. The VCF has extensive experience in captive breeding, reintroduction and restocking of vultures, protection and preservation of vultures in their natural habitats, and is involved in many large-scale vulture conservation projects across Europe, from Portugal and Spain to the Alps and throughout the Balkans to Greece and Cyprus.
About the job position
We are currently looking for a qualified, experienced and motivated candidate to join our team as the Research Officer. The successful applicant will manage and analyse complex datasets, produce technical reports and co-author scientific publications. Another vital aspect of the role is promoting and leading research collaborations amongst several institutions to facilitate applied research, helping inform effective conservation action at local, regional and cross-continental scales.
If you are interested, please download the job description below to review the detailed Job Description. The deadline for applications is Friday, 26 March 2021.
Research Officer – Job Description
Job Description of Research Officer .pdf
Adobe Acrobat Document 128.3 KB