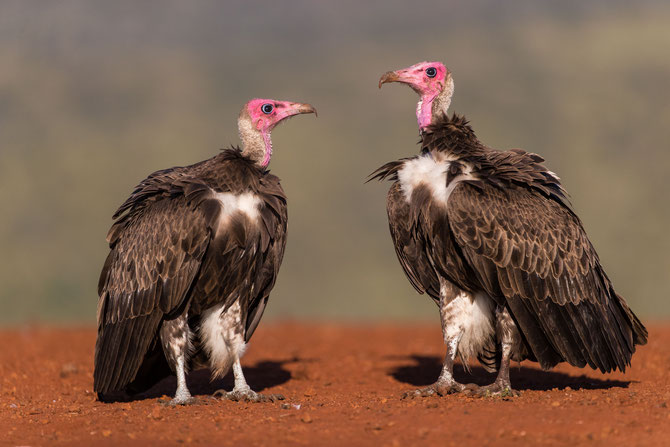 It started with 200 vulture deaths on 23 February and suddenly rose to 400 then 600 and now nearing 1000 vulture mortalities – this is the sad reality that hit Guinea-Bissau over the past few days. It seems, that there was no mortality registered in the last few days, which is an encouraging sign. Worryingly, however, the cause of death is still unidentified and it may continue to kill vultures. It is crucial to identify and neutralise the cause(s) of mortality immediately to avoid further vulture deaths. This unprecedented and significant mortality incident poses a severe blow to the already vulnerable conservation status of vultures in Africa, both nationally and regionally.
The Vulture Conservation Foundation (VCF) has been actively following the incident, coordinating information among relevant stakeholders and supporting the authorities.
Dead vultures found in different regions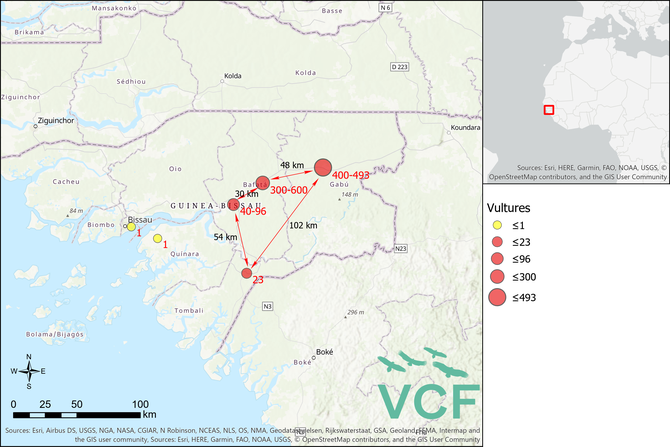 On Friday 28 February the VCF reported that 648 vultures met a tragic end from this phenomenon, but since then the situation progressed. So far, almost 1000 vultures died, with the location of mortality dispersed in different regions. Vulture mortalities include 300 – 600 in Bafatá, 400 – 493 in Gabú, 40-96 in Bambadinca and 23 in Quebo. Vultures were found in groups, mostly in the outskirts of the towns, with some further away in the surrounding fields.
Authorities swiftly responded despite political instability
A big thank you goes to the authorities in Guinea-Bissau who reacted swiftly to the incident despite the difficult circumstances the country is currently facing. These mass vulture deaths coincided with days of significant political instability when the country's institutions were paralysed, and when travel across the country was not advisable. Still, veterinarian services, health services and National Guard managed to collect hundreds of corpses last week and incinerated them to help prevent further mortality and contamination. Some reported that "vultures were bubbling from their beaks while dying", and that they "seemed to search for water". Most, if not all of the dead birds, seem to be the Critically Endangered Hooded vulture (Necrosyrtes monachus) and this incident can deal a significant blow to its status in West Africa but there is no objective tally per species.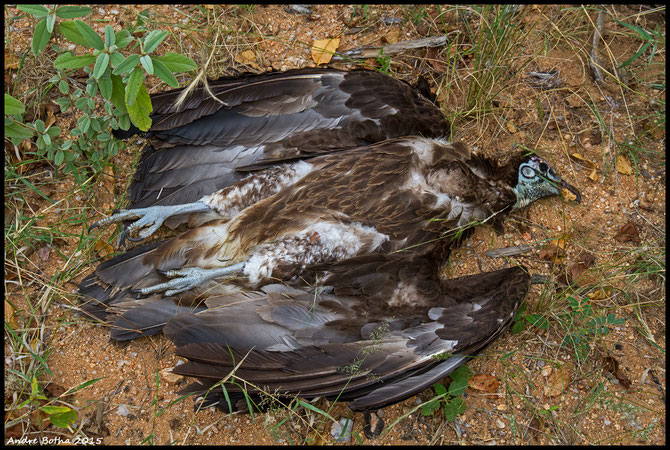 However, the main problem is that very few samples were taken, so the VCF are pushing for more samples to be collected. We are keeping all options open, but the fact that the mortality seems to be concentrated around Bafatá and Gabu, still allows for the possibility of one or more poisoning cases. Poisoning is a successive and frequent occurrence in Africa and vultures' biggest threat according to the Multi-Species Action Plan to Conserve African-Eurasian Vultures adopted by the Convention for Migratory Species. It has contributed to the drastic decline of the species in the continent, which has led the IUCN to list three species as Endangered and four as Critically Endangered.
The VCF and the IUCN's Vulture Specialist Group first wrote to the relevant authorities in Guinea Bissau on Thursday 27 February, offering advise and urging for further action. The VCF is continuing to monitor the situation closely, and pushing for appropriate action taken and offer support.
We will continue share updates from the situation – follow us on Facebook and Twitter to stay tuned.