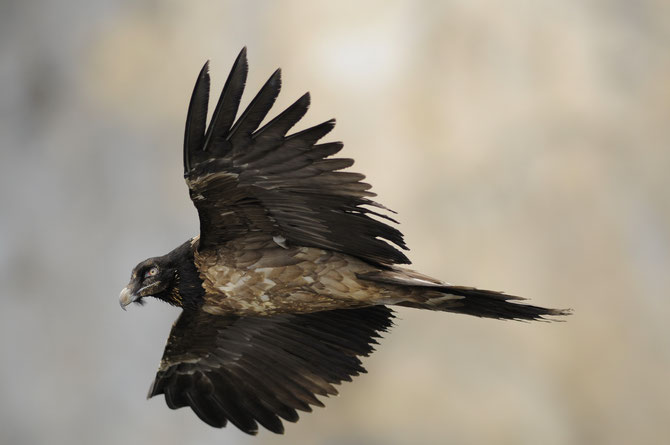 Strange times, difficult decisions. The COVID-19 pandemic has been a worldwide game-changer, and life is not the same. Hundreds of thousands of people lost their lives, millions were infected, and our planet came to a standstill. We here at the Vulture Conservation Foundation (VCF) also had to adopt, especially within our Bearded Vulture Captive Breeding Network (EEP), and the spring and summer were fraught with multiple challenges, although some normality has arrived. This is a new normal – no or few movements, remote meetings, no (physical) conferences, and this has affected several of our events.
Annual Bearded Vulture Meeting 2020 cancelled
We regret to inform you that our beloved 2020 Annual Bearded Vulture Meeting, due to take place in Parco Natura Viva in Italy 13-15 November, has been cancelled. This is because travel between different European countries is still restricted, with many countries advising against travel or requiring quarantine after people visit other nations. We are also told that the pandemic will probably get a bit worse this autumn, so we are expecting eventually some additional measures to be taken.
This was a very difficult decision for us, as these meetings are one of the highlights in the VCF's yearly calendar – a meeting when 100+ people that, in one way or the other, work with this species, get together and exchange and learn from each other on the different project happening with Bearded Vultures in Europe, that collectively contribute to one of the greatest wildlife comebacks of our times – the return of this magnificent species to many of Europe's mountain chains. The annual meetings will (hopefully!) be restored in 2021, and one of the next ones will certainly be hosted in Parco Natura Viva.
Bearded Vulture technical webinar
Instead of the meeting, the VCF is organising a 2-3 h webinar, open to all, to celebrate the Bearded Vulture, and where some of the latest updates and results of the projects will be presented and discussed. We will send you more details, including a registration link, in due course, but please mark this date in your calendar – 13th November 2020, Bearded Vulture technical webinar! Make sure you sign up to our newsletter to receive more information about the webinar.
A last word of thanks to Parco Natura Viva – that had decided to host us this year. This facility, which has one of the Bearded Vulture pairs in the VCF coordinated captive-breeding network that is at the base of the reintroduction projects, was also severely hit by the pandemic, as it was in northern Italy, one of the worst affected areas. Like many other zoos and animal parks, it also had to close for some months, thus creating some hardship and challenges. But we will get through this, and we will be back there in one of the next years to celebrate all together, our beloved Bearded Vulture again!