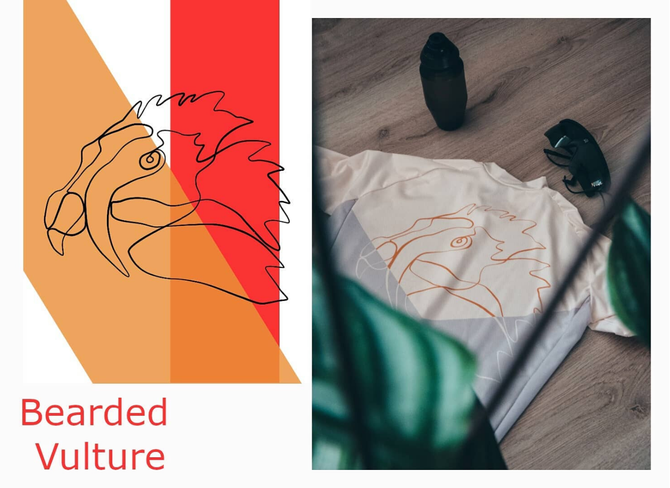 Imagine, cycling in the Alps or the Pyrenees, with a Bearded Vulture soaring overhead and another one on your back. Of course, not in the literal sense for the latter, but rather as a fantastic design on a cycling jersey! A limited edition, sustainable and high-performance cycling jersey with a Bearded Vulture theme is now available to pre-order at VeloElan.
About the cycling jersey
The jersey design features some of the unique characteristics of the Bearded Vulture, such as its striking rusty-orange plumage. It is made of 100% recycled materials, down to the threads and the zips, and is made to last, as sustainability and zero waste is a core component of VeloElan. Like all their jerseys, it is aerodynamic, high-performance and is made in a racing cut. VeloElan will generously donate 50% of the direct profitsto the VCF to support our conservation work.
The jerseys are currently available on Pre-Order and will be delivering by the end of the month. In order to minimise waste, VeloElan run a very low stock model. This sustainable model keeps waste to zero – but it does mean it may take up to four weeks for items to be made to order.
Pre-order yours now as the first pre-order window ends this weekend. Friends of the Vulture Conservation Foundation can use the code:VultureFriends for 15% off.
Pre-order the jersey for women
About VeloElan
VeloElan is made up of conservationists, environmentalists, outdoor lovers and cyclists who create high-performance cycling clothing with a purpose. All of their garments are made out of recycled materials, are aerodynamic and performance is at the forefront of their design process. They love nature as much as they love cycling, so their clothes are designed to support conservation initiatives.
A big thank you to VeloElan for deciding to support our conservation work with their generous donation.