If you want to spend time in beautiful Andorra, discussing all things Bearded Vulture, you can still join us at the Annual Bearded Vulture Meeting 2019! Every year during the meeting, we bring together the people that make up the Bearded Vulture community to discuss and share their work conserving Europe's rarest vulture. If you haven't registered yet, you can still do so until tomorrow, Wednesday 6 November.
Important notice and logistics
Please note that the venue for this year's meeting changed due to a local issue with the conference room. The Annual Bearded Vulture Meeting 2019 will be held in Canillo, Andorra, from 15 to 17 November 2019. You can find all the information about accommodation, conference room and travel information on our Annual Bearded Vulture Meeting 2019 webpage. Participants need to arrange their own transfer.
Programme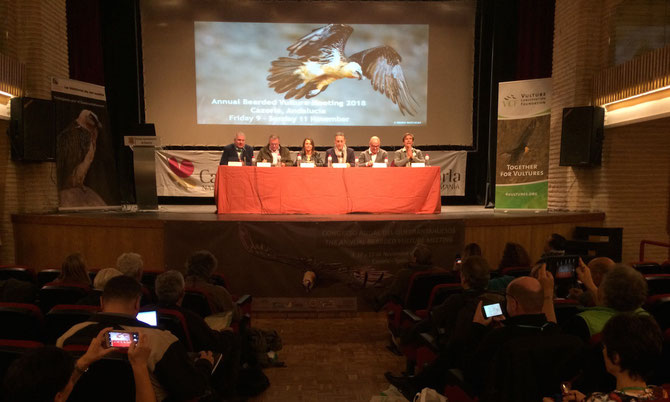 The first two days of the Annual Bearded Vulture Meeting 2019 will be dedicated to presentations covering various regions and aspects of Bearded Vulture conservation in Europe. You can now review and download the final programme.
Adobe Acrobat Document 2.7 MB
We are looking forward to learning more about the various Bearded Vulture conservation work and research our international colleagues have been conducting. If you want to present your work, you can still do so. Please email our scientific committee at science@4vultures.org until 6 November.
In addition to the programme, on the third day of the meeting we will head out to the mountains for a field trip to observe Bearded Vultures and other wildlife in nature. More details on the excursion will be announced soon.
For any enquiries, please contact info@4vultures.org
So, join us as we discuss the latest research and conservation of Bearded Vultures across Europe. Registration is open until 6 November.
Stay up to date with the latest news and announcements of the meeting by following #BeardedVultures2019 on Facebook, Twitter, LinkedIn and Instagram.
Our hosts