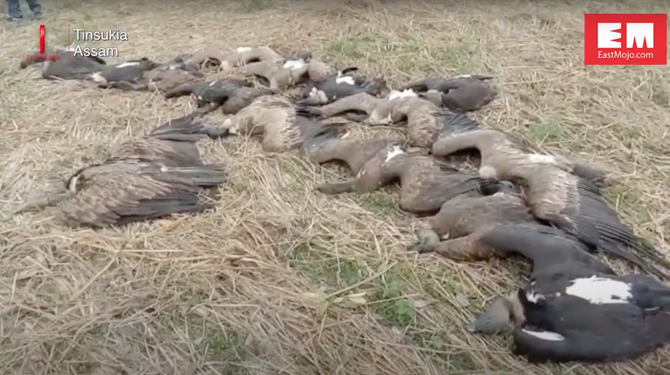 Vultures' biggest threat strikes again, leaving a major disaster behind. At least 34 Critically Endangered vultures lost their lives in Tinsukia, Eastern Assam in India, last week on 18 and 19 January. Thirteen additional vultures were retrieved alive but in serious conditions, and are currently fighting for their lives in rehabilitation. What's suspected of having caused this huge blow on vulture conservation? The typical culprit when such mass destruction occurs — illegal wildlife poisoning.
Most recent mass wildlife poisoning in India
On Monday 18 January 2021, villagers alerted experts that they found many vultures dead or in a critical condition in a village near Talap in Tinsukia. Once experts arrived on the ground, they came across a cattle carcasses as well as 22 dead vultures and 13 more in comatose conditions. They transferred the vultures that were alive to the Wildlife Trust of India station in Guijan to receive treatment, but unfortunately, four of them died later. The next day, experts continued the field search and found eight more dead vultures and another four which were alive.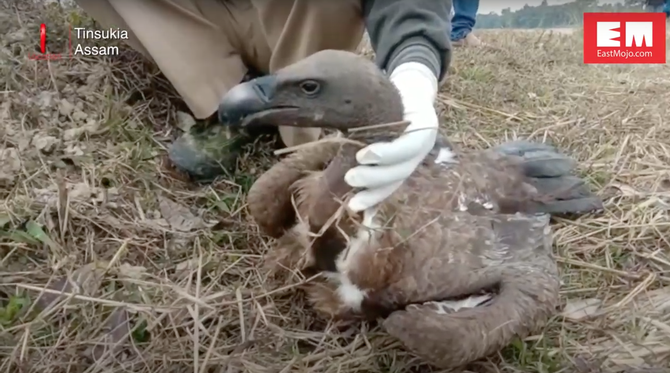 To confirm the cause of death, experts sent samples to perform forensic examinations. Based on what they found at the scene, they suspect the vultures died after consuming cattle carcasses that either died from poisoning themselves or were laced with poison baits after it died.
The victims from this horrible incident include Slender-billed Vultures (Gyps tenuirostris) and White-rumped Vultures (Gyps bengalensis), both considered Critically Endangered on the IUCN Red List.
Update 31 January 2021
In the end, a total of 36 vultures lost their lives from the suspected mass poisoning event at Dhulijan village in Assam, India. But, it's not all bleak news. Thanks to the swift rescue action, out of the 17 comatose vultures transferred to the rehabilitation centre, ten responded well to treatment and successfully recovered. While a Slender-billed Vulture flew away early from the field station, the rest were released in the village alongside locals. On 31 January 2021, Wildlife Trust of India and colleagues released seven Slender-billed and two White-rumped Vultures back into the wild! 
Ahead of the release ceremony, villagers performed a Śrāddha ceremony in honour of the 36 vultures that didn't survive. Following this tragic incident, the villagers decided to take action to help vultures. They intend to plant trees and preserve tall trees, as vultures prefer them to build nests on. Furthermore, if an animal dies from unnatural causes in the future, their owner will bury it to avoid similar destructive incidents from happening again. We applaud the efforts of conservationists and villagers to save vultures the poisoned vultures that need all the help they can get.
Vulture population crash in Indian sub-continent
In recent years there have been increasing reports of widespread use of poison impacting wildlife across Africa and Asia. Usually, poison baits are used to kill predators like foxes to protect livestock, but this non-selective and illegal measure often kills many other animals, including vultures who descend to feed on the poisoned carcass.
Vultures underwent a catastrophic decline in the Indian sub-continent due to diclofenac, an anti-inflammatory drug used to treat livestock. In India, the three Gyps species (Indian Vulture, Slender-billed Vulture and White-rumped Vulture) declined by about 95% within less than a decade by the late 1990s, with dramatic declines also observed in nearby countries. Following years of campaigning by environmental activists, a ban on the drug is now in place, and some species start to recover. However, a recent study illustrated that even though diclofenac's availability declined in Bangladesh, India and Nepal after its ban, diclofenac still accounted for 10–46% of all NSAIDs offered for sale for livestock treatment in 2017 in India. These results indicate weak enforcement of existing regulations and highlight the continued threat this poses to vultures.
According to the Multi-species Action Plan to Conserve African-Eurasian Vultures (Vulture MsAP), co-developed by the Vulture Conservation Foundation (VCF) and endorsed by CMS, poisoning by veterinary drugs like diclofenac or other substances used against predators is the biggest threat to vultures worldwide. Vultures are keystone species that operate vital roles in maintaining ecosystem health and need our protection.
The VCF and partners are committed to protecting vultures from these severe threats and have been working on anti-diclofenac and anti-poisoning activities in Europe for years now.