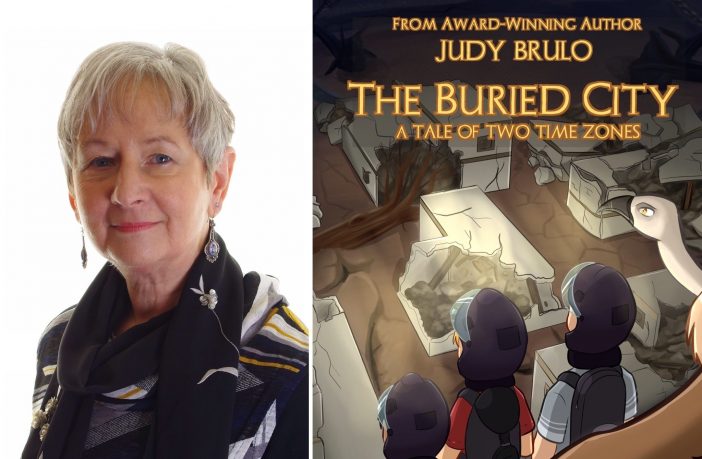 A professional violist turned award-winning author has released yet another children's adventure book with a vulture conservation theme —The Buried City – A Tale of Two Time Zones. Judy Brulo has written the book as a prequel to her prize-winning Vulture Island Trilogy.
Judy's work
Judy, who trained at the Guildhall School of Music in London before performing with London Mozart Players and the City of London Sinfonia, was the 2019 winner of the Eyelands International Book Award in the children's published fiction category. She was shortlisted for the same prize in 2020 for Swords in the Sky, the third book of the Vulture Island trilogy.
The Buried City – A Tale of Two Time Zones is the eighth book Judy has published in the space of just seven years, after being inspired to take up writing by her two young grandchildren, Kaia and Taio, now aged 13.
"When they were learning to read, I wrote short stories for them, almost weekly. I chose topics that I knew they were interested in," she says. Judy's first few books were aimed at five to seven-year-olds.
Judy's vulture children's book and inspiration
The Vulture Island Trilogy, aimed at children aged eight to 12 years, swiftly followed. The stories were inspired by Griffon Vultures Judy spotted during her years living and working in Cyprus. The books aim to gently educate children about conservation while entertaining them with an adventure story.
Judy contacted the Vulture Conservation Foundation (VCF) to fact check the first book in the series and has gone on to be a speaker at the 'Artist Corner' of the European Vulture Conference in 2019. The VCF continues to support her work that highlights an important, but often misunderstood, species.
"I'll always remember the first time I saw a Griffon Vulture," she says. "I was driving along a coastal road in Cyprus and saw a huge bird launch itself off the cliff and over the sea. I'd never seen such a large bird in my life before.
"I thought it could be a really good starting point for an adventure story combined with the magical island of Cyprus, a boy and some archaeology."
The Buried City – A Tale of Two Time Zones
The main characters in the Vulture Island series are Griff, a Griffon Vulture who challenges Luke, a 10-year-old boy, to investigate the mysteries of Vulture Island.
The nail-biting prequel to the Vulture Island Trilogy, The Buried City – A Tale of Two Time Zones, is hot off the press.
In this story, Griff presents Luke with yet another challenge – to find Vulture Island's Buried City, the whereabouts of which has baffled archaeologists for hundreds of years.
The book sees Luke and his friends transported back in time to the Mycenaean Civilization (1,200 BC), where he meets unpredictable Greek gods and a brave young girl. What is her connection with Luke and Griff? Do they find the Buried City? What dangers will Luke and his friends have to overcome on their quest?
Judy Brulo's books are available from the Etsy bookshop BruloBooks, WHSmiths in Tamworth, Waterstones, Amazon, or her Facebook page.