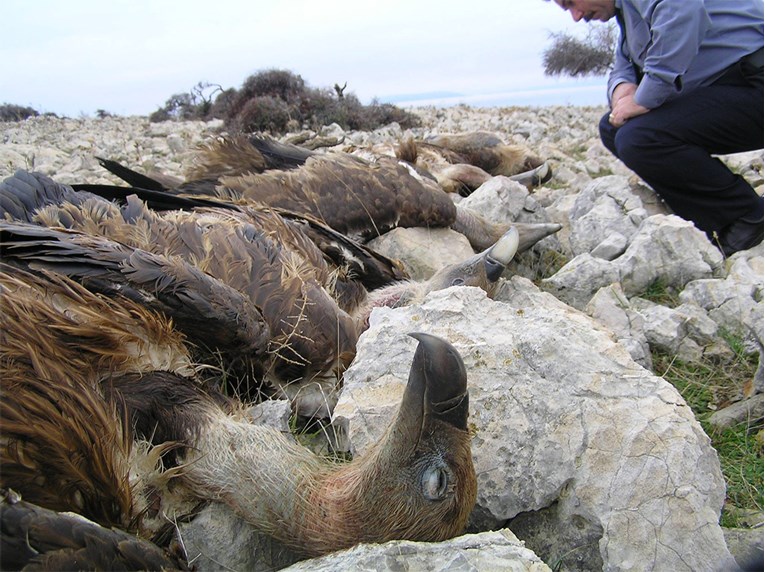 Published today, the Balkan Vultures Poison Study, reveals that over the last 20 years 465 vultures were documented to have died as a result of being poisoned in the whole of the Balkan Peninsula. However, with an estimated 20 percent of poisoning incidents ever discovered and reported, the authors put a conservative estimate of over 2,300 vultures poisoned in the Balkan Peninsula since 1998. 
Vultures in the Balkans
Europe is home to four different vulture species, the bearded, cinereous, Egyptian and griffon vultures. Of the four species, the bearded vulture and cinereous vulture are now on the edge of regional extinction, with the first one virtually gone from the Balkan Peninsula. Meanwhile the number of Egyptian vultures has declined dramatically and continues to fall and even though recovering in some countries griffon vultures have disappeared from most countries in the Balkans. The main cause for this downward population trend is the illegal practice of wildlife poisoning, along with other severe threats -electrocution and collision with electricity infrastructures, reduced food availability, habitat loss and direct persecution. 
Poisoning wildlife
Vultures are secondary victims when poison is used by farmers and hunters, that put animal remains laced with poisonous substances to control predators mainly wolves and jackals as well as feral dogs, who are blamed for livestock and game losses. Despite being made illegal by the early 1990s, the use of poison for poisoning wildlife remains prevalent across the region often seen as a quick and affordable "solution" to solving these conflicts with wildlife. 
Since 2002 much effort has been placed in conserving and protecting vultures in the Balkans, including reintroducing species to areas where they have disappeared, restocking small populations with birds from elsewhere in Europe and investment in efforts to tackle the threats to vultures such as anti-poison dog detection units (in Greece and Bulgaria for example). The illegal use of poison is now not only a major threat but the biggest obstacle preventing Europe's four vulture species from making a comeback on the Balkan Peninsula.  
The study looked at data about poisoning incidents over the last 15-20 years, relevant legislation and proposals for future anti-poison actions and concluded that it is low awareness of the issue by governmental institutions, legal and law enforcement agencies that constitutes the main factor preventing progress in stamping out illegal wildlife poisoning.
Fighting illegal wildlife poisoning
Wildlife charities and organisations across the Balkan Peninsula are working tirelessly to make the region a safe home for vultures and other wildlife and 10s of millions of euros have been invested in the natural heritage across the countries of the Balkans. Launched earlier this year the Balkan Anti-Poisoning Project led by the Vulture Conservation Foundation and funded by the Mava Foundation aims to support those organisations to engage the governmental institutions to work together to reduce the threat to wildlife of the illegal use of poison.  
Acknowledgement to all partners providing information for this study: 
Albanian Ornithological Society
AQUILA, Macedonia
Birds Protection and Study Society of Serbia
Bulgarian Society for Protection of Birds
Fund for Wild Flora and Fauna, Bulgaria
Grifon – Birds of Prey Conservation Society, Croatia
Hellenic Ornithological Society, Greece
Institute for Nature Conservation of Serbia   
Macedonian Museum of Natural History
Ornithological Society "Nase Ptice"
Protection and Preservation of Natural Environment in Albania