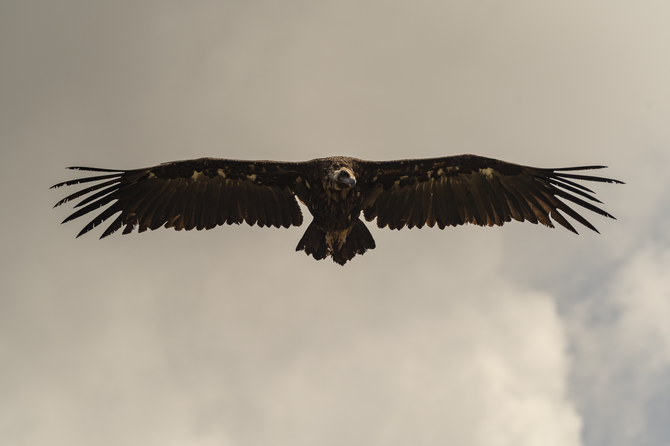 Vultures' biggest threat struck again, this time killing a Cinereous Vulture found near Madrid, Spain. The toxicological analysis confirmed that the Cinereous Vulture died from ingesting a bait poisoned with carbofuran, which is illegal.
In mid-November, the animal was found alive in the municipality of El Álamo, in the south of the Community of Madrid and was quickly transferred to GREFA's facilities for treatment thanks to the great collaboration and coordination of the Forestry Agents of Comunidad de Madrid. But unfortunately, the vulture died before GREFA's veterinary team could treat it.
Necropsy results
An initial necropsy was carried out in Hospital de Fauna Salvaje de GREFA, finding hair and bones of another animal in the Cinereous Vulture's digestive system, as well as some granules identical to some products used to poison animals. The GREFA veterinary team provisionally determined that this was a deliberate case of the use of poisoned baits.
Instituto de Investigación en Recursos Cinegéticos (IREC) carried out a further toxicological analysis, which confirmed the provisional diagnosis that the vulture was a victim of poisoning. The results detected the presences of carbofuran at lethal doses.
The illegal use of Carbofuran
Carbofuran is a highly toxic pesticide used for agricultural, and worryingly it's still used illegally even though its commercialisation has been banned in Spain and the European Union for more than ten years. In recent years, it has become one of the most widely used toxicants by wildlife poisoners that aim to eradicate animals that prey on livestock. This is a damaging practice that kills many animals, including vultures.
Spain leading the fight against wildlife poisoning
Poison in the nature continues to be one of the most destructive illegal practices for biodiversity in Spain, killing precious wildlife. Spain, however, can be seen as a best practise example when it comes to tackling illegal wildlife poisoning. Thanks to decades of work and enforcement, this destructive practice drastically decreased in the country.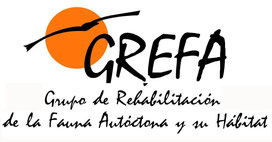 How the VCF tackles vultures' biggest threat
The Vulture Multi-species Action Plan (Vulture MsAP), co-developed by us here at the Vulture Conservation Foundation (VCF), and endorsed by the Convention for Migratory Species (CMS), concludes that poison is the biggest threat to vultures worldwide and a significant part of this global action plan for vultures focuses on the actions needed to fight this threat. Furthermore, the Vulture MsAP is a global strategic blueprint identifying priorities and actions to conserve 15 species of old world vultures, approved in the conference of the parties of the Convention for Migratory Species, which states that poison with poisoned baits (often against predators of livestock) is the main threat to vultures worldwide.
We are actively pursuing different lines of work to fight this threat, among which is the Balkan Anti-Poisoning Project, funded by the MAVA Foundation. The project is working and funding local partners in six counties (AlbaniaCroatia, Bosnia-Herzegovina, Greece North Macedonia and Serbia) to try to eradicate this illegal and highly damaging practice.
Balkan Anti-Poisoning Project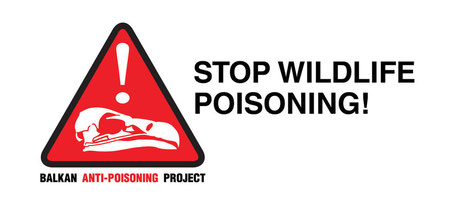 The Balkan Anti-Poisoning Project is a cross-border initiative bringing together wildlife conservation organisations, governmental agencies and other stakeholder such as; hunting associations, farmers and scientists, in six Balkan countries to tackle illegal wildlife poisoning.
Funded by the Mava Foundation we aim to secure real and continued engagement of the relevant national governmental authorities in the Balkan region against illegal wildlife poisoning and increase their capacity to counteract it and working together to take positive steps to protect vultures.
The Balkan Anti-Poisoning Project is a partnership between us here at the Vulture Conservation Foundation and the Albanian Ornithological Society-AOS, Protection and Preservation of Natural Environment in Albania-PPNEA, Ornithological Society "Naše ptice",Association BIOM, Hellenic Ornithological Society-HOS, Macedonian Ecological Society-MES, Društvo za zaštitu i proučavanje ptica Srbije.
The Balkan Anti-Poisoning Project  also contributes directly into the implementation of the Vulture Multi-Species Action Plan by carrying out anti-poisoning actions in Albania, Bosnia and Herzegovina, Croatia, Greece, North Macedonia and Serbia, and is building on our work for the last decade in the Balkans thorugh the Balkan Vulture Action Plan.