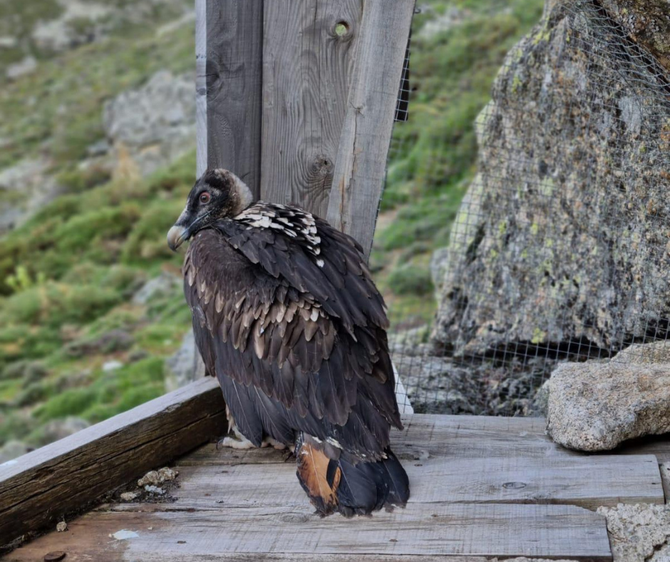 Corsica is home to one of the last two European Bearded Vulture autochthonous island populations but, unfortunately, the local population of the species in the wild has decreased sharply in recent years and is in danger of extinction. This is where our emergency action plan came in to boost the genetic diversity and number of birds of the remaining population by releasing captive-bred birds and at the same time secure the Corsican genetic information by extracting eggs in the wild from unproductive pairs to hatch chicks and include them in the Bearded Vulture Captive Breeding Network, creating a Corsican genetic reserve.
We are thrilled to announce that a few days ago yet another release of young captive-bred Bearded Vultures successfully occurred in Corsica! This is the fourth time the captive breeding team of the Vulture Conservation Foundation (VCF) visited the Mediterranean island to release birds, with a total of eight birds now freed in Corsica throughout the past few years.
Bearded Vultures travelling to their new home
Two young female Bearded Vultures, named Urcula and Spinella by the local children, hatched in different facilities within the Bearded Vulture Captive Breeding Network, coordinated by the VCF on behalf of EAZA's EEP, for conservation purposes. Spinella hatched in the Richard Faust Bearded Vulture Specialised Captive Breeding Centre (RFZ) located in Austria on 16 February 2021 while Urcula hatched in Wildlife Centre of Torreferrussa, owned by Generalitat de Catalunya, located in Barcelona on 23 February 2021. Both birds travelled thousands of kilometres by car and ferry to reach their new home in Corsica. Both chicks had their very own species escort.
Our very own Bearded Vulture Captive Breeding Assistant, Carmen Calero, accompanied Urcula to the island. "It was a 22 hours trip to go from Lleida to Corsica, which in a straight line is only 500 km far, " Carmen states. It took eight hours to drive to Toulon in France and then boarded on an 11-hour ferry to Corsica, and I am not even mentioning the extra time to embark and disembark. It's hard because during this kind of trips we are always worried about the chick, whether it's too hot, too stressful… especially on the ferry. But Urcula proved to be a very strong bird, and above all, a bird with a tremendous appetite! The car or ship movements, noises or the heat didn't bother her appetite at all, as she ate double the amount of food a chick her age would normally consume. I provided her all the food she requested as we feed them as much as possible before we leave them in the hacking cave since sometimes they might need time to get over the trip and adjust to the new environment, so they might not eat enough the first days.
Spinella, the other chick travelled from Austria with Kathy Leibezeder, an animal keeper at RFZ. She says "It was a pure adventure, a journey we will never forget! When we realised the ferry was cancelled due to poor weather and were stuck in Sardinia, it was devastating…We felt sorry for the young bird spending another night in her box and missing the release. In the end, we managed to find fresh food and a proper place to stay, and every time I checked the bird, she was more than fine and enjoyed a really good Sardinian rabbit. But after all the stress, we managed to arrive at the release site, even if we were a bit late."
Releasing the young vultures
On 20 May 2021, our colleagues from Parc naturel régional de Corse (PNRC) alongside Carmen hiked to a remote artificial nest built by PNRC on the heights of the town to release Urcula. Then, they repeated this trip again when Kathy arrived with Spinella later on in the day. The release method used is known a hacking, which is more or less the 'natural' way of fledging. The role of the parents at that time is to supply them with food and provide social contact. So, a team from PNRC will now monitor the birds to ensure their safety and feed them without human contact until they fledge the nest, therefore, avoiding human imprinting. The chicks are not ready to fledge yet, so they will spend some time in the cave until they are ready, allowing them to acclimatize to the environment.
Carmen continues" It was a great relief to take Urcula out of the transport box and place her in the nest inside the cave. Immediately after, she ran deep inside the cave, showing that she's clearly not made to be with humans. A couple of hours later she was photographed at the edge of the hacking platform watching the surroundings, and of course, she also was observed eating! So it seems that she adapted quickly, which is the best possible reward for this long trip."
We wish the birds safe flights and hope they eventually manage to breed in the wild, helping boost the local population!