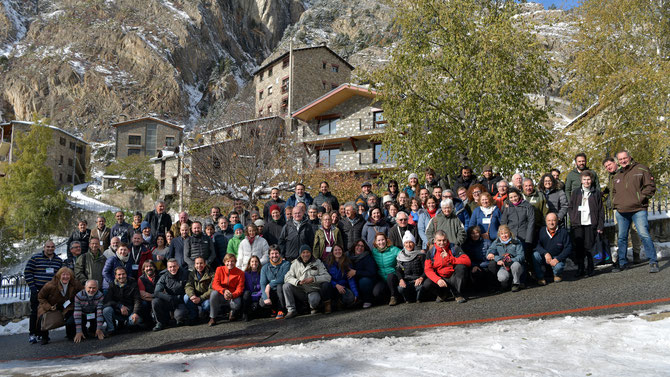 The Annual Bearded Vulture Meeting 2019 has been a great set of three days, exchanging Bearded Vulture conservation insights among our international colleagues while also getting to see some Bearded Vultures in the wild, even opposite our conference room! You can get to know what was happened by reading the summary of day one here and day two and three below.
Day two
This was yet another day full of fascinating presentations about Bearded Vulture conservation in Europe and beyond! From monitoring to breeding and mitigating threats, you can now have a look at the key takeaways from the presentations.
IBM Update by Mirco Lauper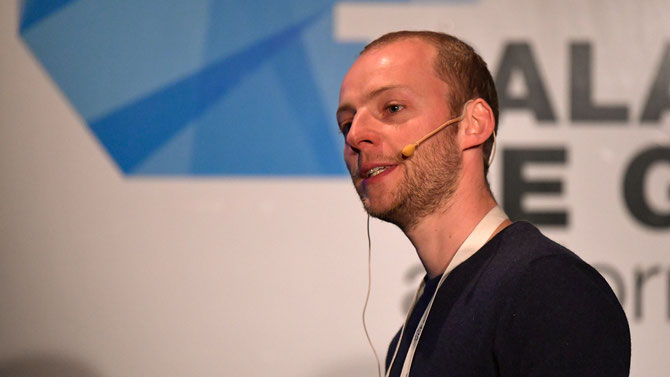 The International Bearded Vulture Monitoring Network (IBM) is a unique collaboration between many National Parks and NGO's in several countries that is coordinated by us at the VCF. In 2019, there were six release sites and 17 birds released. All of which were marked by bleaching feathers for monitoring purposes. The IBM monitors 63 territories, and within those, there was a record of 38 Bearded Vulture fledglings this year! But how can we know if they survive? Through monitoring!
Development of the breeding pairs in the South Alps by Fabiano Satinar and Sylvia Alberti
Fabiano Satinara shed some lighton the development of the breeding pairs in the southern Alps. From 1994 to 2015, the Alpi Maritime Natural Park and the Mercantour National Park have reintroduced 45 Bearded Vultures. Furthermore, Sylvia Alberti discussed the monitoring results from this year's IOD. There were 53 observation sites from the Ligurian Alps to Ossola Province, with 77 observers counting 14 Bearded Vultures in total. Three in Susa valley, three in Ossola province, two in Maira valley, one in Stura di Demonte valley and five in Lanzo valley.
Bearded Vulture in Gran Paradiso National Park and in Aosta Valley by Enrico Bassi
Enrico Bassi talked about the Bearded Vulture in Gran Paradiso National Park and Aosta Valley. In Valdigne at Aosta Valley, there was a breeding success after 15 years! There was also successful breeding in Cogne (Valnontey), Rhêmesand Valsavarenche (Chamoussiere).
Bearded Vulture monitoring by Envergures Alpines by Christian Couloumy
Christian Couloumy presented Bearded Vulture Monitoring in the Alps. He shared the latest updates regarding a breeding trio that first bred successfully in 2017-2018 and in 2018-2019, the trio bred again! Their chick was equipped with a transmitter provided by us at the VCF and funded by the MAVA Foundation for monitoring purposes.
Update on movements and mortality in the LIFE GypConnect project by Raphael Néouze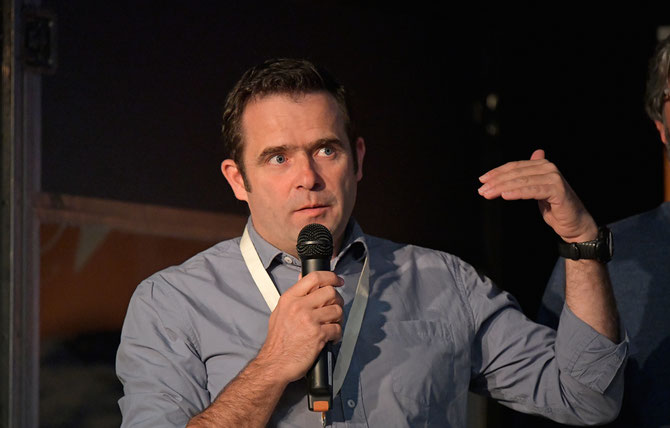 The Chairman of our Advisory Board, Raphael Néouzegave us an update on the movement and mortality of our Life GypConnect project, which aims to restore the connections between the Alpine and Pyrenean population of Bearded Vultures. The Bearded Vulture EEP Network provided 43 birds so far to be released in Baronnies/Verco (23 since 2010) and Grand Causses (20 since 2012) with 3-4 territorial pairs currently present in the area of the programme (2-3 in Aude and 1 in Grands Causses). The causes of mortality in the project area vary, with some causes being electrocution, poisoning and lead exposure. Thanks to close monitoring, rapid event alert, reactive mobilisation of the local teams and quick necropsy, the team can extract invaluable information that helps develop and carry out concrete conservation actions to tackle threats.
Long term monitoring of the Bearded Vulture in the French Pyrenees by Martine Razin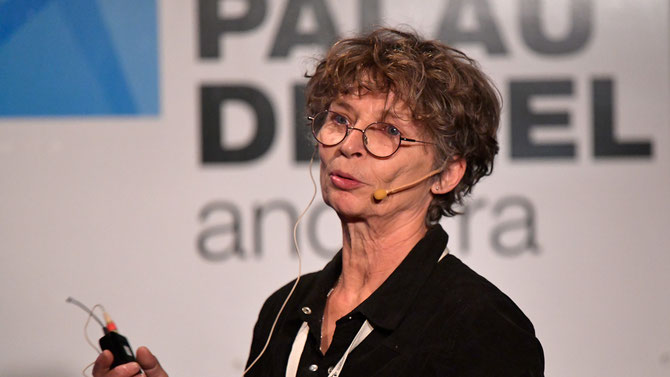 Martin Razin, the coordinator of Reseau Casseur d' os, shared her insights from long term monitoring of evaluating factors affecting territory occupation and breeding performance of Bearded Vultures in the French Pyrenees. Between 1977-2017, the number of territorial pairs and the spatial distribution is increasing with 10-13 pairs between 1980-1990 and 16 to 44 pairs between 1994-2017. Overall, Bearded Vultures in the French versant of the Pyrenees have a high lay rate, but low overall productivity. Further, the dense core of pairs of the Pyrenees National Park have higher productivity.
Monitoring and mitigating disturbance of an endangered species: the case of the bearded vulture in the French Pyrenees by Vadim Heuacker
In the Pyrenees, there was a lot of disruption in terms of aircrafts, which negatively impacted the breeding success of Bearded Vultures. Between 1 to 3 breeding failures per year caused by helicopter overflights, which is between 10 to 30 per cent of the total breeding in the area. LPO and partners tackled this by sensitising pilots, including from the military, giving them all of the locations of the Bearded Vulture nests, and asking them not to fly there. They also constrained other activities like climbing and paragliding to reduce disturbance of nests, which are respected and followed.
Raising awareness about lead in the Pyrenees by Lydia Vilagines & Martine Razin
Lead poisoning is often an overlooked threat of scavenging birds and the presenters shared their insights about the situation in the Pyrenees. Acute and chronical lead poisoning from exposure and lead accumulation are significant causes of death for scavenging birds. It is crucial to replace lead in hunting ammunition to protect them.
LIFE AlpsLeadFree: Concept, rationale and planned actions by Louis Phipps & Franziska Lörcher
Lead intoxication was detected in over 13% of all fledged Bearded Vulture mortalities in the Alps and to help tackle the issue, the VCF and partners put forward a LIFE Concept that passed the first stage. This project would significantly reduce the risk of lead poisoning by engaging with the hunting associations and protected areas to push for the use of non-lead ammunition, through a variety of means. These include voluntary agreements, replacing lead ammunition, new hunting engagement plans, solving technical issues, training and knowledge gathering.
Genetic Monitoring by Franziska Lörcher
Our scientific and conservation coordinator, Franziska Lörcher, shared her expertise on genetic monitoring. Feathers tell a story indeed, and genetic monitoring is needed for detection of origin for vultures. Franziska shared a fascinating example of how this helped detect the origin of a Bearded Vulture that bred in the Alps. Its origin was a bit of a mystery, but by analysing its feathers, she concluded that the bird is most likely originating from the Pyrenees.
Bearded and Griffon Vultures in Germany – Possibilities of Bavarian Conservation Supports for the Eastern Alps by Henning Werth
Henning Werth gave us an overview of Bearded Vultures and Griffon Vultures in the Bavarian Alps. In terms of Bearded Vultures, there is evidence of historic breeding, the area has sufficient food availability for the species, lead poisoning is a significant threat, and it's important to replace lead ammunition!
Update on the Maestrazgo Bearded Vulture reintroduction project by Juan Jimenez Perez, David Izquierdo Acebes, Alex Llopis DellAlex Llopis Dell, our Bearded Vulture Captive Breeding Manager, updated us on the Maestrazgo Bearded Vulture reintroduction project that aims to build a bridge between the population in Andalucia and the Pyrenees. The project released four birds via the hacking method in the area and translocated three more, all of which are still alive. Today, four of those birds (three hacking and one translocated) are still present in the release area.
Large vulture reintroductions in Bulgaria, 2019 update by Simeon Marin, Emilian Stoynov, Georgi Stoyanov, Jovan Andevski
Although there are currently no Bearded Vultures in Bulgaria, the Green Balkans is part of the Bearded Vulture EEP Network. This year, they managed to breed one chick, which was released in France. They currently have one breeding pair and recently received one female and two males for captive breeding – the goal is to create three breeding pairs with the new arrivals, but they are still quite young. Furthermore, their reintroduction projects of Griffon Vultures and Cinereous Vultures are going well. The Vultures Back to LIFE Project released 15 Cinereous Vultures into the wild since 2018, and of those, the project only lost one to poisoning and one that was killed by predators.
Status of the Bearded Vulture in Armenia by Karen Aghababyan
There are 11 to 12 Bearded Vulture breeding pairs in Armenia, with their population trend during the last ten years demonstrating a slight increase and the number of fledglings per year also increasing. Their greatest threats include direct persecution and poisoning. Conservation actions include protecting breedings sites, increasing punishments for illegal hunting and trapping of the species and raising awareness and educating local hunters.
Bearded Vulture in Morocco – results of a survey done in 2019 as part of the Atlas breeding raptors programme by José Tavares & Raphael Néouze
A six-day survey where the VCF greatly contributed, saw 13 observations of Bearded Vultures with a minimum of five individuals and a maximum of 11 individuals and potentially, four pairs. There is a lot of food available for the species, with a high number of flocks and dead animals left in the pastures. There is also no risk of electrocution, wind farm collision and seemingly no poisoning.
Day three
On day three, we left the conference room and headed even higher to the mountains. We visited the Roc Del Quer, which offered wonderful views of Canillo and the surrounding landscapes, but also some exciting bird sightings! We saw two Bearded Vultures, one of which was equipped with wing tags (T2). And as it turns out, T2 is a familiar face – Gabas, a female we translocated in 2019 for the Maestrazgo project. We also saw Griffon Vultures, Peregrine Falcons and other birds including a celebrity… We spotted a Greater spotted eagle called Tõnn that is a very rare guest in several European countries he visits (15 countries in total). Therefore, there is a lot of interest in him in these countries and many bird lovers across Europe closely follow his journeys! You can follow Tõnn's movements and get an idea of the fascinating travels this bird does!
Save the date for next year's meeting!
Next year's meeting date and location are set! We are excited to join our colleagues at Parco Natura Viva in Italy between 13 to 15 November 2020. We hope to see you there!
Special Thanks
A big thank you goes out to everyone who participated, and our supporters and hosts: The MAVA Foundation, Govern d' Andorra, Associació per a la Defensa de la Natura (ADN), PACT Andorra, Comú de Canillo, Oficina de Turisme Valls de Canillo and Palau de Gel Andorra.
Special thanks also go to to Hansruedi Weyrich for kindly taking photos during the meeting.
Learn about Day One of the Annual Bearded Vulture Meeting 2019.
Read the tweets with #BeardedVultures2019.