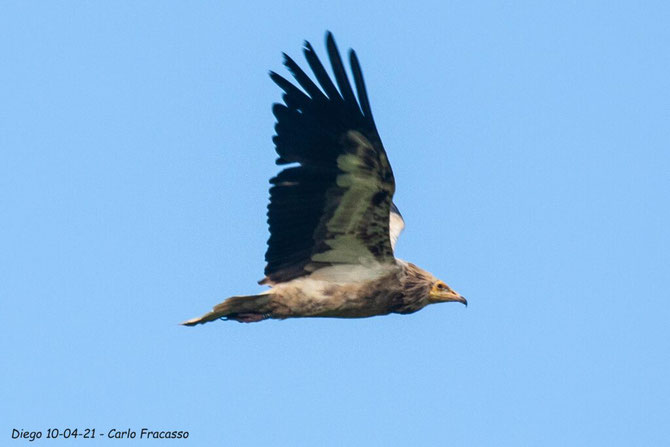 After Diego returned to his spring-summer residence in Murge, Italy, after spending the winter in Sicily, the vulture took us by surprise when he decided to cross the sea over to the Balkans!
Diego follows unusual route to return home
Diego hatched in captivity at Associazione CERM Centro Rapaci Minacciati back in 2018. A year later, CERM and ISPRA freed Diego in the Murgia Materana Regional Park with the delayed-release method as part of the LIFE Egyptian Vulture project. Ahead of his release, the project team equipped Diego with a GPS tag, provided by us at the Vulture Conservation Foundation (VCF), allowing us to keep a close eye on his daily progress. Based on his movements and behaviour over the past couple of years, it appears that Diego chose southwestern Sicily as his wintering grounds, avoiding the long migration to a sub-Saharan wintering area. In spring, the vulture has been returning to his release site, the Murge area. In his recent trip back to the area on the border between south-eastern Basilicata and Puglia, Diego has travelled a very unusual route. On 30 March, he left the northern coast of Sicily and from there, instead of crossing the Strait of Messina and going back up Calabria as expected and as he did in spring 2020, he travelled through the sea and passed the Aeolian Islands. After covering 168 km over the sea, on 31 March, he changed direction heading east and has returned to fly over the Italian peninsula, approximately close to Amantea (on the coast of central Calabria). On 2 April, he reached Basilicata and immediately took advantage of the feeding station that is active in the Murgia Materana Park thanks to the LIFE Egyptian Vulture project.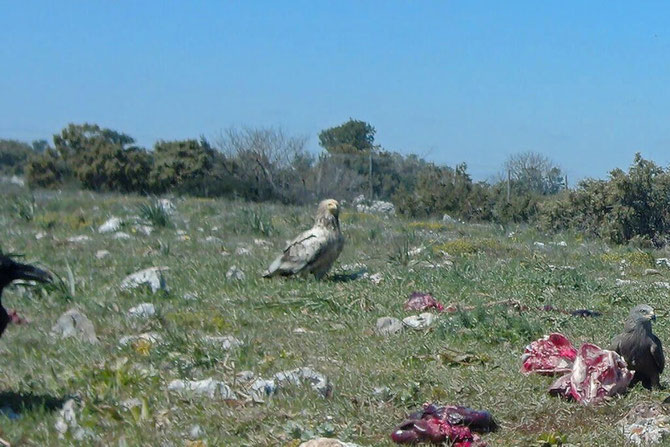 In the following days, he explored the surroundings until he reached the southern part of Molise, where he was photographed showing off his beautiful plumage, already mostly black and white, with few traces of the brown feathers that are typical of young age.
Diego makes a surprising trip to Bosnia and Herzegovina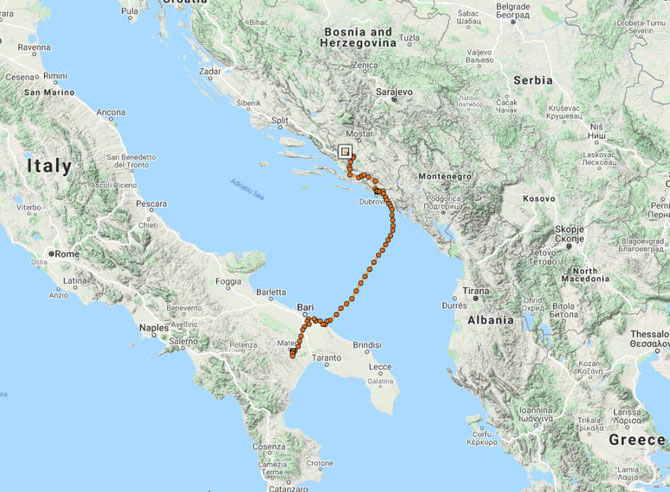 For the first time, after more that 32 captive-bred Egyptian Vultures have been liberated in the Italian wild, an Egyptian Vulture crossed the Adriatic Sea. On the morning of 26 April 2021, Diego, who returned from Sicily on 2 April, made a stop near Matera, and then resumed moving, heading eastward. Once he arrived in Monopoli on the Apulian coast, he reached an altitude of 1.800 meters and flew the Adriatic in a 190 km stretch of sea. After three and a half hours of flight, at an average speed of 87 km/h, he reached the coast of the former Yugoslavia and headed north the following day, reachingBosnia and Herzegovina. It's very likely that the young vulture followed the many raptors who, in that stretch, cross the Adriatic to reach Eastern Europe, especially Pallid harriers and Honey buzzards.
Update: 30 April 2021
After heading north alongside Croatia, Diego took a route eastward, flying over Bosnia and Herzegovina.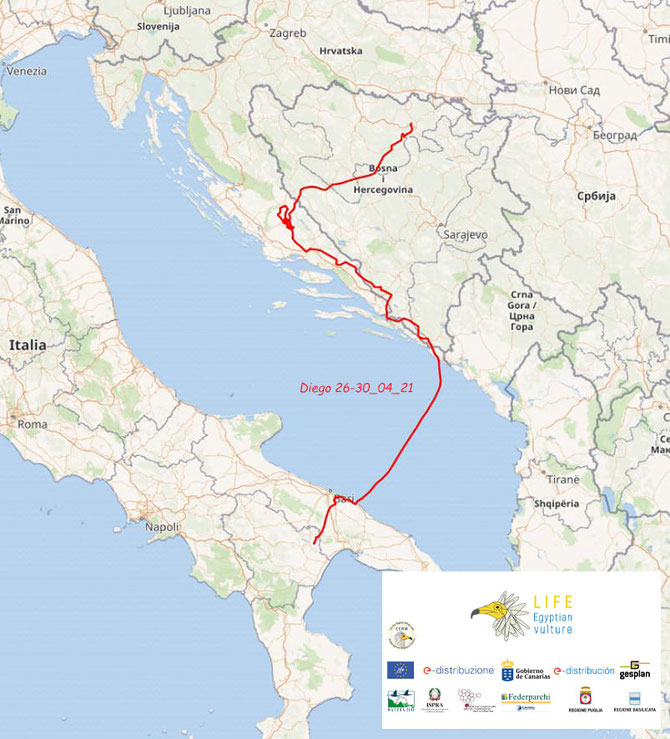 Update: 14 May 2021
Diego continues wandering across the Balkan region!
After spending a long time between Croatia and Serbia, yesterday Diego has left again, arriving about 50 km away from Romania, near the Danube. Ever since he left Italy on 26 April, Diego has already travelled 2.800 km.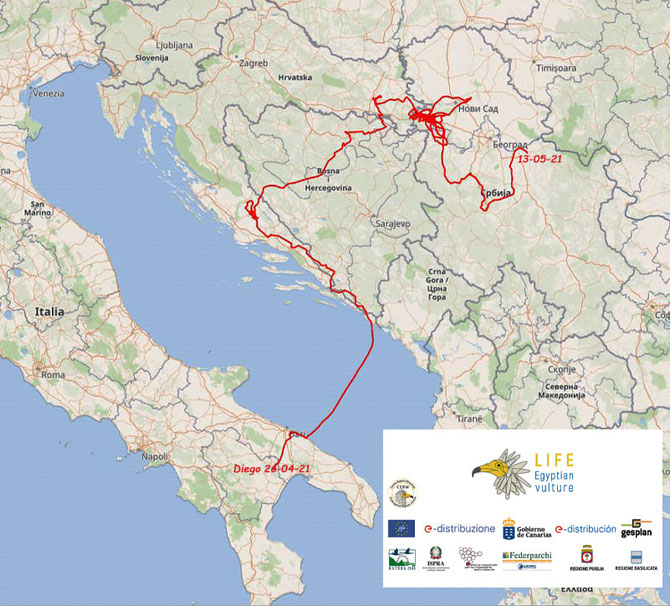 Update: 20 May
During his adventurous and unusual journey through the Balkans, the Egyptian Vulture Diego has already visited eight countries. A few days ago, he arrived on the Greek island of Kefalonia. Instead of crossing the sea back to Italy, Diego headed back north, reaching the Republic of North Macedonia. Since 26 April, when he left his spring-summer residence in Italy, he has travelled more than 4,000 km.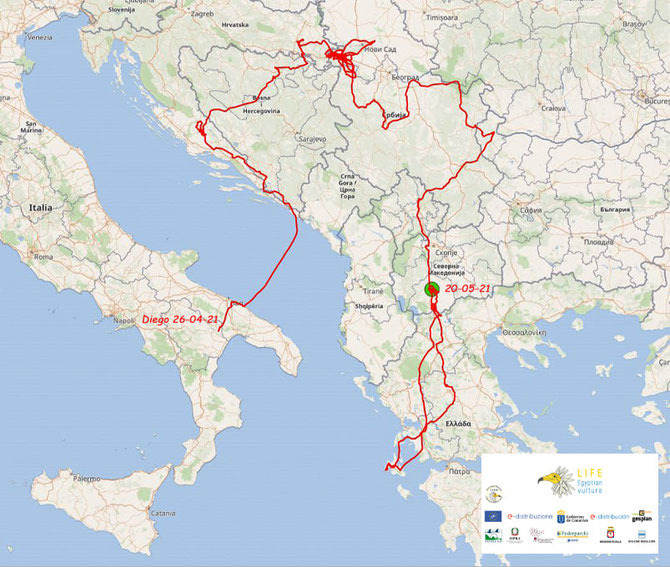 Update: 26 June 2021
Today marks two months since the Egyptian Vulture Diego left Italy and crossed the Adriatic Sea, reaching Bosnia-Herzegovina. Ever since, he has been exploring the Balkans, visiting nine countries and covering more than 10,000 km until today!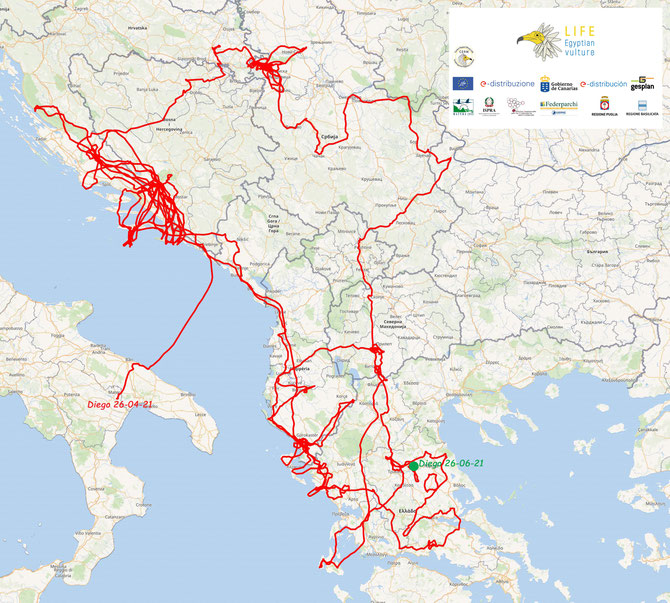 It's always exciting to observe unexpected vulture movements and keep learning about these fascinating birds! We are looking forward to seeing where Diego goes next — stay tuned by following the VCF on Facebook.