While every life within the Bearded Vulture EEP is cherished, some remarkable individuals become legends, and unquestionably, Hanneke was one of them. Her passing in August 2023, at the age of 39, was a sad loss for the Bearded Vulture (Gypaetus barbatus) family and for all who have followed her meaningful journey.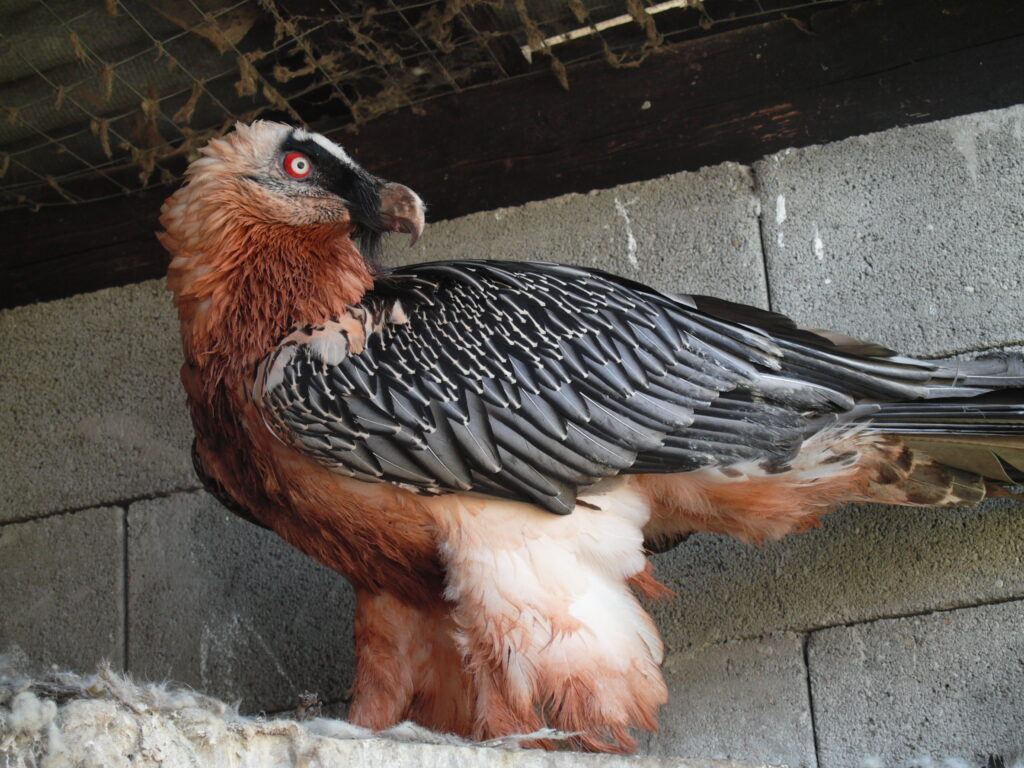 Legacy of Hanneke: A Bearded Vulture with Soviet Lineage
Hanneke's parents, the male BG 022 and the female BG 023 were founders of the Bearded Vulture captive-breeding network in the early 1980s. Originally from the former Soviet Union, the Bearded Vulture pair and a second founder pair were kept in the Wassenaar Wildlife Breeding Center in the Netherlands, owned by Hanneke and Jan Louwman.
The Louwmans accepted the invitation to become members of the newly established captive-breeding network "Bearded Vulture Conservation Foundation", which is the precursor of the Vulture Conservation Foundation. Although both pairs produced fertile eggs, productivity was very low, with only one offspring handraised. In January 1984, Hanneke Louwman transported the clutch of the pair BG 022x BG023 to the Richard Faust Bearded Vulture Breeding Center (RFZ), at that time called "Vienna Breeding Unit" in Haringsee, Austria.
Hanneke, the captive-bred legend
After artificial incubation, Hanneke hatched on 16 February 1984, was handraised for eight days and was adopted by one of the foster parents at the RFZ on 24 February. Once her sex was determined, she was named after Hanneke Louwman. The Louwmans have played an outstanding role in species conservation, having received the Dutch Royal Distinction in 2013. For many years they kept and bred several endangered species, including vultures, in their private centre in Wassenaar.
Bearded Vulture Hanneke spent the next four years in the company of other juvenile and immature conspecifics. In July 1988, she was paired with the male BG 071 (hatched in 1979), "Jan", who was an offspring of a famous breeding pair from the Alpenzoo Innsbruck. Against all odds, as the birds were still too young to breed, they started building their nest in September, and in December, mating was observed. Hanneke laid her first egg on 3 February 1989, at the age of 5, much earlier than most Bearded Vultures that generally take 7-9 years to breed!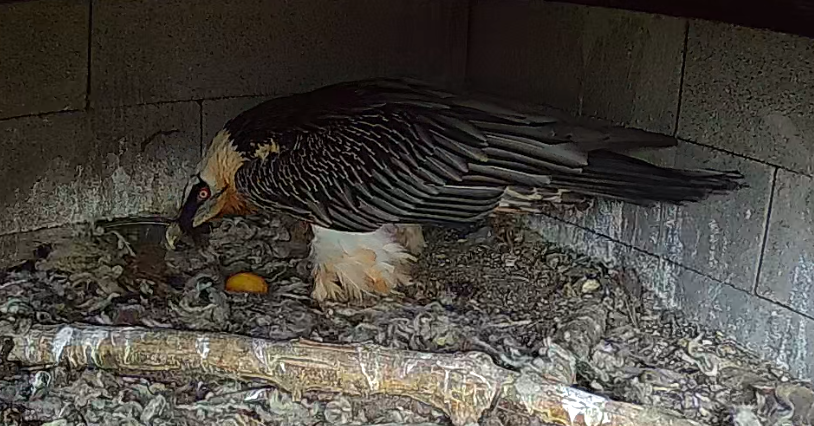 Hanneke and Jan: The most successful breeding pair in the Bearded Vulture EEP
Hanneke set an unrivalled precedent within the Bearded Vulture EEP with a premature breeding age and a successful hatchling on her first breeding attempt. The pair's first chick hatched on 30 March, but as they faced difficulties feeding their offspring, the dedicated team at RFZ spent the following weeks exchanging their nestling with another of an experienced pair, at least two times a day.
The pair stayed together throughout Hanneke's entire life, becoming the most successful breeding pair within the network. They have successfully produced 42 chicks and raised many more as foster parents!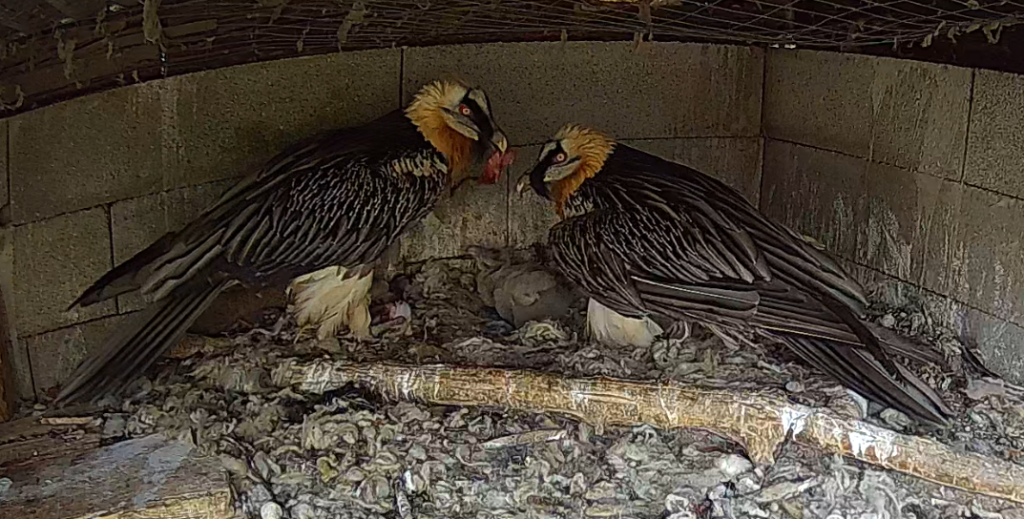 "Offsprings of this pair are spread all over Europe, in zoos and breeding centres and the wild as well, mainly in the Alps and Andalucia."

Hans Frey, founder and coordinator of RFZ
Although Hanneke was already 39 years old this season, she bred successfully and produced two offspring! One of them, the female BG 1172 named Flora, was released in June in Maestrazgo to restock the local Bearded Vulture population in this Spanish region.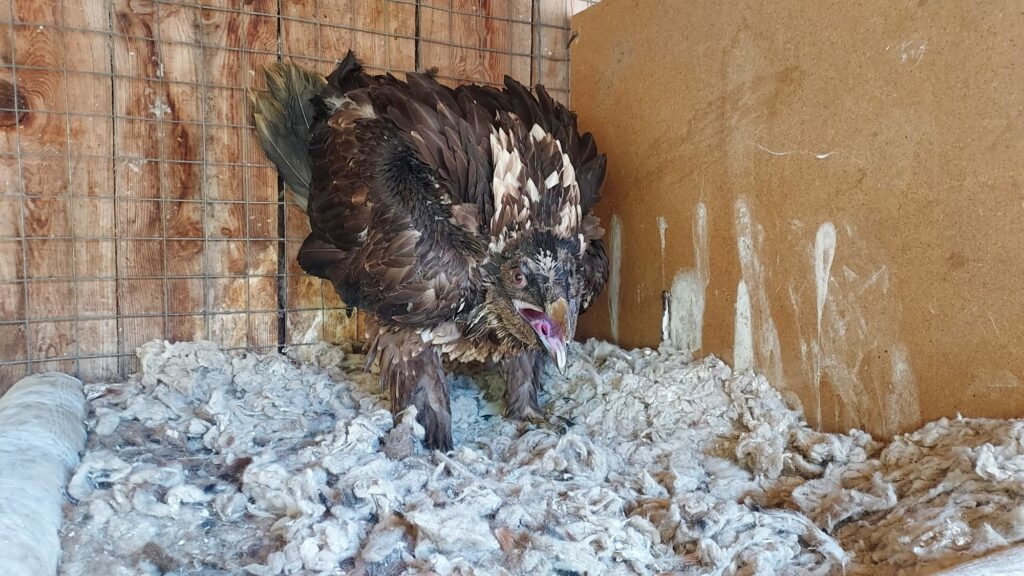 When a legend dies
For years, Hanneke suffered from producing large coprolites, a condition requiring a surgery intervention two years ago to remove a sizeable faecal stone. On the day she passed away when she flew from the place where she overnighted to the feeding area, a smell of decay was felled. The bird was caught, and maggots were found in her rump and the cloaca area. The experts have two suspicions about her mortality cause, either the problem with faecal stones or a blood quill of a tail feather might have broken and colonised by maggots. Her loss was deeply felt by those who have followed her impressive life at the RFZ.
Meanwhile, her lifelong partner, Jan, will be paired again with another female. However, pair bonding is a complex task and won't be easy for Jan. At the age of 44, he is already showing some signs of senility, and it would be hard for him to stand possible attacks from a much younger and agile female. We will keep you posted on the upcoming pairing attempts!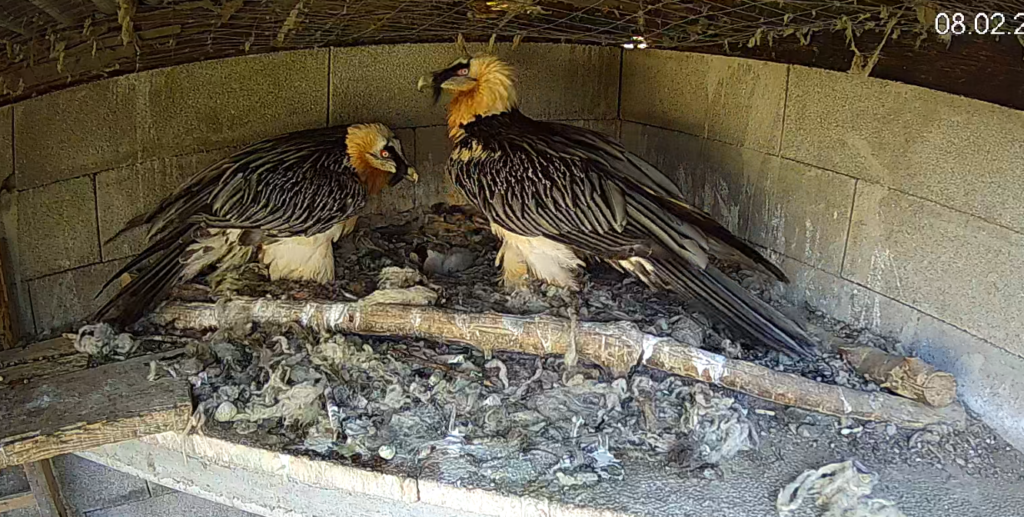 The Bearded Vulture EEP
All lives matter within the Bearded Vulture Captive Breeding Network, coordinated by the VCF on behalf of EAZA's EEP. The network of Zoos, specialised breeding centres and private collections keep 184 birds as captive stock. The network aims to ensure the species' long-term survival and genetic diversity (conservation ex-situ) and produce the maximum number of offspring (conservation in-situ), which is fundamental for restocking and restoring Bearded Vulture populations in the wild. 
After the death of two Bearded Vulture founders, BG 199 last autumn and Winnie earlier this year, we mourn the loss of Hanneke. May you rest in peace. Fortunately, the long-term continuity of the captive-breeding programme is ensured, thanks to the new hatchlings that were kept in captivity this year and some wild individuals that are no longer able to thrive alone outdoors. In total, 14 new pairs will be formed this year.