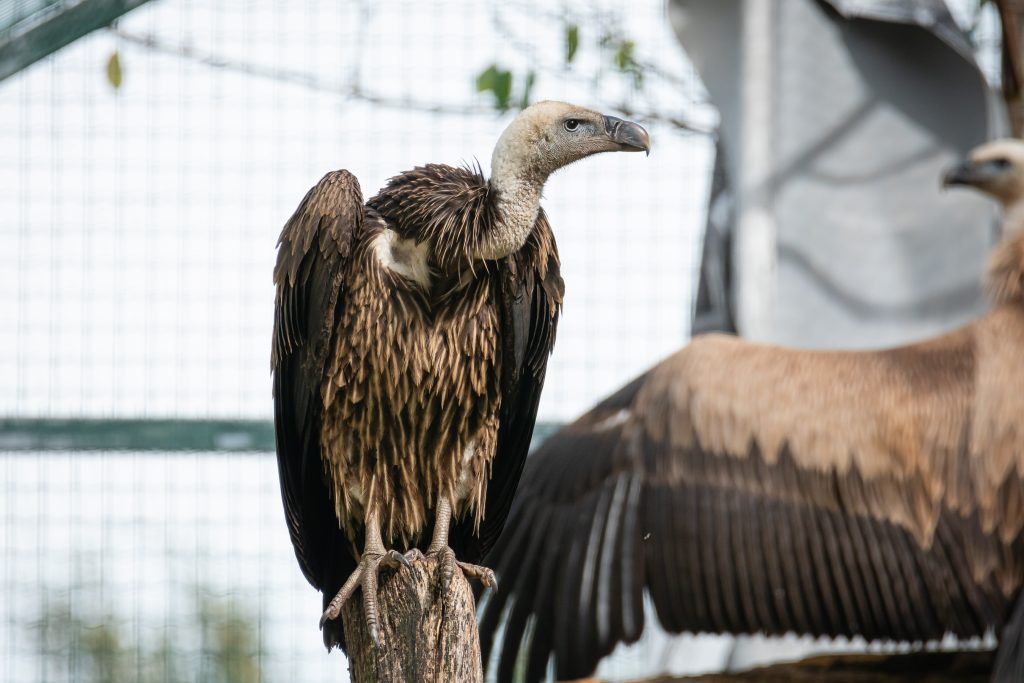 Earlier this week two young Cinereous Vultures and one juvenile Rüppell's Vulture were released in the spectacular viewpoint at Santo André das Arribas, Almofala, Figueira de Castelo Rodrigo, overlooking the Agueda river canyons in Portugal, with GPS transmitters provided by the Vulture Conservation Foundation (VCF). A Griffon Vulture was also released, but without a transmitter – only with colour-rings.
Rescuing and rehabilitating the young vultures
The three birds now tagged and released in Portugal had been collected weakened in the late summer in various points of Portugal and sent to wildlife rehabilitation centres, where they recovered weight, muscle and strength.
Juvenile vultures in the Iberian Peninsula often wander to areas with little food. After two weeks without feeding, they often land weakened and are then rescued by local people and sent to wildlife hospitals.
The two Cinereous Vultures were picked up in Seia, central Portugal, and Alijó, northern Portugal, and sent to the CERVAS wildlife rehabilitation centre in Gouveia, managed by Aldeia NGO, and to the veterinary hospital of the University of Trás-os-Montes and Alto Douro (Vila Real). They were both tagged with GPS transmitters.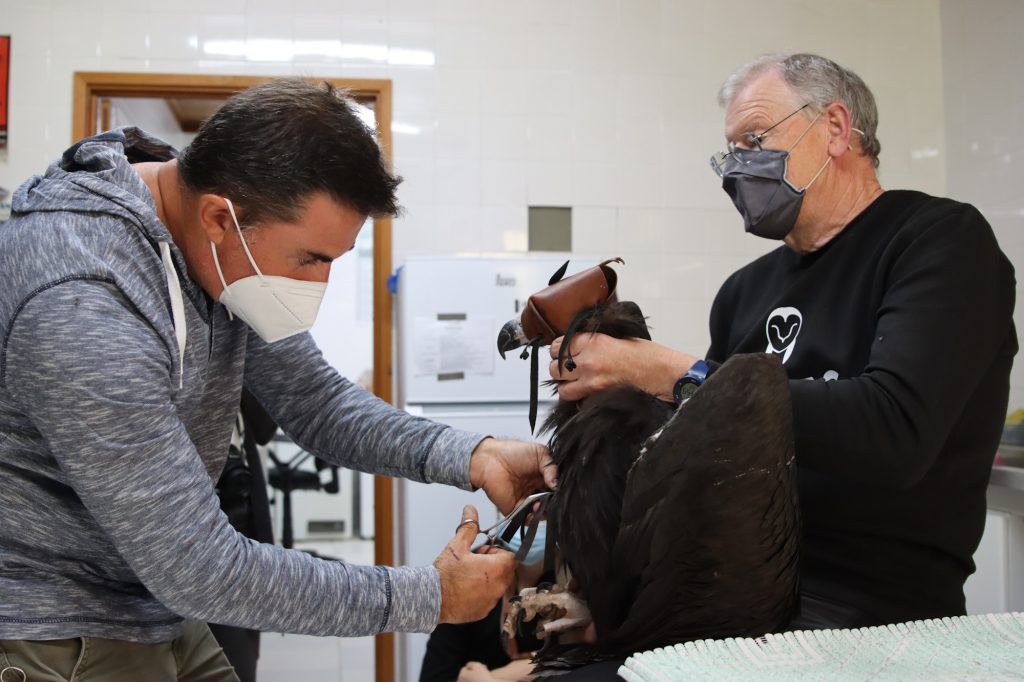 First-ever Rüppell's Vulture GPS tagged in Portugal
The case of the Rüppell's Vulture is more puzzling. This African vulture species is increasing in Europe – in the last few years several dozen pass every year the Strait of Gibraltar, joining the Griffon Vultures that go and winter in West Africa when they fly back to Europe in spring. The government of Andalusia in Spain (Junta de Andalucía) has already added the species to their list of vultures, with some calling it "Europe's 5th vulture species". However, no breeding has been confirmed in Europe, even though a few mixed pairs consisting of Griffon and Rüppell's Vultures have already been observed exhibiting breeding behaviour.
The bird now released was a first year, and was picked up on 3 September in Vouzela, in central Portugal, an area that is not suitable for vultures. This bird was probably a few months old only – the question is where has it hatched? In the Sahel colonies in Niger and Chad – the closest to Europe, or in an unknown breeding pair somewhere in the Iberian Peninsula?
This bird was also tagged with a GPS transmitter – the first time this happened in Portugal, and to our knowledge only the third time in Europe, after a bird was captured in the Gibraltar area and radio-tracked in 2003, and another one GPS tagged in Alicante in 2018, both in Spain. A number of Rüppell's Vultures have been tagged in Morocco, at the southern side of the Strait of Gibraltar, and this autumn at least 4 wing-tagged birds (from Morocco) have been seen in southern Portugal.
Interestingly, this bird flew immediately south after the release, from the Douro canyon to the Tejo river, while the two Cinereous Vultures stayed in the Douro but have also started to wander around.
The VCF would like to thank CERVAS and CRAS UTAD for the excellent work they did rehabilitating these vultures, and ICNF (the Portuguese nature conservation statutory agency) that manages the Douro International Natural Park), for the co-organisation of the release event.
Cinereous Vultures in Portugal
Cinereous Vultures became extinct as a breeding species in Portugal in the 1970s, mostly due to the widespread use of poisoned carcasses targeting unwanted predators. This practice is now illegal and hopefully decreasing.
An increasing population in Spain saw the species regularly visiting Portugal to forage, with the first pair breeding recorded in central Portugal (Tejo Internacional) in 2010 (where now there is a small colony of about 25 pairs), and then in the Douro canyon in north-eastern Portugal (two pairs there now). In 2015 the species recolonized Herdade da Contenda in south-eastern Portugal, and has bred there successfully ever since – there are now at least 12 breeding pairs there.
In the Douro, the first Cinereous Vulture pair nested in 2012 — this recolonization was surprising and unique, as the pair settled about 100 km from the nearest colonies, located in Spain. Cinereous Vultures usually live in colonies with dozens of individuals. Sometimes, newly formed couples move away from a colony, starting a new nucleus, but usually, these new nuclei form 10 or 20 km from the original colony – not 100km!
Monitoring Cinereous Vultures in Portugal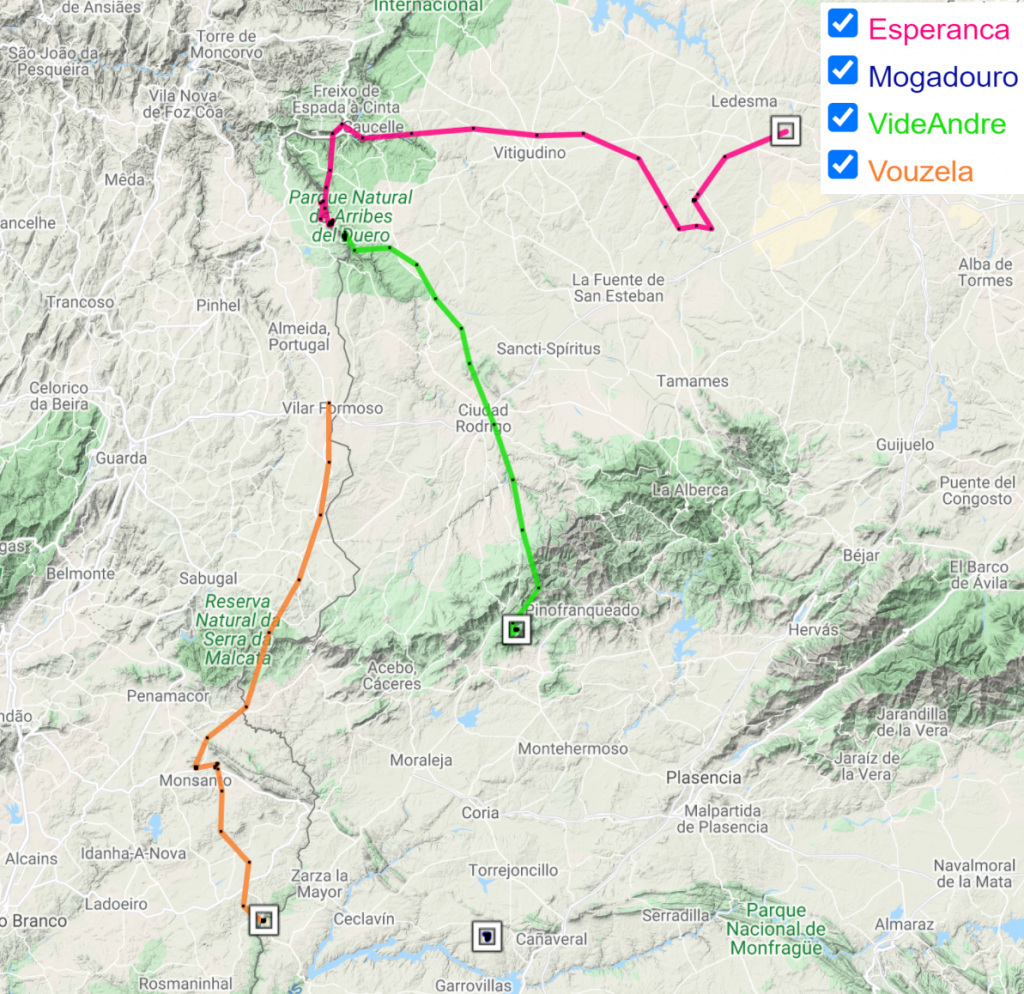 Over the last few years, Portuguese conservationists have been trying to monitor closely the growing Cinereous Vulture populations. With the help of the VCF and the MAVA Foundation, tags have been deployed in 16 Cinereous Vultures – 7 nestlings from the Douro and Contenda colonies, and 9 Cinereous Vultures coming from wildlife rehabilitation centres, and are made available on our website. The VCF strives to begin monitoring the growing Rüppell's Vulture populations in Europe by equipping them with GPS transmitters to help determine how long they stay in Europe and where do they come from.
The transmitter weighs only a few grams and yet it provides invaluable information that will help inform more accurate conservation actions. With the data provided, we understand the movements, foraging ranges and habits of these birds, and it also allows us to detect when the vultures are no longer moving and potentially injured. The data also reveals any threats the vultures may face during travelling, providing insights that will allow conservationists to carry out actions that reduce risks and help support the species comeback in the area.