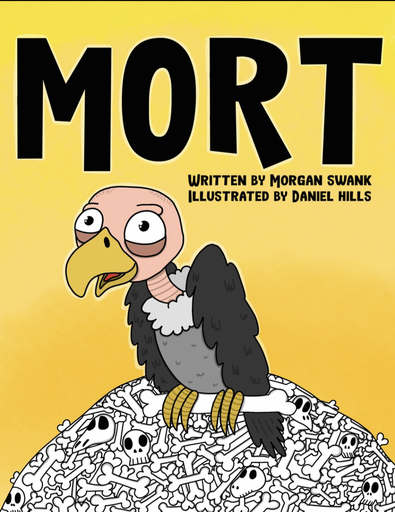 There is a new addition to the vulture literary sphere – the children's book Mort! The vulture protagonist 'Mort' is the hero that aims to change the negative perception of vultures while sharing the important message of kindness, self-acceptance and friendship! We talked to the author, Morgan Swank, to learn more about the book and her love of vultures.
What is your book 'Mort' about?
"Mort" is a story about a baby vulture named Mort just trying to fit in with the birds in his environment. It's a story of self acceptance ultimately in the end as Mort realizes he's special the way he is and vultures just as important as every other animal on the planet. He doesn't have to be anything else besides the perfect vulture he is. It's a children's book filled with those lessons to treat people nicely and self acceptance, but there's a lot of adult lessons as well. I wanted to include the environmental elements about how these animals are important to our habitats.
Why did you choose a vulture to be the protagonist?
Vultures are the perfect characters to use as a protagonist! They are magnificent animals valuable to the ecosystem, but most people find them really scary and don't want to learn about them or get close to them. I started to think about what they would think of themselves if they could talk and be the hero of their own story. Would they consider themselves birds or something scary and part of the outsider ring of animals? Imagine a baby or teenager vulture trying to make friends with other birds. It's a great concept for a self-acceptance story of friendship to me. So, it was an easy choice for the story.
What do you wish to achieve with this book?
I really just wanted to find a way to reach people, specifically kids, with the story. Since the age group is technically 3-8 and it's heavily influenced by the pictures, it's really a family experience reading "Mort" and that's what I wanted. The two part takeaway is really 1. I wanted it to be a story of self acceptance, kindness, and inclusion that sticks and 2. I want adults and children to take something away from this story to understand how important these birds are. I want everyone to be a little more interested in the plight these birds go through and do their own research after reading to take interest in how we're affecting the habitats. Again, since there's not that many children's books about vultures I wanted to create a cute, likeable character to grab enough attention and create a conversation. By doing all the press I can and mentioning the fact that Mort is an endangered African vulture as well I just want to get adults and kids talking about the reality of these magnificent animals worthy of their own stories.
About the author
Emmy-winning writer and co-founder of Moonscar Productions, Morgan Swank, finds her work entirely behind the camera as a television writer when she's not writing books. Since 2012, she's worked on Broadway Video productions such as Late Night with Jimmy Fallon, Saturday Night Live, and 30 Rock and other scripted shows. She's currently developing her first pilot for network and producing projects under Moonscar's umbrella including "Mort" as an animation feature film.
Follow the author on Instagram: @morganswank and @moonscar_productions
A big thank you to Morgan Swank for shedding light on vultures and for taking the time to speak with us about her book. Further to this, Morgan is gratefully donating 10 per cent of the proceeds to the VCF, as well as programmes that connect children to endangered species.