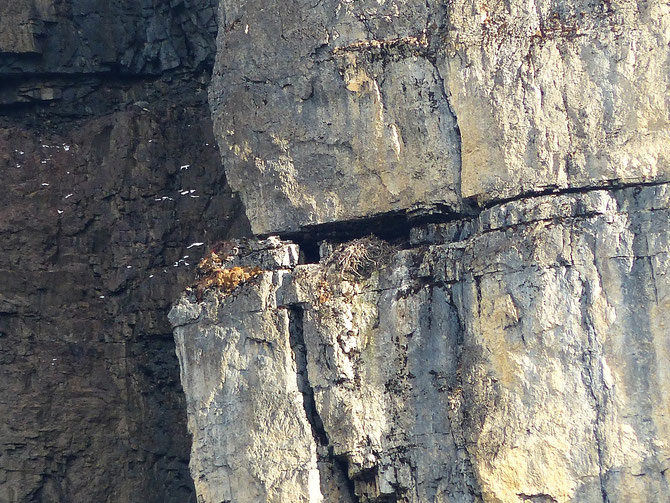 Some propose that Bearded Vultures can nest at an altitude of over 5000 metres, but such a case was never recorded. Now, however, there is a new observation that approaches that theory – Dr. Francisco Montoro García spotted a Bearded Vulture nest at an altitude of 4,800 metres in the Himalayas. After some research, Dr. Montoro realised that this was the highest ever-official record of a Bearded Vulture nest! The previous highest nest was at 4,600 metres, as indicated in Dr. Tulsi Subedi's study of 22 Bearded Vulture territories in the Himalayas.
Bearded Vultures in Annapurna Massif, Himalayas (Nepal)
Last November, Dr. Francisco Montoro made a tour around the Annapurna Massif and, in addition to enjoying the fantastic Nepalese view, he was lucky enough to observe Bearded Vultures in several occasions, some reaching altitudes between 2700 and 5200 metres, although most of the sightings happened to be between 3500 and 4500 m altitude.
The Bearded Vulture seemed to be an ordinary bird in the area, presenting a well-structured age pyramid. Among the Bearded Vulture observations, two were young and were flying together, three were subadults, and the other ten were adults. They did not seem to suffer human disturbance and the trophic resources for the necrophagous birds are abundant: goats, sheep, cows, yaks, horses and, of course, bharal or blue sheep (Pseudois nayaur), which represent an ecological niche that is similar to the Spanish wild goats one on the Spanish mountains.
Discovering the nest
During one of those sightings, he spotted a nest situated at 4800 m altitude! "At dusk on the 13th of November, I saw an adult landing on a dark northwest oriented hole. This crag worked as a refuge to a completely visible nest: a one-metre-tall stack of branches, where the bird landed. The nest orientation chosen by the couple at such a high location with extremely cold winters is especially remarkable. In addition, the difficulties encountered by the birds to find branches and sticks to build the nest are to be highlighted. It is important to remember that the arboreal vegetation completely disappears from 4000 metres altitude above", Dr. Francisco Montoro states.
Watch the highest Bearded Vulture nest ever recorded (images entirely filmed in the Annapurna Massif)
Possibly the highest Bearded Vulture nest
It was a great surprise to discover the Bearded Vulture to alight there. Nevertheless, Dr Montoroalso remembered what he had already read in this respect: that this species can also nest at 5000 metres altitude at the Himalayas. So, in principle, his discovery should not represent anything extraordinary. "As soon as I came back from my trip, I told Jean- François Terrasse (which is a real master in the matter) what I saw. He told me, he did not know any citation of Bearded Vulture nests at such a high level. In addition, he induced me to think this could be the highest Bearded Vulture nest ever documented in history. My curiosity led me to contact other friends and specialists, Michel Terrase, Rafael Heredia, Abilio Reig, Alfonso Senosiaín and Hans Frey, among others. The answer was the same, even if the data were very old, like the review from 1938 that Hans Frey kindly shared with me. I kept on looking for information in the bibliography. I found several authors indeed citing birds flying even at 7500 m altitude, but none of them describe such an elevated nest."
The spotted nest highlights the great adaptation capacity of the bird to the harsh conditions of the high mountain. Dr Montorofurther states "I believe 4800 metres must be an altitude certainly close to the feasible limit for the nesting of the Bearded Vulture and almost any other species. This is due to the extremely severe weather conditions, but also to the lack of oxygen and the difficulties with gas exchange faced by the embryony inside the egg, with its high demand at the crucial moment of the hatching."
Special thanks go to Dr. Francisco Montoro for sharing and recording this fascinating observation. The research and support on this matter by Jean-François and Michel Terrasse, Rafael Heredia, Abilio Reig, Jose Antonio Sesé, Alfonso Senosiain, Hans Frey, and Tulsi Subedi should also be noted as they helped reveal that this was indeed the highest nest officially recorded so far. Perhaps there is a nest at a higher altitude but was not discovered yet. Have you ever spotted a Bearded Vulture nest at a higher altitude? Please share your record with info@4vultures.org and pacomontorogarcia2@gmail.com.
Sign up to our newsletter and never miss any vulture news!
Bibliography
Acharya, R. et al. (2010). Rapid decline of the Bearded Vulture Gypaetus barbatus in Upper Mustang, Nepal. Forktail 26: 117–120.
Ferguson-Lees, I. J. (1960). Studies of less familiar birds. 102. Lammergeier. British Birds. An illustrated monthly journal, vol. 53: 25-29.
Hiraldo, F. et al.
(1979). El quebrantahuesos Gypaetus barbatus. Sistemática, Taxonomía, Biología, Distribución y Protección. Ministerio de Agricultura, monografías ICONA. Spain.
Schaefer, E. (1938). Ornithologische Ergebnisse zweier Forschungsreisen nach Tibet. J. Orn. 86, 1-349.
Subedi, T. et al.
(2018). Breeding habitat and nest‐site selection of Bearded Vulture Gypaetus barbatus in the Annapurna Himalaya Range of Nepal. Ibis, 162: 153-161.