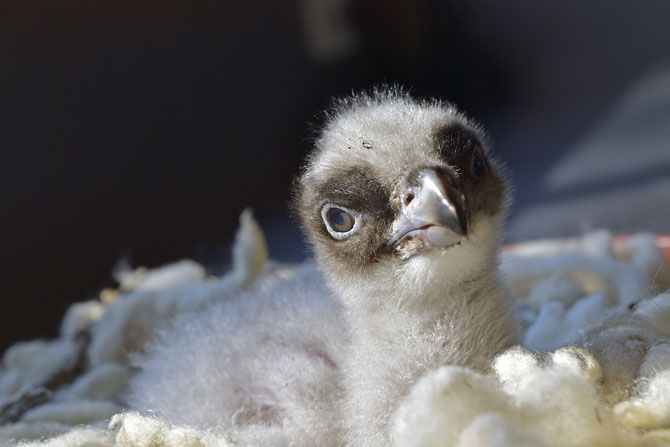 The breeding season within our Bearded Vulture Captive Breeding Network (EEP) kicked off in October 2019 when Bearded Vultures started displaying breeding behaviours. Fast forward to seven months later, and the hatching period is now officially over. This was a very intense period for human keepers taking care of the birds and breeding the species in captivity. How many captive Bearded Vultures hatched this season?
Overview of the 2019/20 Bearded Vulture Breeding Season
In October, breeding pairs began playing with nesting materials such as sticks and wool, building their nest, engaging in mutual preening and exhibiting aggression towards neighbouring pairs, therefore signalling the start of the breeding season. Nest building for Bearded Vultures usually begins around three months before egg-laying, with copulations occurring anywhere between 50 and 90 days. This time, the first egg was laid on 2 December 2019, which is considered quite early for the species. Following the egg-laying, pairs incubate their clutch for around 54 days. On 30 January, the first chick hatched at Guadalentín, which breeds the most Bearded Vultures every year and specialises in double adoptions and naturally raising chicks coming from other facilities. 
Adoption by other facilities is particularly important as some establishments cannot naturally rear newly hatched chicks, which can lead to human imprinting. Therefore, the possibility of adoption by Bearded Vultures enables chicks to develop their natural instincts, and so be able to be released to the wild and breed with their conspecifics when they reach sexual maturity. However, this year due to the COVID-19 pandemic and the travel restriction, it was not possible to carry out all the necessary transfers between facilities. So, the Vulture Conservation Foundation (VCF) developed emergency plans and protocols, where facilities could adopt specific measures to rear chicks in a way to avoid human imprinting.  
The 2019/20 breeding season was yet another good season, especially considering the additional challenges we faced this year. In brief, 41 laying pairs produced 71 eggs from which a minimum of 52 eggs were fertile. In total, 38 chicks hatched and 25 survived.
Interesting patterns this season
This breeding season was another one with some new patterns and interesting occurrences. In general, a high number of pairs laid clutches quite late compared to the average time they usually lay—some pairs laid at the end of February, and the latest one in mid-March. The pair BG594 and BG006 laid a clutch on 18th March at Richard Faust Bearded Vulture Specialised Captive Breeding Centre in Austria, the headquarters of the Bearded Vulture EEP programme and where all started, which is also the largest centre of its kind in Europe, housing 35 Bearded Vultures. The male, BG594, was not able to mate adequately before he met BG006. We tried to pair him with two young females but he always mated on the perch. Finally, on 4 September 2019, we tried to pair bond it with BG006 and it was a success — he learned to copulate adequately from the first time! This female is quite older than him as she hatched in 1978 at Alpenzoo Innsbruck, which was the same year when the International Captive Breeding Programme officially started. In the end, their egg didn't hatch. It was expected to hatch at the centre on 11 May as it was fertile but was it aborted during the first incubation period.
The Bearded Vulture release season already started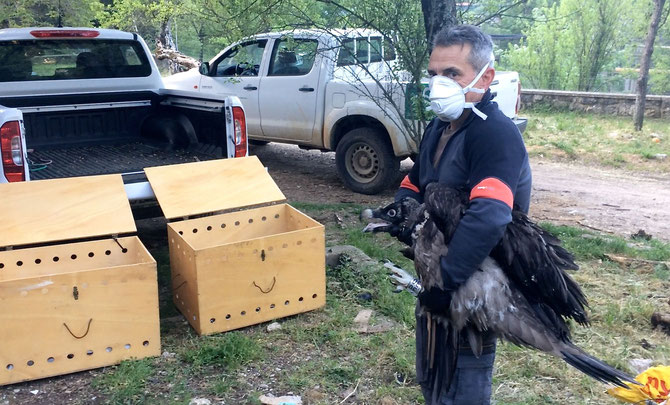 In 2019, we released 22 young captive-bred Bearded Vultures into the wild in six different locations across Spain and France, which was a record number of released birds. This year, we are foreseeing the release of 21 birds across six regions in Spain, France and the Alps, which will be transferred by planes or carriers. Two Bearded Vulture siblings that hatched at the Bearded Vulture Captive Breeding Centre of Guadalentín kicked off the 2020 release season in Andalusia on Saturday 9 May. More releases will take place in May, June and July.
Stay tuned with the releases by following #BeardedVultureReleaseSeason on Facebook, Twitter, LinkedIn and Instagram!