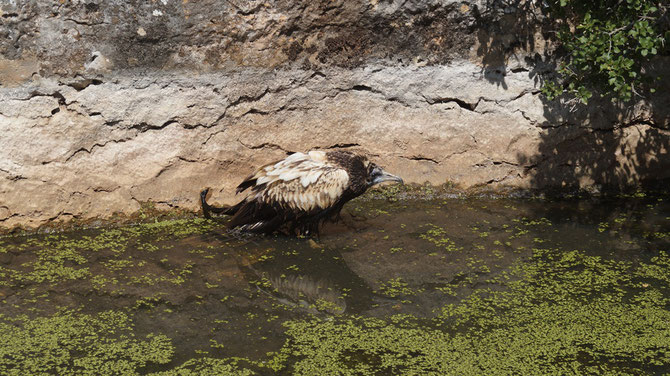 The young Egyptian Vulture Anna recently embarked on her first migration and faced many challenges along the way. Worrying signs from her GPS transmitter movements made ornithologists carry out a rescue mission, and we are glad they did because Anna needed their help! She was rescued, rehabilitated and now will hopefully pair with another captive Egyptian Vulture to raise her own chicks one day, which will have the chance to be released in the wild of Bulgaria.
Egyptian Vulture Anna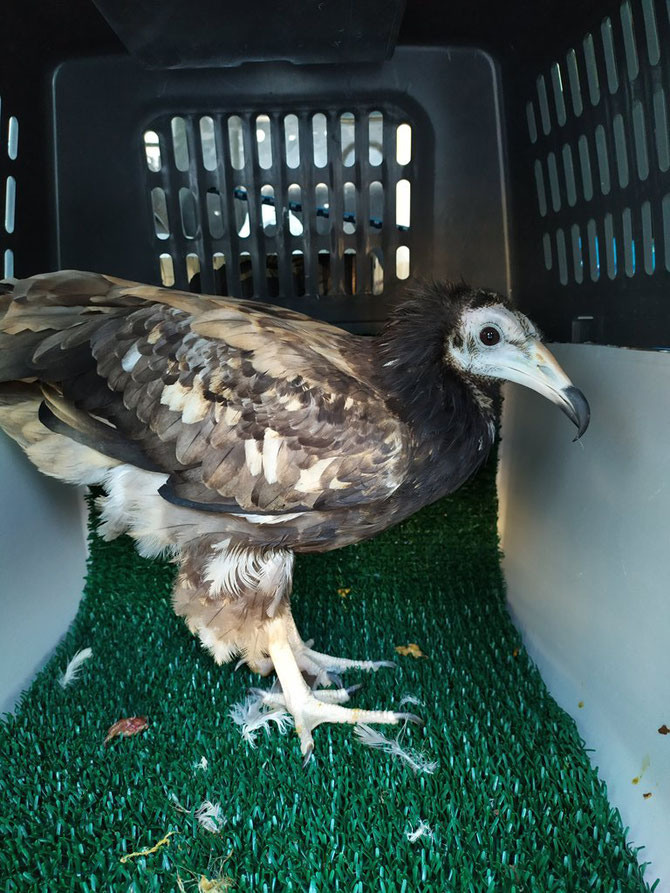 Despite being only two years old, Anna has a long story with amazing adventures and great challenges to tell. She is a young Egyptian Vulture born in captivity in Prague Zoo in June 2018 and is among the few birds chosen to be released in the wild of Bulgaria in an attempt to find the best release technique for the species and ensure the survival of the whole population. She is among those privileged birds which even though were born and raised in captivity were given the chance to live in the wild.
At the age of only three months, Anna was donated by Prague Zoo and placed with another chick in a specially built adaptation hack on the cliffs of Madzharovo in the Eastern Rhodopes. She spent three weeks in the hack adapting to the local conditions, and observing the wild vultures flying nearby, soaring over the cliff ledges and using the thermals of hot air to disappear high in the blues skies. She didn't have the support of her parents during the critical period of the first flight but here comes the mission of the conservationists – to provide the best possible care for her, supply diverse and healthy food, fresh water and immediately react if she is in danger somewhere in the wild.
One morning the door of the hack opened, and it was time for Anna to make the biggest step in her life – a whole new world full of challenges was awaiting outside, and she has just to spread her wings and jump embracing the uncertainty. She first started flapping from cliff to cliff and soon soaring and gliding like her wild cousins, gaining height and swirling down, exercising her muscles and flying skills.
Anna's first migration
At the beginning of September, just two weeks after fledging, Anna started the biggest and most important journey of her life – the first migration. Every autumn, Egyptian Vultures leave their breeding grounds heading south. They tirelessly fly for over 5000 km to reach their wintering grounds in Africa where they spent the winter months and then return back to Bulgaria. This is one of the most dangerous, exhausting but at the same time exciting and spectacular phenomena in nature. Anna crossed the Marmara Sea and continued south through Turkey. She chose a very demanding migration strategy.
Anna was starting earlier in the morning, unlike the other young Egyptian Vultures and was travelling greater distances per day without feeding anywhere on her way. For just nine days she passed 1700 km or on average 190 km per day. She reached southern Turkey near the city of Mersin where bad weather with strong winds and rain forced her to stop. She chose to roost on a tree at a steep slope in the foot of the mountain. In the next three days Anna was forced to remain still due to the harsh weather conditions. However, even after the sun began to shine again and wind gusts calmed down, and the other migrating birds continued south, Anna remained stationary on the same steep mountain slope.
Anna's rescue mission
Receiving these worrying signals from the GPS transmitter mounted on her back, the ornithologists decided to organize a rescue mission. Luckily, her location was not very far from Sarimazi where a joint team of BSPB and Doga Dernegi was conducting raptor migration count at that time. They waited for another day to see if she will finally continue her journey south, but unfortunately, she remained still, and specialists had to intervene. While driving to the place, they were just hoping that it was not too late and she is still alive! They left the car behind and walked on a sheep path to reach the place of her last GPS signal. Anna was found soaked to the bone in a cliff niche on the ground filled with water. She was totally exhausted and very weak, so she didn't even try to escape. It seemed that she has been starving for long and found this natural pond where she could at least drink some water and keep herself hydrated. She was carefully transported to a house in Sarimazi. Her weight was only 1440 g, which is about 500 g under the normal weight for her age! The vets from the Wildlife Rehabilitation and Breeding Center of Green Balkans provided valuable advice on how to treat her!
As a result of the good care and the very nutritious diet, Anna gained 240 g of weight in only three days. She was getting stronger and more confident, fighting with anyone who wanted to touch her food. However, due to the fact that she could not find food on her own in the wild, releasing her again would have been too risky for her life. So, it was decided that it would be for the best if Anna is transported back to Bulgaria. This was also a nightmarish process.
Anna's future awaits
Months were passing and tens of emails, explanations, messages were exchanged between organizations, veterinarians and authorities. Anna was moved in different wildlife centres until all the documents needed for her transportation were prepared. Documents were issued, processed, transferred, signed but Anna was patiently waiting for the moment of her comeback. A team of BSPB and the Wildlife Rehabilitation and Breeding Center of Green Balkans was travelling to Bursa, and Doga Dernegi's team was providing all kind of support on the Turkish side. Meanwhile, she has fully recovered and built up muscles and fat again. Finally, with the effort of so many dedicated people, a year after she was rescued, all the legal procedures were met, and she had the documents to be transported back from Turkey to Bulgaria.
She is a precious bird, and even though she won't be released back in the wild, she had the chance to taste freedom. Now she has another important mission – to pair with another Egyptian Vulture and someday to raise her chicks, which will have the chance to be released in the wild nature of Bulgaria.
This was all thanks to the many people and organizations who helped this story to find its happy end – BSPB, Green Balkans, Doga Dernegi, Prague Zoo, Faruk Yalcin Zoo, Wildlife Rehabilitation Center in Karacabey, General Directorate of Nature Conservation and National Parks of Turkey, Ministry of Agricultural and Forestry of Turkey, Ministry of Environment and Waters of Bulgaria, Bulgarian Agency of Food Safety, Sofia Zoo, and volunteer veterinarians.
Text adapted by the Egyptian Vulture New LIFE project article.
Egyptian Vulture New LIFE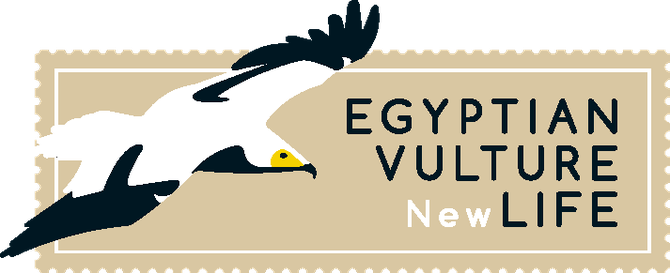 Working collaboratively projects like the Egyptian Vulture New LIFE aims to reinforce the Egyptian vulture population in their Europe's easternmost range across the Balkans. By actively managing and restocking the population by releasing captive-bred birds the project will support the small Balkan population which number between 60 and 80 pairs across the whole region. The project is working to deliver conservation measures that eliminate major known threats such as illegal poisoning and electrocution in their summer breeding grounds. Monitoring the population closely using GPS transmitters will also help the project tackle the major threats Egyptian vultures face.  The Egyptian Vulture New LIFE is a partnership of organisations, led by the Bulgarian Society for the Protection of Birds from 14 countries spanning Europe, the Middle East and Africa, to protect Egyptian vultures not only in Europe but all along their migratory flyway.