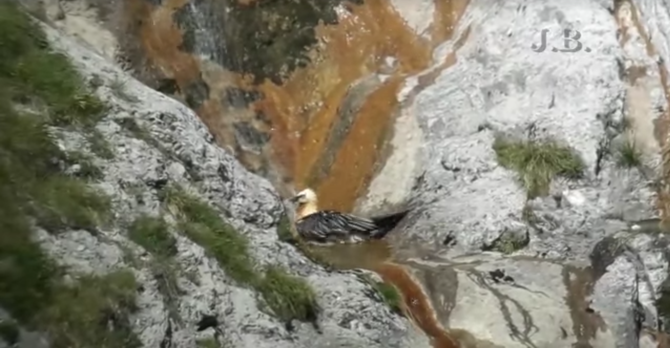 Who does not feel like taking a bath in a waterfall in the Cañón de Añisclo in the middle of the summer? Well, it is prohibited throughout the National Park of Ordesa and Monte Perdido, but thankfully for our benefit, Bearded Vultures do not follow those rules. Lucky Nature Protection Agents who monitor the species managed to capture the spectacle of the bird bathing, which was never recorded before in the area. 
At the end of August, Javier Barrio de Pedro, a Spanish nature protection officer, filmed rare images of an adult Bearded Vulture bathing. Published by the "Diario Altoaragon", his video shows us this iconic vulture taking a bath in a cascade of the Añisclo Canyon, in the Ordesa and Monte Perdido National Park. A relatively unusual sight – what a beautiful video!
The Bearded Vulture filmed
This adult Bearded Vulture is at least ten years old and is among the 30 individuals in the region. It is part of a breeding trio in Cañón de Añisclo. The agents came to visit the trio at the end of August to check whether their chick was still in the nest or already fledged – at the time the chick was still in the nest. These fantastic Nature Protection Agents monitor eleven breeding pairs/trios in the region.