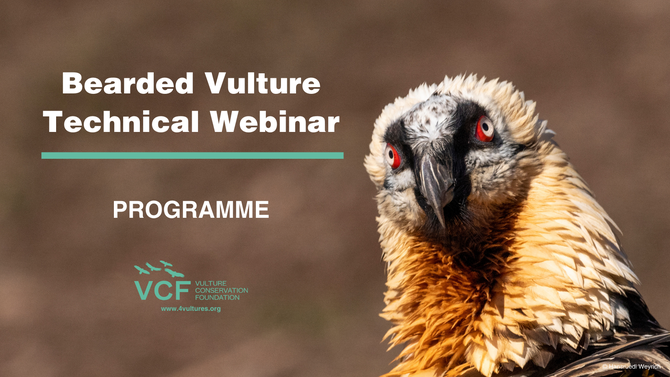 If you work with Bearded Vultures or are simply a fan of this magnificent species, make sure you join us for the upcoming Bearded Vulture Technical Webinar, organized by the Vulture Conservation Foundation, which is open to all and free!
During the Bearded Vulture Technical Webinar, experts will review the latest updates from conservation and research projects of the species in Europe, Southern Africa and Nepal! From breeding the species in captivity for reintroduction or restocking purposes to monitoring the movements of multiple birds with GPS technology to understand movement ecology, this Webinar will discuss various aspects of Bearded Vulture conservation and research on a global scale.
How to participate
The Webinar will take place on Friday 13 November between 2-5 pm CET, and it will be hosted on Zoom (registration is required to take part).
Register: https://bit.ly/3kxZgQC
At the same time, the Webinar will be live-streamed on the VCF's Facebook and YouTube pages, where registration is not required.
Programme
We are excited to announce the official Programme of the Webinar, which features the latest Bearded Vulture conservation and research updates in Europe and beyond.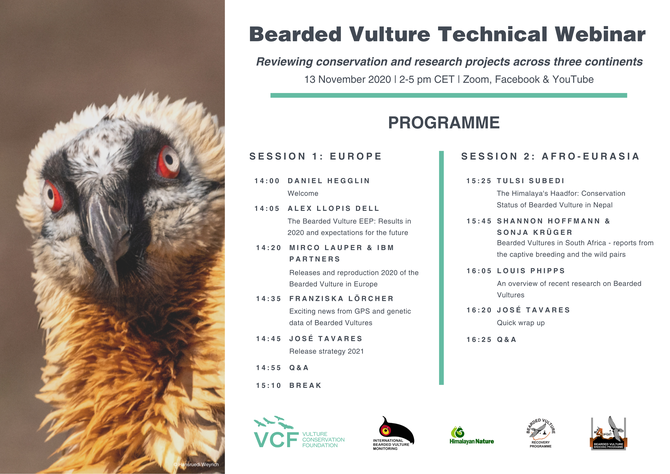 Download the Bearded Vulture Technical Webinar Programme in PDF version
Bearded Vulture Webinar Programme .pdf
Adobe Acrobat Document 2.6 MB
Follow the Facebook Event Page of the Webinar to stay tuned with updates!