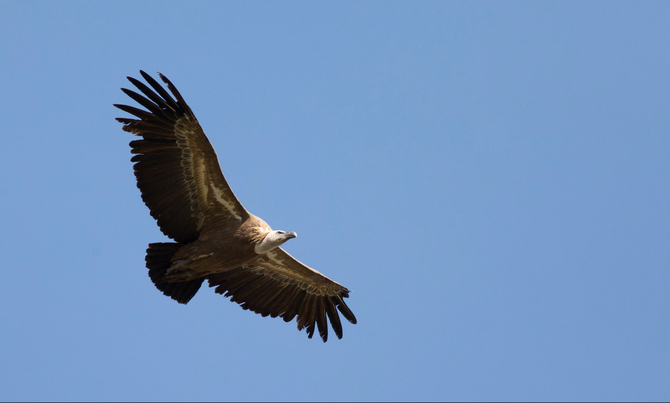 The Griffon Vulture population is booming in the eastern Alps thanks to the conservation actions by the project 'Progetto Grifone'.
Record number of birds
The conservation project 'Progetto Grifone' in the Eastern Alps, implemented in the Regional Nature Reserve of the Cornino Lake (NE Italy), boosted the Griffon Vulture population in the area! The project allowed the return of this species as a breeder and the increase in the number of Griffon Vultures summering in the Eastern Alps, with a significant rise in the number of birds in Austria and Slovenia and regular interactions with the neighbouring Croatian colonies. At least 200 Griffons are permanently present in the area, and they increase considerably during the summer with up to over 400 individuals.
Food resources
The feeding point is supplied with 55 tons of carcasses per year, in particular, with pigs and wild ungulates run over on the roads. The area is located at the northern limit of the historical breeding range of the species, with critical climatic conditions and limited food resources, particularly in the autumn and wintertime. The monitoring of the breeding pairs is not easy, considering the few financial and human resources available and the abundance of potential nesting sites in a vast area.
Monitoring results
Breeding area (c) Progetto Grifone
A greater monitoring effort led this year to the final count of about 60 territorial couples and at least 33 fledglings! This is a great result, considering that there are undoubtedly other nests not yet identified. The colonies range from 1 to 14 pairs and they are distributed in six sectors within a radius of 20 km from the feeding point, at altitudes between 400 m and 1200 m, located along the River Tagliamento Valley and side valleys. The egg-laying season ranged from the end of January to March. The majority of the chicks leave the nest during August. There is an expansion in the breeding area towards other pre-alpine and alpine reliefs. This is an important result, also considering the fact that this year from January to March, Griffon Vultures have rarely frequented the feeding point due to various disturbing elements and therefore they have evidently been able to find other food resources.
The project has positive effects on the aestivation of the species in all the eastern Alps, on the dynamics of the Croatian colonies and as promoter of exchanges both between the various populations of vultures of western and eastern Europe and between the Alps and the Balkans.