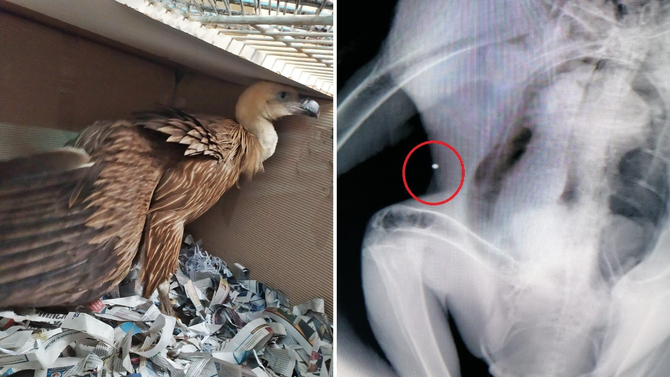 A rescued Cretan Griffon Vulture gets a second chance at life! This young vulture was unable to fly and needed help, so he was rescued and transferred to ΑΝΙΜΑ-Wildlife Care Association. Worryingly, x-rays showed a shot pellet in its body, indicating that this protected species was a victim of illegal persecution. However, a severe wing fracture was the reason behind the vulture's inability to fly. Thankfully, the bird is in good hands now and underwent a complicated surgery to fix the fracture for the opportunity to spread its wings and fly in the wild again.
Rescue, rehabilitation and examination
Chania's Forest Service rescued the young stranded Griffon Vulture in Frangokastelo and transferred the bird to ΑΝΙΜΑ-Wildlife Care Association on 2 December to receive treatment. The first x-ray revealed the shot pellet in its muscle and detected the severe fracture on its right wing. After some examination, it seems that the shooting did not directly cause the fracture. Still, it is possible that the shooting triggered a reaction that subsequently led in an accident or a crash. X-rays further showed that the vulture also had an old crack in the left ulna, which was completely healed. Following the examination, the main issue to solve was the months old fracture where the bones stuck in the wrong position and the only way it could be healed was through a complicated surgery.
Complicated surgery is undergone to fix the fracture
A long and very difficult surgery took place today on 9 December at the Veterinary Center of Peristeri, which lasted for over three hours and was performed for free. The veterinarians Babis Charalambides and Achilleas Akrivos, with the assistance of Grigoris Markakis from ΑΝΙΜΑ-Wildlife Care Association, had to restore the wing fracture, which occurred a long time ago, resulting in the bones being stuck in the wrong position. During the surgery, the vets broke the fracture to reposition the wing and put the bones back in the right position, which were then fixed with a plate, screws and surgical wire. The photos of the X-rays above clearly show the difference of the wing structure before and after the operation.
Well done to all involved in nursing the injured Griffon Vulture. We hope the bird makes a full recovery and can fly again in the Cretan sky.
Fighting illegal bird killing
Even if it's a rare case, it is still very worrying that this protected species was illegally persecuted in Greece. We here at the Vulture Conservation Foundation are working alongside multiple partners to minimise illegal bird killing along key migratory flyways. One large-scale project funded by the MAVA Foundation is now underway, with actions in many countries, including communications campaigns, increased enforcement on particular black spots, training of enforcement agencies, and lobbying for strengthening environmental protection legislation and regulations.