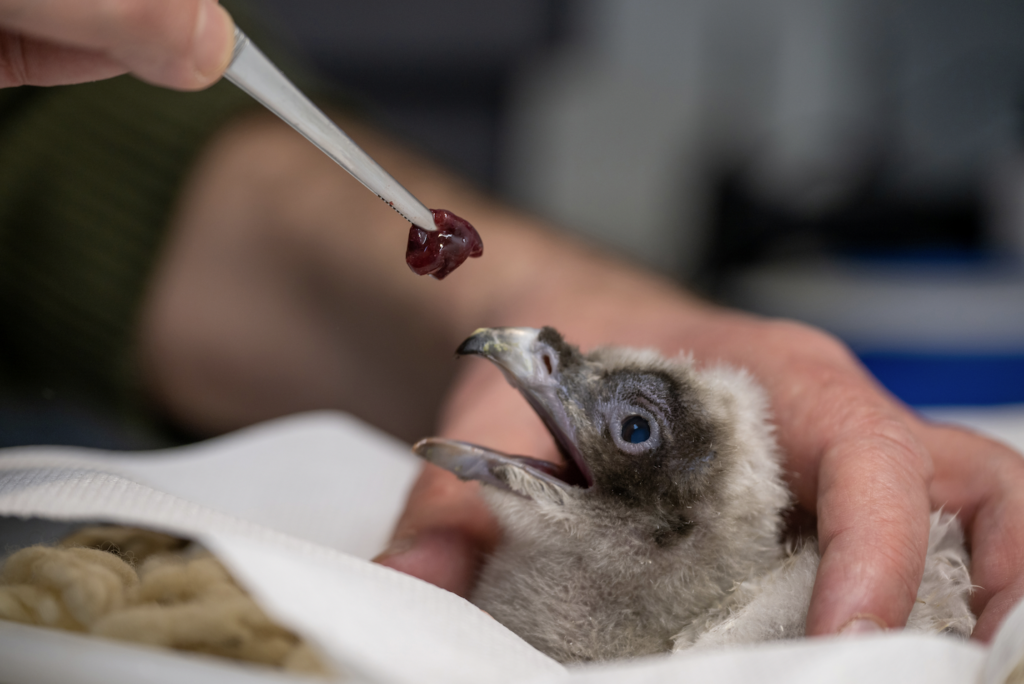 The breeding season at the Bearded Vulture captive breeding centre of Guadalentín (CCG) is bustling. From the 16 eggs laid, 8 chicks hatched successfully and all of them have already been adopted. Over the next months, they will be reared by their dedicated biological parents or foster parents. Every year is different, and we had some surprises this season…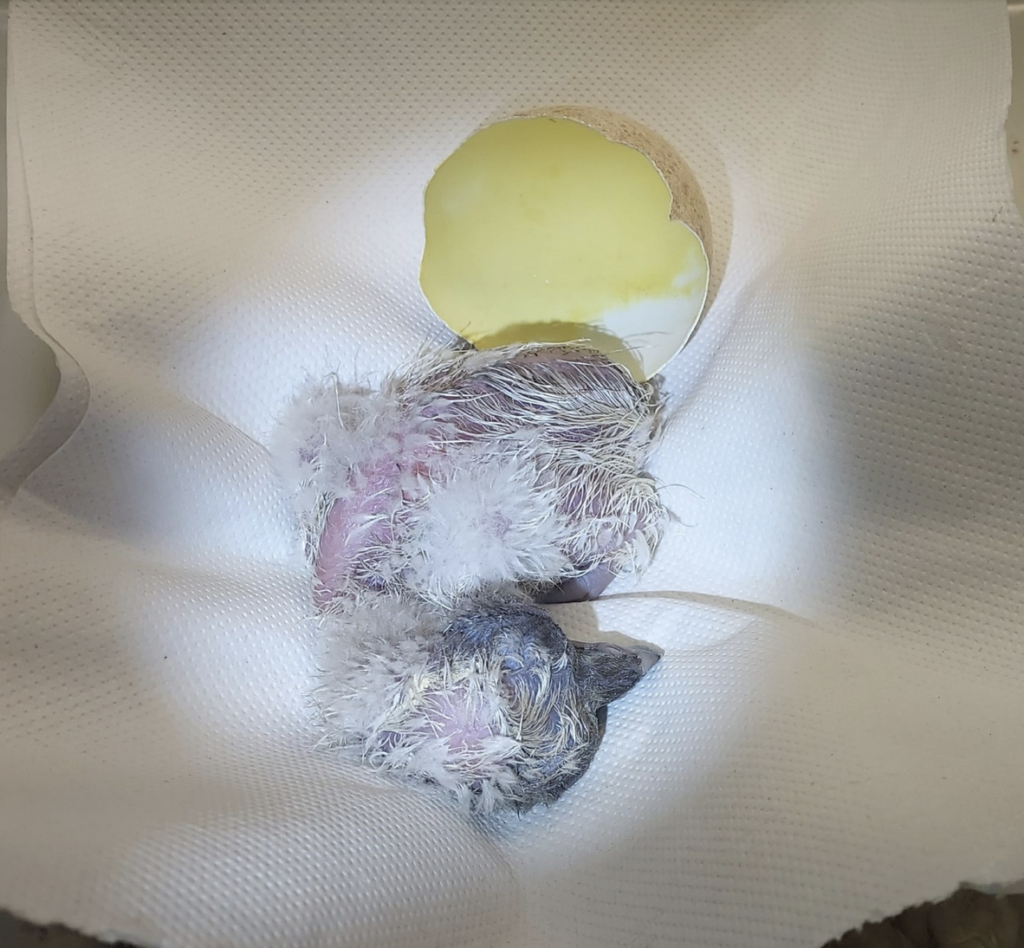 The captive breeding season in Guadalentín
Bearded Vultures (Gypaetus barbatus) typically lay one or two eggs per season, normally with one week of difference between each. However, this year in Guadalentín, two females laid three eggs, an unusual behaviour that is normally induced and named "egg-pulling". Also, the three females surprised us by laying a second clutch later than expected! Salvia, a 23-year-old female laid a second clutch 15 days after the first, and Toba and Viola, both 24-year-old females, laid a second egg 12 and 10 days after, respectively.
Altogether, this year 16 eggs were laid in Guadalentín, but only half of them thrived. It is frequent that some eggs are infertile or have problems during development and abort. Fortunately, the 8 chicks that hatched this year are healthy, making it a promising season for the Bearded Vulture EEP programme. Parents have already been very committed to sharing responsibilities in feeding and rearing their chicks.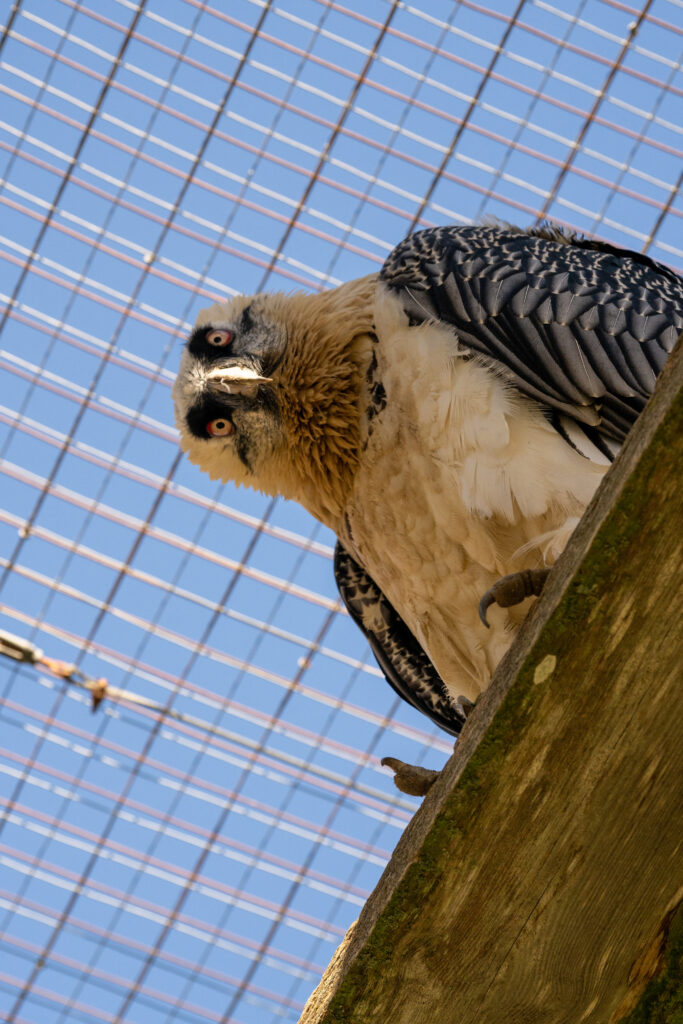 Some of the beautiful Bearded Vulture breeding pairs at Guadalentín © Hansruedi Weyrich
The captive breeding season in a nutshell:
30 January: Keno and Joseph's chick hatched, the first of the season (BG 1161) and was adopted only by its mother on 6 February
23 February: Nona and Montero's chick (BG1167) hatched and was adopted by Toba and Borosa and then on 17 March by Keno, who performs a double solo adoption
24 February: Salvia and Andalucía's first chick hatched (BG 1169) and was adopted by Nava and Lázaro on 2 March
26 February: Viola and Elías' first chick (BG1174) hatched and was welcomed by the parents on 5 March
1 March: Borosa and Toba's first chick hatched (BG 1175) and was adopted by Salvia and Andalucía.
5 March: Viola and Elías' second chick hatched (BG 1177) and was adopted by Sabina and Tranco on 12 March
11 March: Salvia and Andalucía's second chick hatched (BG 1184) and was adopted by Toba and Borosa
13 March: Borosa and Toba's second chick hatched, the last of the season (BG1186) and was adopted by Viola alone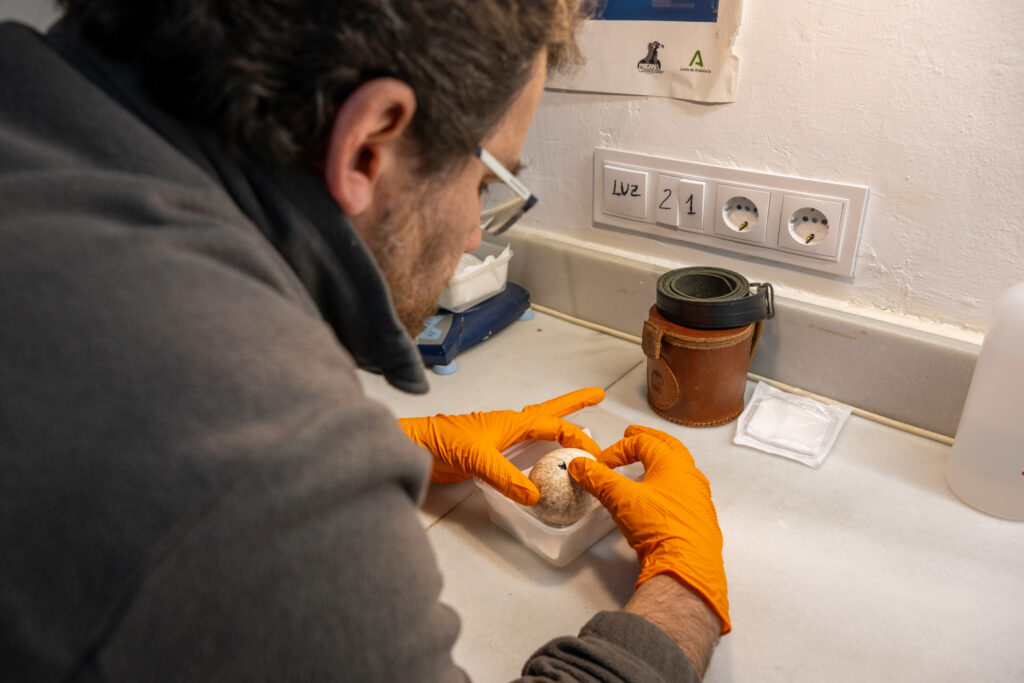 How long does it take to breed Bearded Vultures in captivity?
The mating season for Bearded Vultures typically begins at the end of September and early October, with chicks hatching by March, and this season was no different. During this period, the staff provides proper materials for the pairs to build their nests, such as sticks and wool. Egg-laying usually occurs three months after nest building and anywhere between 50 and 90 days after copulation.
Once the egg is laid, the pair shares responsibilities and incubates the clutch for around 54 days. Human keepers have to keep an extra watchful eye over pairs during this period since fights between them are frequent. To prevent the egg from being damaged in these cases, the eggs are replaced by dummy eggs, and incubated artificially. Once the chick hatches, it is fed by human keepers for no longer than a week and returned to its parents or adopted by foster parents.
For the birds that will be released in the wild, the rearing period lasts only 90 days after which they are transferred to the hacking caves in the area where they will be released, with the aim of acclimatising them to their new environment. The ones chosen to be kept in captivity will stay in their parent's cage until the new breeding season starts and are then transferred to a new cage until their new destination is defined.
Guadalentín, the centre that breeds the most chicks in the world
Guadalentín, currently managed by us at the Vulture Conservation Foundation (VCF) following an agreement with the Junta de Andalucía, breeds the most chicks in the world every year for conservation purposes and therefore, is of extreme importance to the Bearded Vulture Captive Breeding Network (EEP). In 2021, for instance, Guadalentín achieved a world record as the Centre with the highest-ever number of Bearded Vulture chicks produced in a single breeding season: 10 chicks hatched.
The centre hosts 27 birds, of which 16 form 8 breeding pairs and 4 form 2 new pairs that have not bred yet. Currently, only 7 of our pairs currently breed (Lázaro and Nava, Tranco and Sabina, Elías and Viola, Montero and Nona, Joseph and Keno, Andalucía and Salvia, Borosa and Toba) as the 8th pair is no longer able to do it. Perea builds the nest, but the male, Cabús, is old and has severe arthrosis problems, which prevents him from climbing onto the nest platform and jumping on the female to copulate. Guadalentín also specialised in double adoptions, meaning they build a second nest inside the cage, to avoid cainism between the chicks and let them be naturally reared.
Keep up to date with the latest news from our captive-breeding centres in Guadalentín and Vallcalent. We publish regular updates on our Instagram and YouTube accounts!