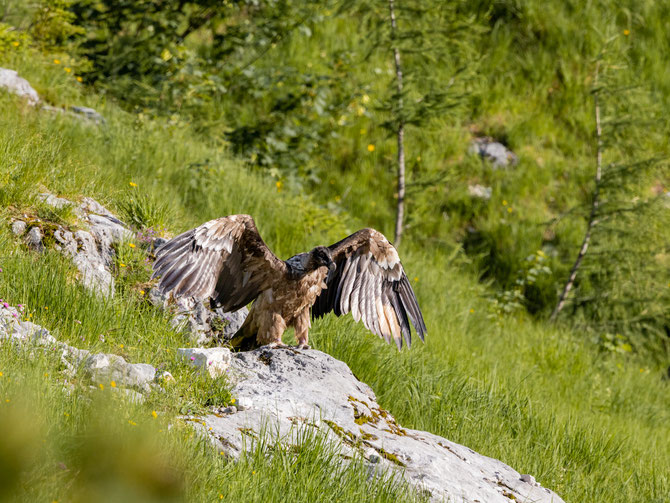 For the first time in over 140, two young Bearded Vultures call the Bavarian Alps in Germany their home! The two Bearded Vulture ladies hatched within the Bearded Vulture Captive Breeding Network, coordinated by us at the Vulture Conservation Foundation (VCF) on behalf of EAZA's EEP, which breeds the species for conservation purposes. Around three months after hatching, the Bavarian Nature Conservation Association LBV and Berchtesgaden National Park (BNP) placed the two vultures named Bavaria and Wally in a hacking cave on 10 June to promote the geographical expansion of the species towards the east and boost conservation measures in the region as a whole as part of the ongoing Alpine reintroduction project. After adapting to their new home for several weeks, both birds successfully took their first flights!
Getting used to the wild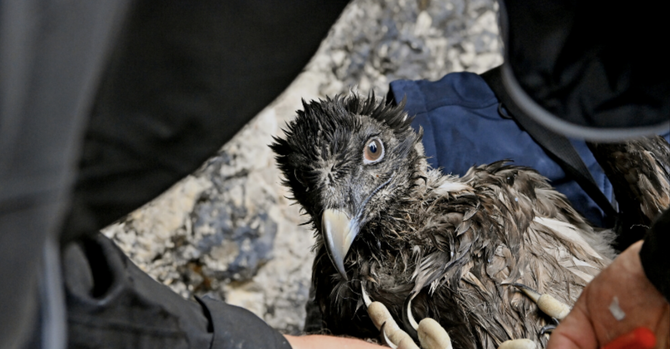 At the time of release, the birds were unable and not ready to fly. In the weeks that followed, they have been developing magnificently, eating large quantities of meaty bones and gaining some weight. Bavaria and Wally have been busy carrying out flight exercises, flapping their wings and hopping up and down to build muscle and practice for their first flights. The local monitoring team at the opposite slope has been noting down all the details regarding their progress, from resting time to eating habits, gathering information that will prove useful to evaluate their development.
Based on the observations, it appears that the two birds have completely different personalities. For instance, while Bavaria used to dominate the younger Wally at the start, as she grew, she began to successfully defend herself. Although there were scuffles between the two, which is completely normal, the situation never escalated and it appears that the two respect each other. Wally is also noticeably more curious and adventurous, Bavaria is simply more 'laid-back' in nature.
Bavaria takes flight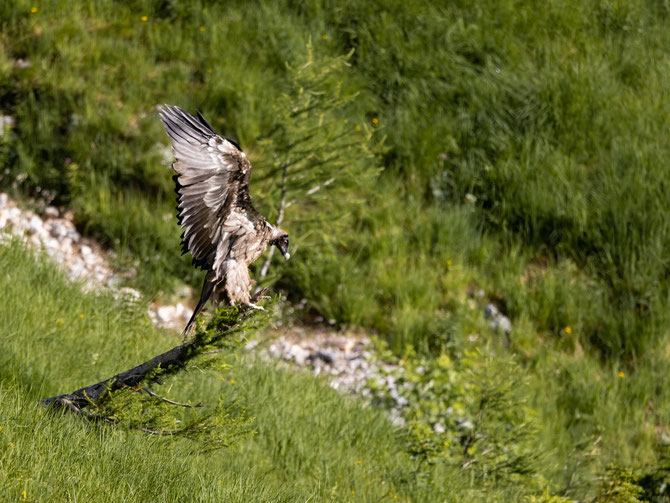 Exactly four weeks after the release, the first of the two young female Bearded Vultures left the hacking cave on 8 July! She was an early bird, surprising the team at 5.19 am. While the observation team was logging the usual morning flight exercises, Bavaria suddenly took flight with a few powerful wing beats and flew out of the cave, making an unexpectedly elegant first flight.
Wally follows suit shortly after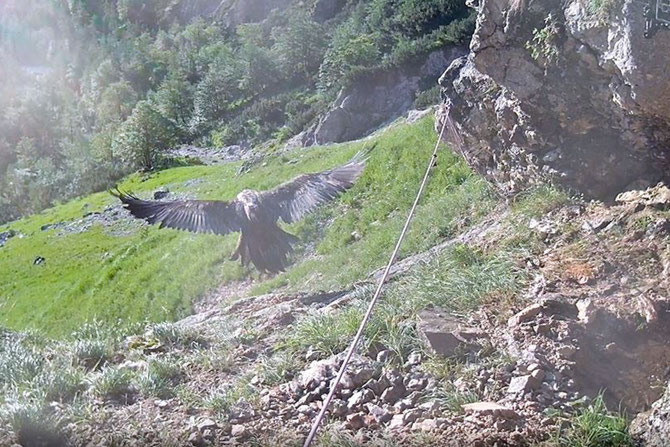 It was only a matter of time until Wally followed suit. As she was sitting at the bottom of the cave in the sun, she flew out at 6:18 am four days later on 12 July. She even managed to fly about 100 metres in a flat cross-country flight before landing.
The flight radius will gradually grow for both birds, and the local team will still provide some food while monitoring the birds. We will also keep close track of their movements thanks to the GPS tags on their backs!
Follow the VCF on Facebook and Twitter to stay tuned with the upcoming Bearded Vulture releases!