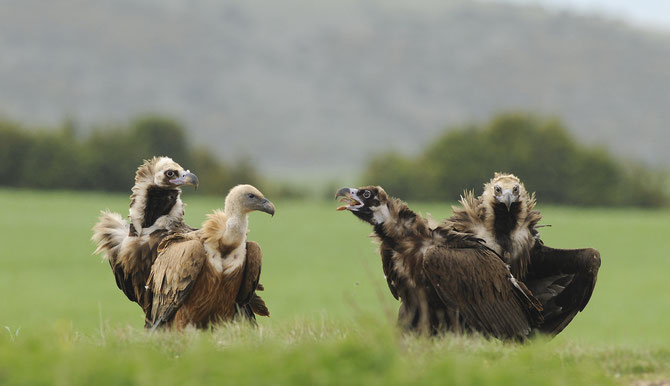 Do you want to share your beautiful vulture photographs with others?
Do you want to be part of changing the negative perception of vultures?
Do you want to help us raise funds for tags to equip the Cinereous Vultures being reintroduced in Bulgaria?
Then this photography competition is perfect for you!
Participate at the '4 Vultures – Photography Contest' and help us show how amazing Europe's four vulture species are! And how integral Bearded Vultures, Griffon Vultures, Cinereous Vultures and Egyptian Vultures are to Europe's ecosystems. Vultures have a bad reputation, but with your brilliant photographs, you can help us tell their story in an engaging way! The winning photographs will be exhibited and auctioned off this October, during the European Vulture Conference, in front of the largest gathering of vulture conservationists in Europe.
So, share your favourite vulture photographs with us!
To participate, you must agree to the following terms and conditions.
PARTICIPATE!
'4 Vultures – Photography Contest'
Terms and Conditions:
It is a condition of entry that all terms and conditions are accepted and that the entrant agrees to abide by them.
1. Who can participate?
The contest is open to the general public and participants must be 18 years of age or older on the closing date of the contest, 20 August 2019.
The contest will close for entries at 23h59 pm CEST on Tuesday 20 August 2019.
Each photograph submitted should consist of at least one of the four vulture species found in Europe. These are the:

Bearded Vulture
Cinereous Vulture
Egyptian Vulture
Griffon Vulture

You can enter up to 5 photos.
It's free to enter.
Employees and board members of the Vulture Conservation Foundation (VCF), their spouses and dependents may not enter the competition.
2. Image specifications
Participants must upload their photos in the dedicated sections of the Google Form submission form.
Photograph submissions must be in digital format, but the original entry does not need to have been taken on a digital camera.
Digitals files submitted must be of high quality, and each photograph must be 5MB MINIMUM.
Borders, watermarks or signatures must NOT be included.
3. Intellectual property
By entering your photos to the contest, you confirm that for each photo submitted:

You submit your own original work.
You have the full rights of the photographs you submit, or are the only author of your work.
You have not licensed any rights in the work which could conflict with the usage rights of this contest.
That it does not include trademarks, contract rights, or any other intellectual property rights of any other third person or entity.

By participating in the competition, the entrant gives the VCF the right to publish, share, print and exhibit to the public the submitted entries by any means and in all media throughout the world, directly and indirectly in relation to the '4 Vultures – Photography Contest'. The best photographs will be printed and showcased at the European Vulture Conference from 1 to 3 October 2019, where they will be auctioned to help raise funds for tags to equip the Cinereous Vultures being reintroduced in Bulgaria?
Entrants and winners in the contest agree that their identity may be disclosed for communication purposes and/or in winner announcements unless requested otherwise. Entrants may request to remain anonymous in their Google drive submission form. This right is granted in any of the following uses:

On the website
Judging the competition
Display and auction photographs during the European Vulture Conference 2019
In publicity materials (including social media)
Publication in other magazines, electronic or print media
4. Data Protection
The VCF will collect personal data about entrants at the time of the contest through the Google Form in order to manage the competition and or all associated activities. After the contest, personal data will be deleted, unless participants have requested to be added to the VCF's newsletter and contact list.
5. Ethics
The entrant must not do anything to cause injury or distress to wildlife or destroy their habitat. If it is suspected that the entry has been achieved through cruel or unethical practices, the entry will be disqualified.
By participating in the competition, entrants are reminded to provide information that is complete, true and accurate.
6. Selection process
External users can vote by liking their favourite photographs using their Facebook profile. After this public voting process, a panel of professional wildlife photographers will judge 60% of the most liked pictures. This panel will choose the top 10-20 photographs to be printed, exhibited and auctioned off at the European Vulture Conference 2019.

Photograph Submission 20 July to 20 August
Facebook vote 21 – 31 August
Panel Judging 1 – 10 September
Exhibition 1-3 October

Entrants whose photographs are short-listed will need to provide a summary of the photograph and a short bio of themselves.
7. The winners
Once the decision is taken, the winner will be notified through the contact information they provided.
The author retains the copyright of photographs entered in this contest at all times.
You will be given credit whenever the Vulture Conservation Foundation publishes your image. Failure to publish a credit due to error or oversight shall not be deemed a breach of these Terms and Conditions. Please let us know if that happens, and we will correct as soon as possible.
For any queries and clarifications feel free to contact Eleni Karatzia, the VCF Communications Officer, at e.karatzia@4vultures.org