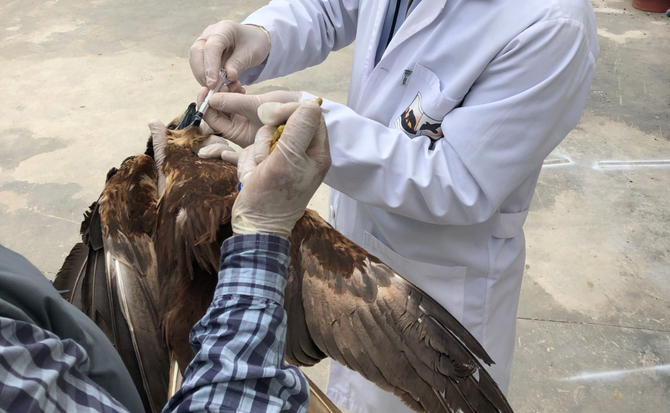 A newly established Centre in Albania saves poisoned wildlife through capacity building and by training the future generation of wildlife experts to continue its mission.
Tackling illegal wildlife poisoning in the Balkans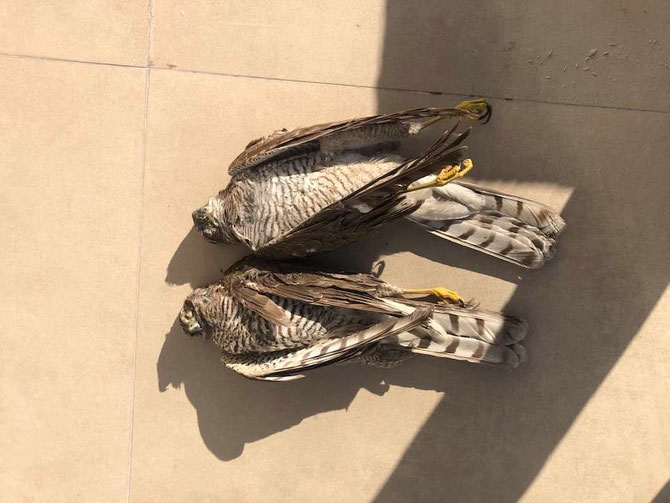 Illegal wildlife poisoning is a silent threat that poses a real danger to nature, animals and public health. An ambitious cross-border initiative in the Balkans is bringing together wildlife conservation organisations, governmental agencies and other stakeholders from Albania, Bosnia and Herzegovina, Croatia, Greece, North Macedonia and Serbia to fight this severe threat. The Balkan Anti Poisoning Project (BAPP), led by the Vulture Conservation Foundation (VCF) and funded by the MAVA Foundation, increases the capacity in these regions to counteract wildlife poisoning through efficient collaboration and coordination to protect vultures and other wildlife. The BAPP supports different initiatives in Albania, including the Albania Anti poisoning Centre led by the Royal Albania Foundation (RAF), which develops essential capacities for veterinary care and conduction of forensic necropsy of suspected poisoned animals.
Albania Anti-poisoning Centre
The Albania Anti-poisoning Centre was initiated as part of the Balkan Anti-Poisoning Project with the funding of the VCF's Small Grants Programme. The RAF have devoted their project towards capacity building for successful conduction of forensic necropsies, a key step in anti-poisoning work, and recovery of poisoned and wounded wild animals. An anti-poison centre for wildlife was adjusted and completed with the cooperation from the Faculty of Veterinary Medicine, Agricultural University of Tirana. The Centre is equipped with main devices for the well-functioning of an anti-poisoning centre, with half of the devices offered by the faculty clinic and the other half provided by RAF from their BAPP Small Grant. With the support of VCF, the Centre was provided with 40 ketoprofen antidotes that helped rescue 10 poisoning cases of birds. The treated species were: 4 Western Marsh-harriers, 3 Sparrowhawks and 3 Eurasian Scops owls.
From October 2019 to now, the Centre has treated over 7 wild birds with fractures and 13 cases of poisoning (Western Marsh-harriers, Sparrowhawk, Eurasian Scops owls, Merlin). Furthermore, poison cases with wild mammals (3 red foxes, 2 wolves and 3 western polcats) have also been registered after the construction of this modest Centre. The toxicological analysis conducted for 2 dead wolves and one red fox concluded that the animals were poisoned with rodenticides.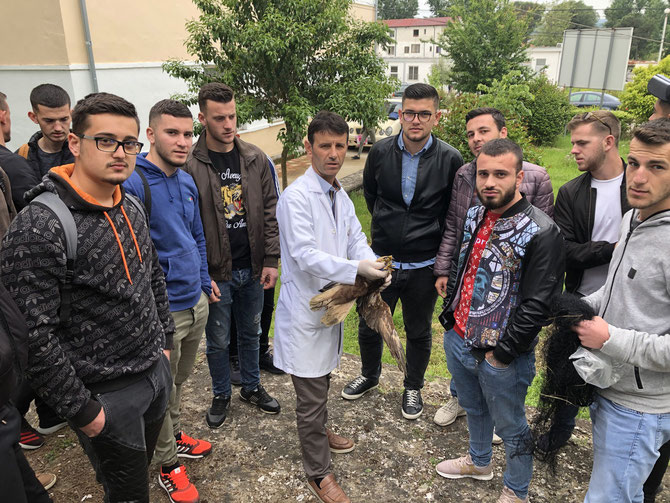 Another component of the VCF's Small Grant Programme implemented by RAF was the training of staff for the expectancy, veterinary analysis and diagnostics of poisoned wildlife animals, making this the first case in Albania for this kind of training. The training focused on students and other young vet doctors who will be serving in rural areas of the country, considering that most poisoning incidents take place in these areas. A total of 35 Vet doctors from 7 regions of Albania as well as 40 students of Veterinary Medicine expected to graduate this year (fifth year of studies) in the Faculty of Veterinary participated in the training. To realise this activity, RAF in collaboration with Faculty of Veterinary Medicine and other partners engaged in the project with toxicology department experts from Food Safety and Veterinary Institute (FSVI) and conducted basic training in wildlife forensic toxicology. Two carcases of Western Marsh-harriers brought dead to the Centre were used in training.
The Balkan Anti-Poisoning Project Small Grants Programme
The Balkan Anti-Poisoning Project Small Grants Programme is the first time we at the Vulture Conservation Foundation have run a grant programme, and with this we aim to reinforce national capacities within relevant governmental authorities and conservation NGOs from six countries (Albania, Bosnia and Herzegovina, Croatia, Greece, North Macedonia and Serbia) of the Balkan Peninsula. This work will support those organisations to improve the skills and capabilities in the detection and mitigation of poisoning incidents through the implementation of previously developed National Roadmaps and Strategies. More specifically, through these small grants we endeavor to secure the implementation of priority anti-poisoning actions listed in the National Anti-Poisoning Road-maps/Strategies, strengthen the capacities of relevant national governmental institutions in combating the illegal use of poison baits, improve the enforcement of relevant legislation and attract other funding opportunities for implementation of large-scale anti-poisoning projects in the region. Through the support of the MAVA Foundation, we managed to dedicate a budget of €60.000 for these small grants.
Balkan Anti-Poisoning Project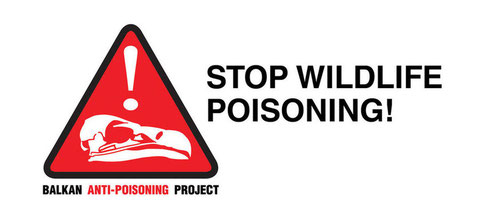 The Balkan Anti-Poisoning Project is a cross-border initiative bringing together wildlife conservation organisations, governmental agencies and other stakeholder such as; hunting associations, farmers and scientists, in six Balkan countries to tackle illegal wildlife poisoning.
Funded by the Mava Foundation we aim to secure real and continued engagement of the relevant national governmental authorities in the Balkan region against illegal wildlife poisoning and increase their capacity to counteract it and working together to take positive steps to protect vultures.
The Balkan Anti-Poisoning Project is a partnership between us here at the Vulture Conservation Foundation and the Albanian Ornithological Society-AOS, Protection and Preservation of Natural Environment in Albania-PPNEA, Ornithological Society "Naše ptice",Association BIOM, Hellenic Ornithological Society-HOS, Macedonian Ecological Society-MES and Društvo za zaštitu i proučavanje ptica Srbije.
The Balkan Anti-Poisoning Project  also contributes directly into the implementation of the Vulture Multi-Species Action Plan by carrying out anti-poisoning actions in Albania, Bosnia and Herzegovina, Croatia, Greece, North Macedonia and Serbia, and is building on our work for the last decade in the Balkans through the Balkan Vulture Action Plan.