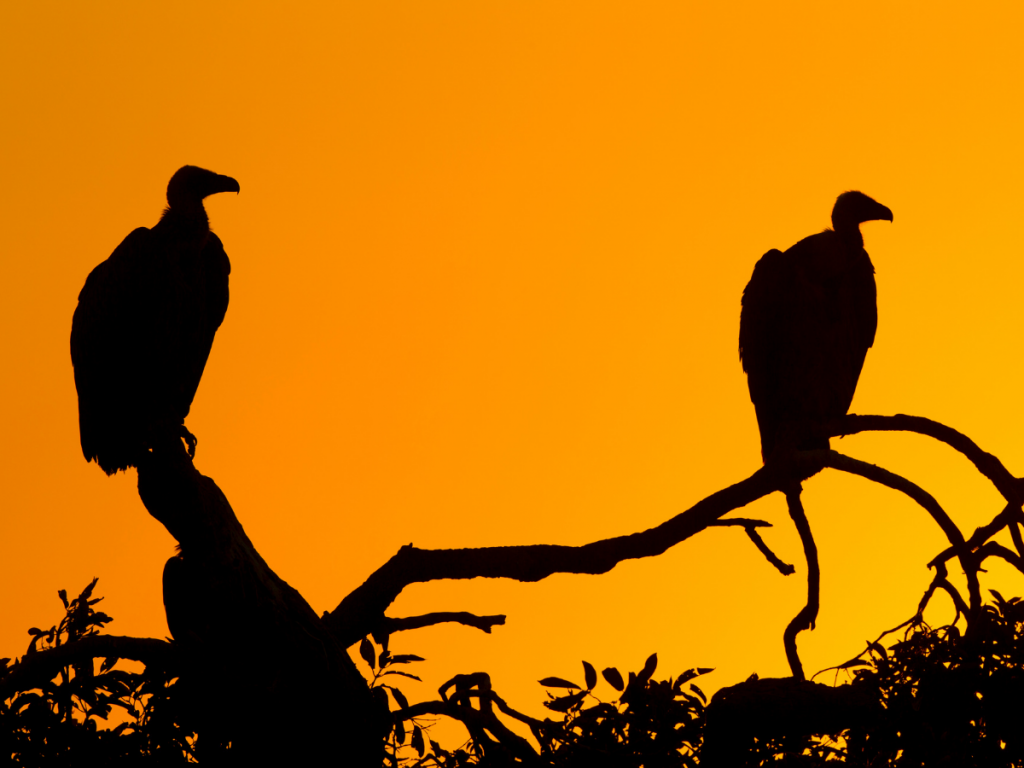 A recent study used a systematic approach to evaluate the potential of African vultures as umbrella species and avian biomonitors.
Introduction and Objectives
Biomonitoring is the use of an organism to assess environmental contamination. This is very useful to monitor entire ecosystems and detect toxicants having potentially harmful effects on wildlife, people and the environment. Raptors have been widely used as biomonitors through passive or active monitoring. However, the suitability of vultures, and particularly of African vultures, as biomonitors remain poorly understood.
An umbrella species is a species whose requirements for population persistence encapsulate the requirements of other co-occurring species. This concept has been deemed useful for conservation planning as implementing actions to benefit populations of an umbrella species could benefit entire communities of co-existing species.
African vulture populations are rapidly declining and the time and funding available to reverse this trend are limited. Therefore it would be very helpful if conservationists could focus their efforts on a single vulture species that could serve as an umbrella for all African vulture species.
The objectives are, firstly, to identify if African vulture species would be well suited as biomonitor species in comparison to other bird species. The second objective of this study, led by Lindy J. Thomson from the Endangered Wildlife Trust in South Africa, was to assess if one vulture species could be used as an umbrella species for all other species across Africa.
Material and Methods
All 10 vulture species occurring regularly in Africa were included in this study (see Fig.1).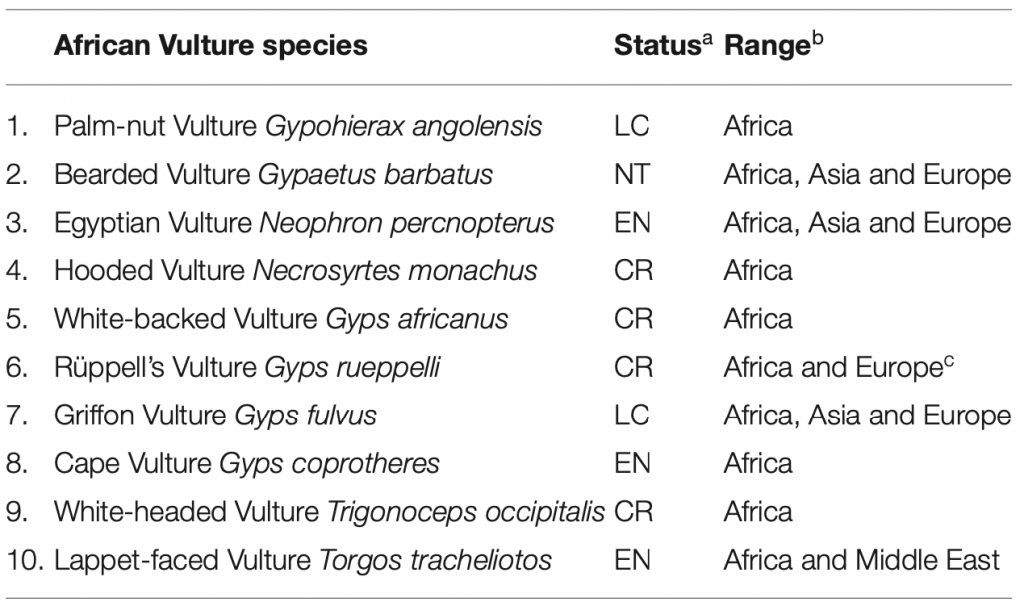 The authors used data from the peer-reviewed scientific literature and expert opinions in the assessments of African vultures as avian biomonitors and umbrella species.
African vultures as avian biomonitors
The authors focused on 20 criteria considered to be important when selecting an avian species as a potential biomonitor species. These criteria were selected following the list proposed by Hollombay et al. (2006), based on a literature review and their own observations (see Fig. 2).
Then, the authors evaluated the 10 African vulture species individually, for each of the criteria in the Table below, ranking the species from best- to worst-fit in terms of their suitability as biomonitors.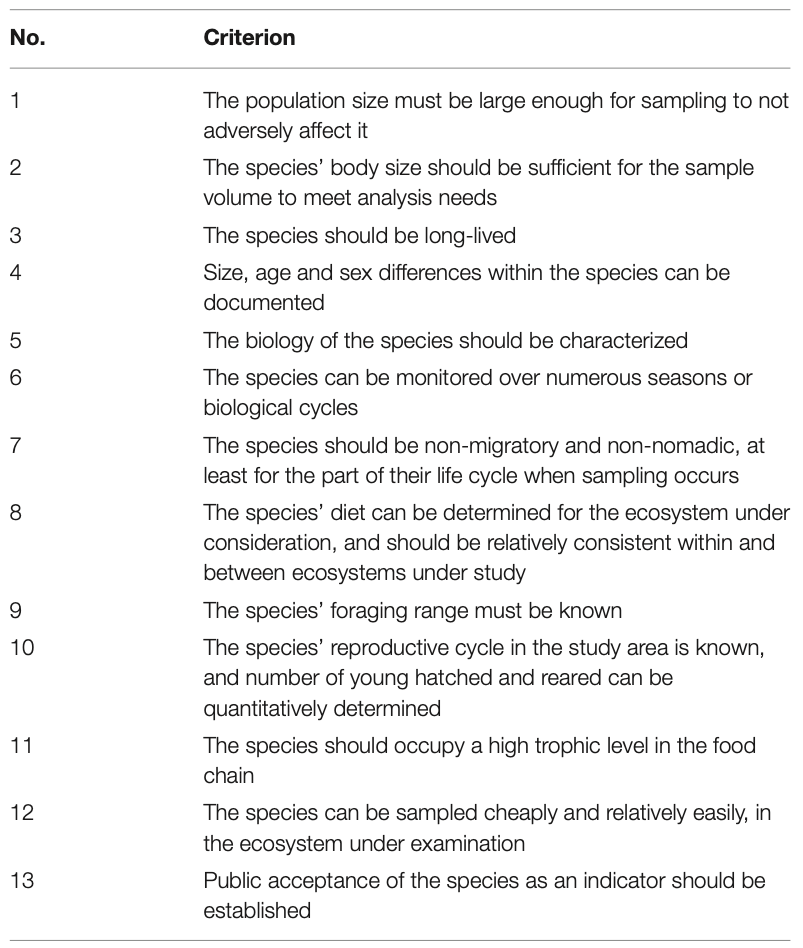 The authors also compiled a list of criteria for selecting an umbrella species (see Fig. 3). This method relies on information related to species' traits including home range size, probability of population persistence or co-occurrence and shared threats with species of interest (see Fig. 3). The species were then ranked according to their scores, in terms of their suitability as an umbrella species for all the African vulture species.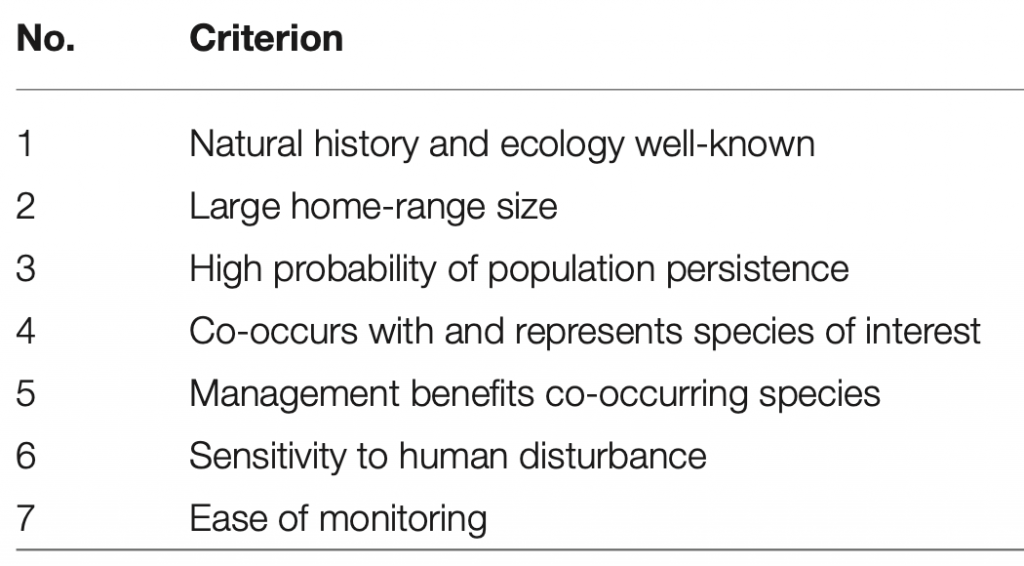 Results and Discussion
Assessing African vultures as biomonitors
The White-backed vulture was the best-suited species as an avian biomonitor as the species scored well for every criterion apart from "public acceptance of the species as a biomonitor". The Cape, Rüppell's and Lappet-faced Vultures tied as the second-best. The results highlighted that information is clearly lacking for the Palm-nut vulture (see Fig. 4 and Fig. 6).
Several criteria indicated that the African vultures, as a group, were relatively well suited as avian biomonitors: e.g. large body sizes and long lifespans or the fact that they can be monitored over numerous seasons making them suitable for long-term monitoring. However, the assessment did not reveal any difference between the different vulture species in terms of public attitudes. All species scored poorly for this criterion. In this sense, the authors revealed that there is a lack of research on the perceptions of vultures in urban communities from the Global South. Although all African vultures scored well for criterion 7 (non-migratory and non-nomadic during the breeding season), their home ranges are large compared to other bird species. This could constrain their use as biomonitors as the toxin levels in their tissues can indicate large-scale trends in toxicants but cannot be used to identify where environmental pollution occurs at the finer scale. This latest point being crucial to implement mitigation measures locally. For this reason and because of the limited data on public acceptance, the authors concluded that African vultures are not, at present and compared to other bird species, ideally suited for avian biomonitors.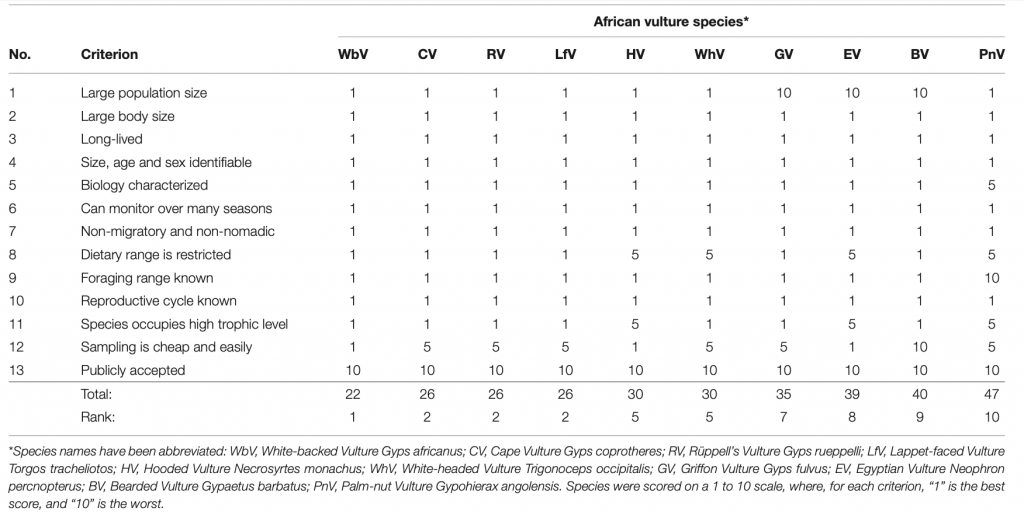 Assessing African vultures as umbrella species
The White-backed Vulture was the best suited of all 10 African vulture species as a potential umbrella species for all African vultures (see Fig. 5 and Fig. 6). The Rüppell's Vulture was the second-best, and the Cape Vulture was the third-best. The Bearded and Palm-nut Vultures were tied as the worst suited as umbrella species.
Several traits of the White-backed vulture explain this result: its ecology is well-known, it has one of the largest home-range of all vulture species and a wide distribution range across Africa; the species is sensitive to human disturbance and co-occurs with numerous threatened vulture species. Finally, it is one of the easiest species to monitor due to relatively easy access to tree nests.
Therefore using the White-backed vulture as an umbrella species may assist conservation practitioners to save time, money and effort and enhance conservation outcomes for African vultures at the community level. This focus on threats to White-backed vultures (e.g. retrofitting unsafe energy structures or fighting wildlife poisoning) would augment other vulture conservation tools. However, the conservation needs of vulture species that do not share the ecological needs of the White-backed vulture (e.g. the Palm-nut vulture) should not be overlooked.

Constraints
There are legislative constraints related to the use of vultures as biomonitors, as vultures are protected in Africa at different levels, which make their use more challenging.
The authors also highlighted that one of the disadvantages of using the White-backed vulture as an umbrella is that the species has low probability of persistence (like many African vultures given the steep population decline observed throughout the African continent). Additional conservation actions would be needed for the Palm-nut vulture as the species depends on different habitats than the White-backed vulture. Finally, the authors highlighted that knowledge gaps could affect the final rankings of several species as further information on public acceptance could elevate the Cape, Rüppell's, Lappet-faced, Hooded or White-headed Vultures into 1st place.
As a result, this study represents an initial step to assess African vulture species as biomonitors and umbrella species that will need to be regularly updated.
Conclusions
African vultures are not well suited as avian biomonitors, however, they are often used as flagship species. The authors also highlighted that it could be interesting to use them as cultural keystone species. Cultural keystone species are species that can be used to measure human health and well-being. African vultures have a crucial role as ecosystem sanitizers, they are also recognized for their aesthetic value and for their role in traditional African medicine. The use of vultures as cultural keystone species could bridge the gap between ecological and socio-cultural systems that currently undermine their conservation. This study emphasized again the fact that if conservationists have to focus on one vulture species, it should be the White-backed vulture (see Fig 6).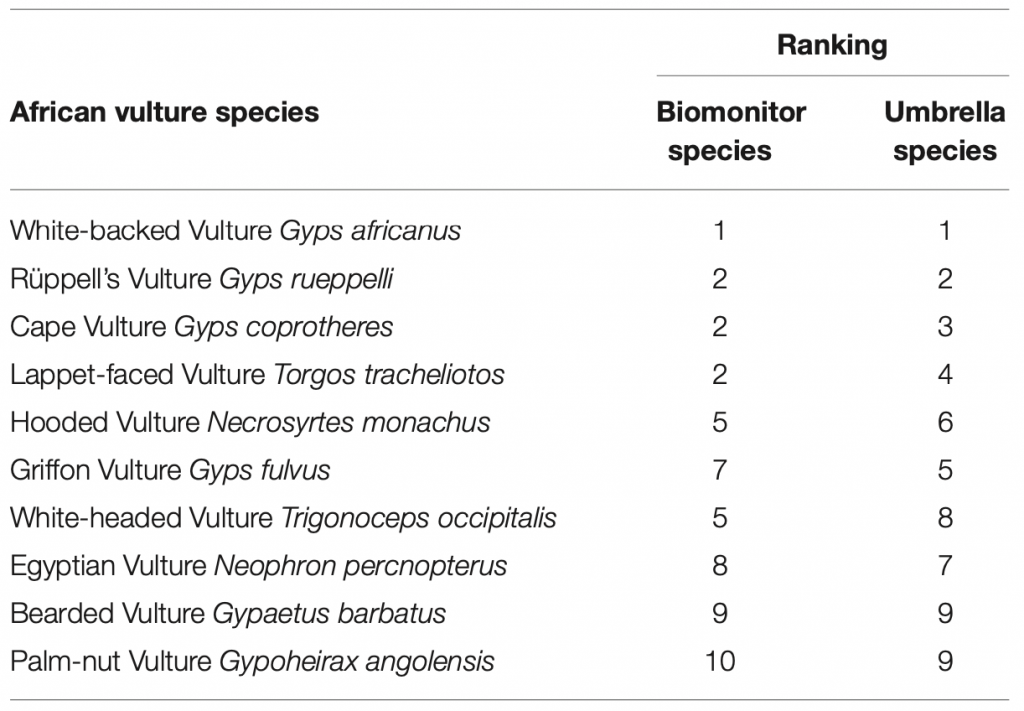 Study: Thompson LJ, Krüger SC, Coverdale BM, Shaffer LJ, Ottinger MA, Davies JP, Daboné C, Kibuule M, Cherkaoui SI, Garbett RA, Phipps WL, Buechley ER, Godino Ruiz A, Lecoq M, Carneiro C, Harrell RM, Gore ML and Bowerman WW (2021). Assessing African Vultures as Biomonitors and Umbrella Species. Front. Conserv. Sci. 2:729025. doi: 10.3389/fcosc.2021.729025.
Further reference: Hollamby, S., Afema-Azikuru, J., Waigo, S., Cameron, K., Gandolf, A. R., Norris, A., et al. (2006). Suggested guidelines for use of avian species as indicators. Environ. Monit. Assess. 118, 13–20. doi: 10.1007/s10661-006- 0770-9.