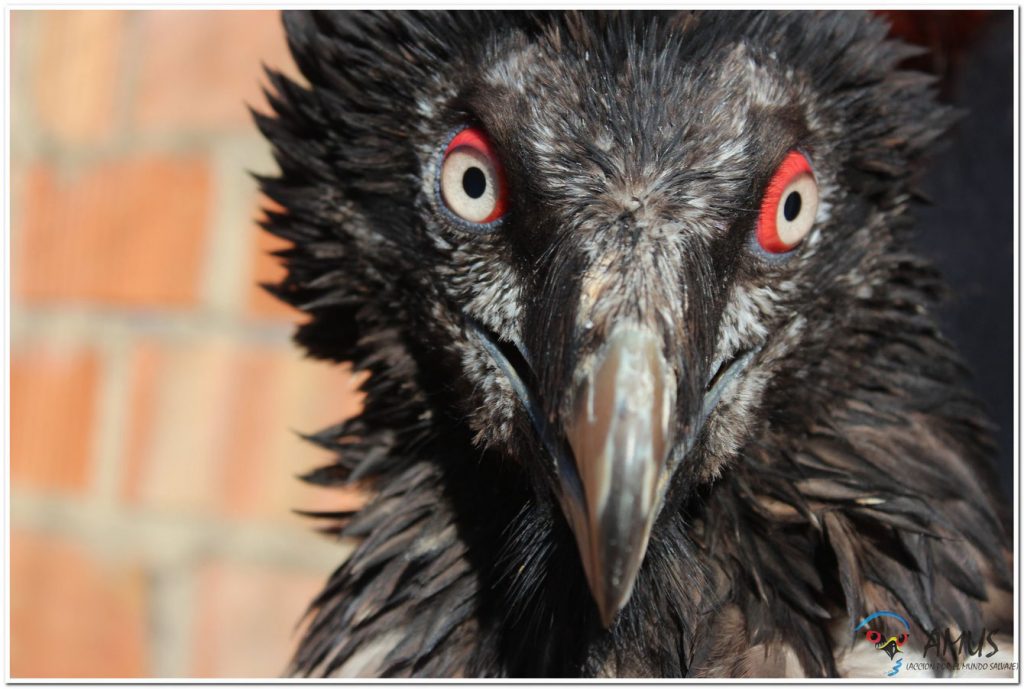 Before leaving the nest, the wild-hatched Bearded Vulture Flamadel experienced health problems and needed rescuing. Otherwise, his life in the wild would have probably been short-lived. With a serious fracture and inability to use one leg, Flamadel underwent a very challenging surgical procedure together with months of treatments to get better, enabling him to contribute to his own species' conservation!
Flamadel's origin story
Flamadel descends from a pair in the French Pre-Pyrenees, monitored within the LIFE GypConnect project. His genetic profile is considered very important for the Bearded Vulture Captive Breeding Network, coordinated by the Vulture Conservation Foundation (VCF) on behalf of EAZA's EEP (Bearded Vulture EEP), an essential programme for the species' reintroduction across different regions in Europe. Flamadel, a male vulture, was rescued as a nestling in the French Pyrenees with a fracture in one of its legs, and in 2017 entered the recovery centre of Vallcalent owned by the Generalitat de Catalunya. There, we at the VCF manage the Bearded Vulture Breeding Unit, which houses the Bearded Vulture EEP's most challenging birds.
In 2019, the Bearded Vulture EEP decided to transfer Flamadel to Acción por el Mundo Salvaje (AMUS) to exhaust one of the few orthopaedic options for the severe condition in its leg. The objective was for Flamadel to eventually use both legs and thus be a suitable candidate for the breeding stock that we manage in Vallcalent.
Surgery
On Sunday, 15 December 2019, a team of AMUS, in collaboration with Bodión Veterinary Hospital, assumed a surgical challenge of very high demand and complexity. Thanks to AMUS, Bodión Veterinary Hospital, consultation from Olga Nicolàs (Forestal Catalana veterinarian in Vallcalent Recovery centre) and Álex Llopis (VCF's Vultures Captive Breeding Manager and Bearded Vulture EEP's Coordinator) together with the significant advances in avian orthopaedics from recent years and great collaboration and coordination among multiple stakeholders, the surgery proved to have favourable results! However, a lengthy recovery period lay ahead for Flamadel.
Recovery
The recovery period was long and intense. The team at AMUS continually monitored the progress of Flamadel through radiology exams and observations. The staff carried out multiple laser and physiotherapy sessions and administered the appropriate medication. Little by little, the surfaces and structures of his damaged leg were improving following the complex surgery. Flamadel was looking much better, his walking improved, and he supported the damaged leg with all his fingers extended. Fifteen months later, Flamadel could walk again!
Flamadel returns home
At the end of March 2021, AMUS said farewell to Flamadel, who begun his journey home from Extremadura to Catalunya. The VCF's team at the Bearded Vulture Breeding Unit of the recovery centre of Vallcalent welcomed the Bearded Vulture, and checked his health upon arrival after his trip, and all looked well. They then placed Flamadel in his own special aviary overlooking other captive Bearded Vulture individuals. Shortly after, our staff started closely observing his behaviour through the web camera and rejoiced at the sight of Flamadel using both legs to support him while feeding. This behaviour indicated that it would no longer be necessary to chop food in small pieces as the staff have been doing during his first three years of life. The big question remains whether Flamadel will be able to successfully mate once he reaches sexual maturity, enabling him to produce chicks and become an invaluable part of our pan-European reintroduction and restocking efforts. Nevertheless, the AMUS staff have done a wonderful work, giving Flamadel a second chance.
We believe that every Bearded Vulture matters and Flamadel's story proves that through collaboration, commitment and diligence, all together, we can save vultures. This challenging veterinary case that was a first in Bearded Vultures further provides hope that vultures can receive similar treatment if needed to get better and live a life with a conservation purpose.
Special thanks
This outcome would not have been possible without AMUS, Bodión Veterinary Hospital, Junta de Extremadura (for its speed and efficiency in the relevant authorizations) and our very own Álex Llopis and Olga Nicolàs for their consultation and coordination. Special thanks also go to the Bearded Vulture EEP, Bearded Vulture Breeding Unit of the recovery centre of Vallcalent, Generalitat de Catalunya and DGS (Directorate General of Sustainability) of the Regional Government of Extremadura.