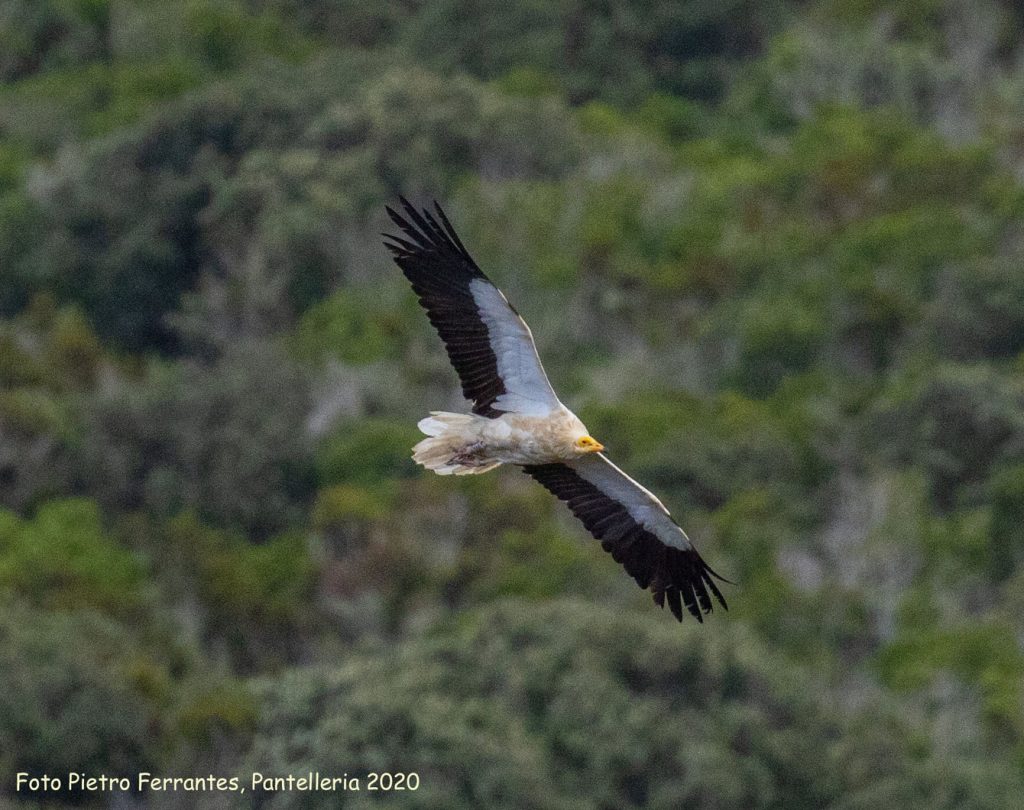 The captive-bred Egyptian Vulture Sara, a now adult bird we have been tracking in the wild since 2015, has made it back to Italy once again after spending winter in Africa! She still needs to cover some ground to reach her final destination Basilica, but has already carried out an incredible journey travelling thousands of kilometres while facing harsh conditions.
Sara's story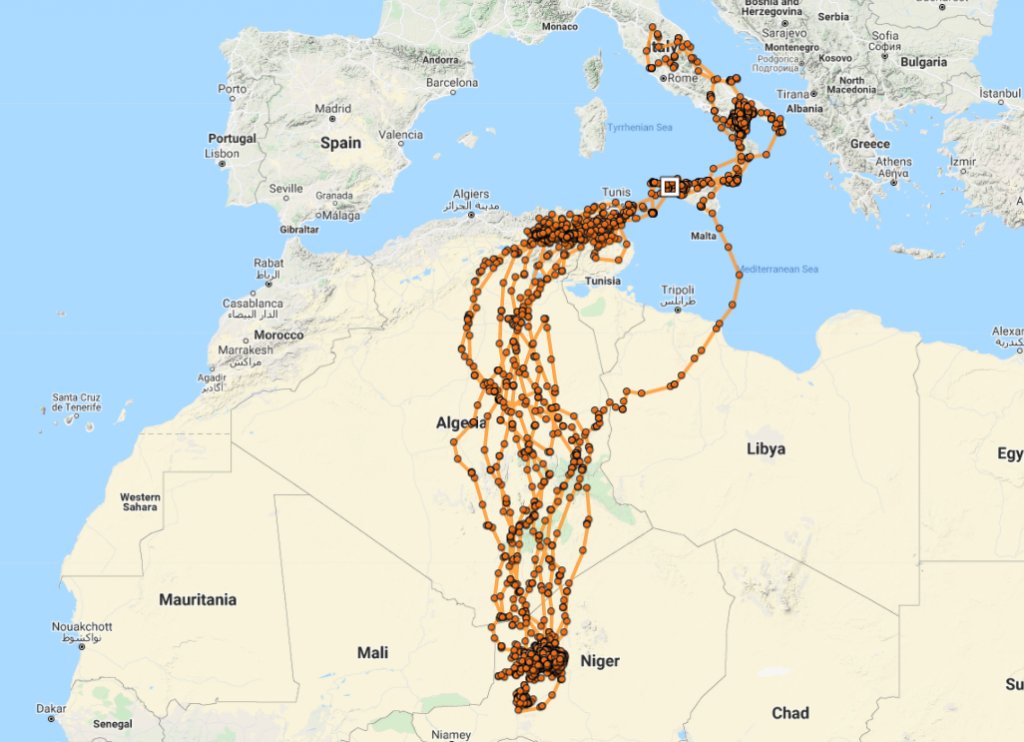 In 2015, the Egyptian Vulture Sara hatched at the CERM Endangered Raptors Centre in Italy. In the same year, CERM released the young vulture into the wild on behalf of the Italian Ministry for the Environment. This action was part of an experimental release programme led by the CERM, in collaboration with us here at the Vulture Conservation Foundation (VCF) and the Egyptian Vulture Captive Breeding Network, testing procedures to get crucial data on the feasibility and relevance of captive-breeding and reintroduction projects with this species. Ahead of Sara's release in Puglia in August 2015, she was fitted with a GPS transmitter, provided by us at the VCF. In less than ten days, Sara had moved away from the release site and reached Niger after travelling 3,980 km for 28 days. Sara stayed in Niger for the majority of the time for the next four years later, until she returned to Italy for the first time, and has ever since been performing her annual autumn and spring migrations.
Sara is undoubtedly a vulture of records, even from the start. Amazingly, at the beginning of her first migration in 2015, she flew over the sea between Sicily and Libya, covering 550 km in a single day. Additionally, she inaugurated the route that passes through Pantelleria alongside her 'friend' Tobia. Furthermore, last year, observers saw and photographed Sara on the island in the company of a wild-hatched youngster who was following her; therefore, Sara, who hatched in captivity, was teaching the route to a younger Egyptian Vulture that hatched in the wild!
Sara's third migration from Niger to Italy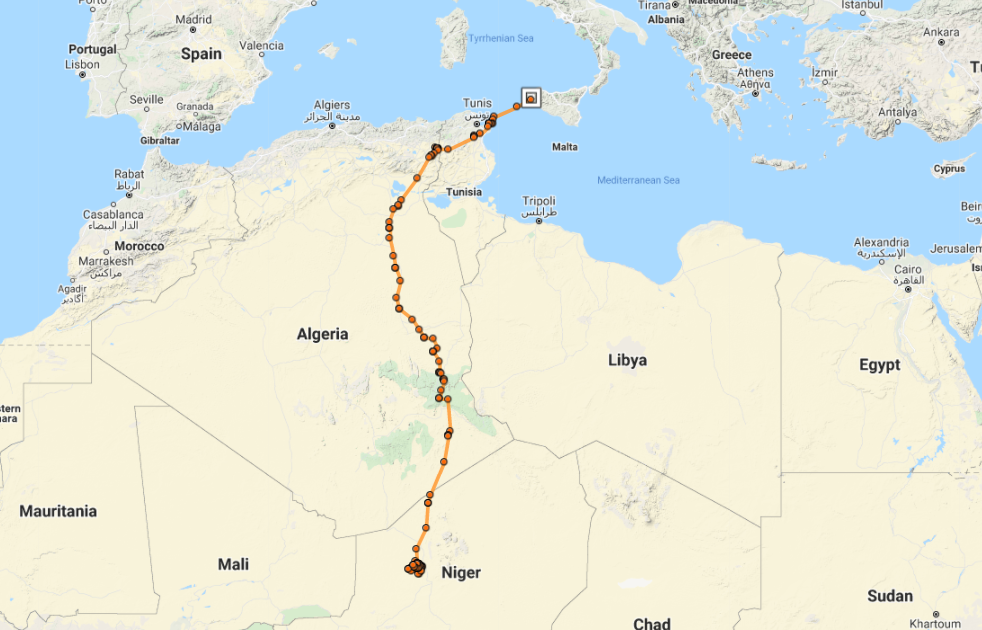 On 8 March 2021, the Egyptian Vulture Sara started her third migration journey from Niger to Italy. A challenging route lay ahead. For the next 12 days, the Egyptian Vulture had to cover approximately 2,000 km to cross the vast Sahara desert, an inhospitable environment without food or water. Sara persevered and successfully made it out of the desert. She then continued heading north to reach Algeria's mountains, where she would have the opportunity to rest and regain her strength. The vulture was well acquainted with that region since she stayed there for two consecutive years during the spring and summer. In the mountains of northern Algeria, Sara and other Egyptian Vultures visit several feeding points of public dumps hosting large quantities of meat that act as an important food source for the ever-growing local vulture population. After a week, she resumed her travels and arrived in Tunisia on 27 March, 120 km away from Cape Bon, where many raptors, including Egyptian Vultures, congregate to depart for Sicily. Finally, on 2 April, she reached Sicily, covering a total of 3,000 km. However, her journey is not over yet. Sara's destination is Basilicata on mainland Italy, which is around 600 km away and is where she spent the summers of 2019 and 2020.
Update 14.04.2021: Sara completes her spring migration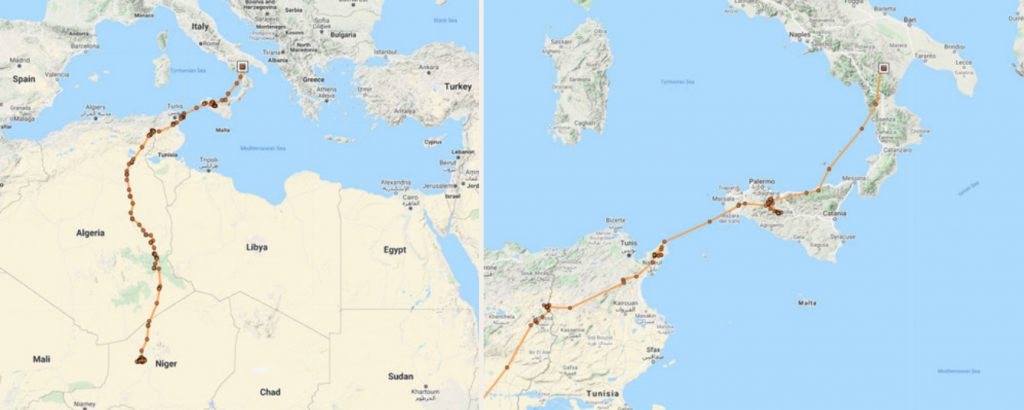 After more than a month since she began her 3rd spring migration from Niger to Italy, travelling a total of 3,470 km, the incredible Egyptian Vulture Sara reached Basilicata, her summer destination!  
To reach her final destination, Sara, once again, tried out an unusual route. On 9 April, when she was leaving Sicily, instead of following the traditional course that passes through the Strait of Messina, she flew over the Aeolian Islands (Vulcano, Lipari, Panarea and Stromboli) until she reached Calabria. Then, she continued north until she reached Basilicata on 14 April!
During her stay in Italy, Sara counts on the large group of colleagues and partners who collaborate with the LIFE Egyptian vulture project and who are ready to look after her and ensure her safety. We hope that the soon-to-be six-year-old finds a suitable partner this year and breeds, or at least attempts to breed in the wild!