Exciting news for the Bearded Vulture reintroduction project in Andalusia — a breakup resulted in two new pairs, and the first wild-hatched Bearded Vulture in Andalusia returned to the region, pairing with another bird and forming the 8th territorial pair! The Junta de Andalucía currently leads the Bearded Vulture reintroduction project in collaboration with us here at the Vulture Conservation Foundation.
A breakup results in two new pairs
Sometimes, pairs don't work out in the world of Bearded Vultures. In Andalusia, where the species is reintroduced, the first record of a breakup of a Bearded Vulture pair took place last year! The Bearded Vultures Encina (female) and Sansón (male) were released into the wild back in 2012. Both birds hatched in captivity within the Bearded Vulture Captive-Breeding Network, coordinated by us here at the VCF as part of EAZA's European Endangered Species Programme. More specifically, Encina hatched at the Bearded Vulture Specialised captive-Breeding Centre of Guadalentín, then managed by the Fundación Gypaetus, while Sansón hatched in Tiergarten Nürnberg.
At six years old, they started exhibiting pair-bonding behaviour, such as mutual preening, nest building and aerial displays, forming one of the most promising wild-living pairs in the reintroduction area. Encina and Sansón even managed to hatch a chick in 2019, but the youngling, unfortunately, died at a very early stage probably due to inexperience of the young new pair.
Surprisingly, Sansón disappeared in Autumn 2019. The project team extensively searched to find the male vulture but with no luck, and were worried that he died from unnatural causes. In the meantime, Encina re-paired with young Bigup, and everything seems to be okay so far.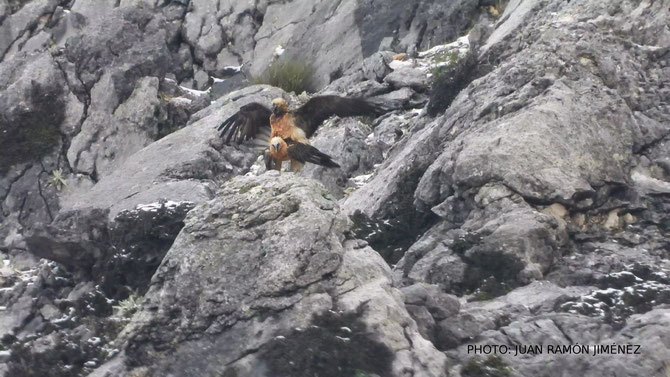 After Sansón was missing for a few months, he reappeared, and he was not alone! It appears that Sansón found a new match as he paired with the gorgeous female Viola, forming another promising pair. In the end, this breakup resulted in the creation of two different territorial pairs — let's hope they remain together and breed successfully soon.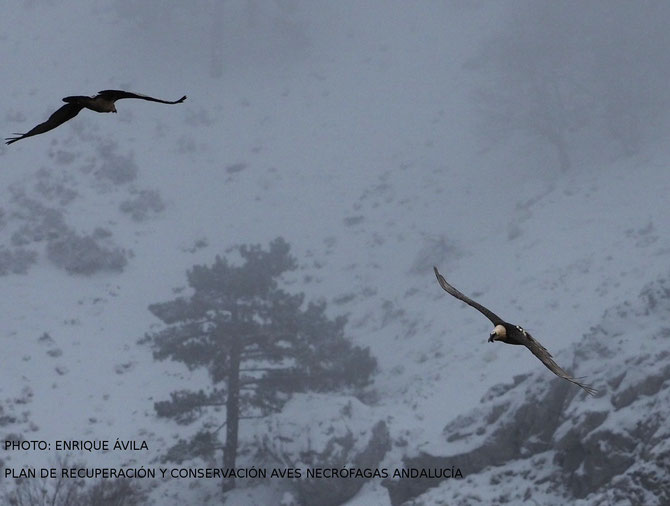 Andalusia welcomes the eight territorial pair in 2020
In August 2020, the Bearded Vulture Esperanza, meaning hope, returned to Andalusia. The female vulture left the region in February 2019, and her return brings new hope to the project as she is a significant bird that made history! Esperanza is the first Bearded Vulture that hatched in the wild following the extinction of the species 40 years ago that disappeared from the region mainly due to wildlife poisoning. The project team is not sure of Esperanza's whereabouts when she was gone, but suspects that she must have been wandering in the Pyrenees.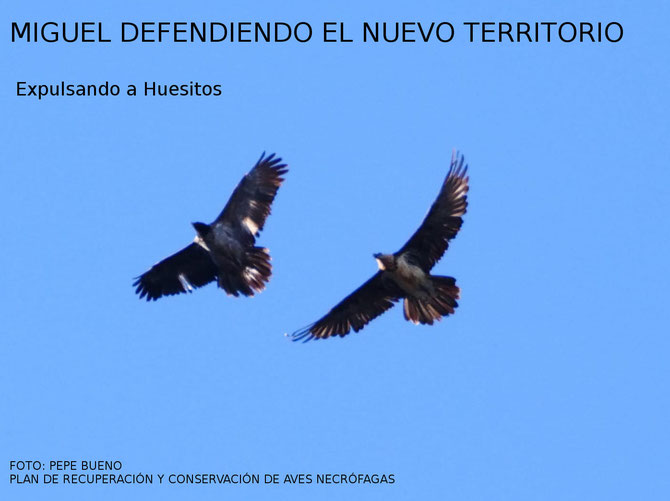 It looks like Esperanza has come to stay as she paired with Miguel, a Bearded Vulture that hatched in 2014. Miguel himself tried to 'flirt' with Encina as soon as she broke up with Sansón, but he was not successful as she ended up with Bigup. Now, Esperanza and Miguel have already settled down in their territory, becoming the eight pair of Andalusia.
We hope the new pairs will manage to become parents soon, with their chicks managing to take their first flights!
Bearded Vulture reintroduction in Andalusia
Bearded Vultures went extinct in Andalusia in 1986 mainly due to direct persecution, wildlife poisoning and human disturbance at the nesting sites. To bring them back, Junta de Andalucía, and us here at the Vulture Conservation Foundation (VCF) started a reintroduction project in 1996, and the former Fundación Gypaetus was also created to manage the project. Since the first releases in 2006 and with the release of eight individuals this year, 71 Bearded Vultures have been released in Andalusia this year in the provinces of Jaén and Granada. Thanks to tackling threats and releasing birds, the population of the species is gradually increasing. There are currently three Bearded Vulture pairs and 43 confirmed individuals in Andalusia.
Sign up to our newsletter and never miss any vulture news!