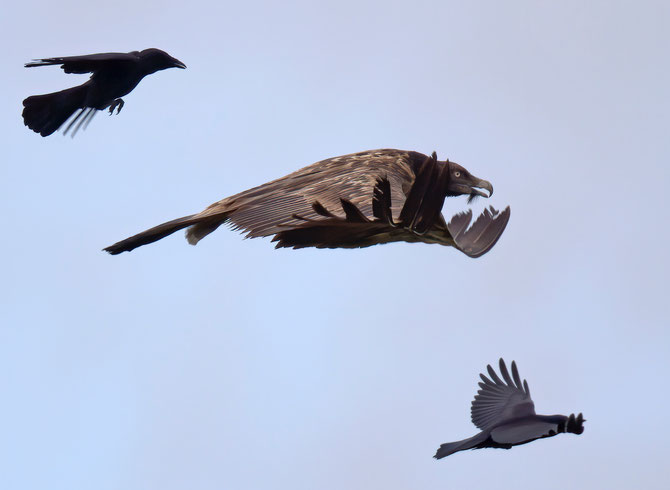 Were you one of the lucky ones who observed Bearded Vulture "Vigo" in the UK? This vulture captured the imagination of thousands of nature lovers and became quite a celebrity, making national news.
The attention that just one bird received is truly incredible, with many birdwatchers and nature enthusiasts travelling long distances for a chance to spot this species, which was only seen once before in the UK in living memory.
Participate in a short survey about "Vigo"
Now, we here at the Vulture Conservation Foundation (VCF) are carrying out a short survey to help us to understand better how many people attempted to observe the Bearded Vulture in the UK, what were there motivations to try to see the vulture and their perceptions before and after. We would greatly appreciate it if you could take a few minutes to complete this survey — thank you for your help!
If you attempted, either successfully or unsuccessfully, to see the Bearded Vulture that was present in the UK from June to October 2020, please participate in this short survey!
For more information about the research or your role in the study, please contact our research team at science@4vultures.org.
Brief background on Bearded Vulture "Vigo"
A Bearded Vulture was sighted in England in mid-June and had been touring the country up until October. Thanks to genetic analysis through feathers, the Vulture Conservation Foundation (VCF) announced that the Bearded Vulture originates from the French Alps, and is a female bird that hatched in the wild last year (2019). The visit of the Bearded Vulture to the UK was only possible because of a reintroduction project that started over 30 years ago and has resulted in population growth and expansion across the Alps.
"The VCF and partners have been releasing captive-bred Bearded Vultures in the Alps since 1986, to bring back the species to the region after it was hunted and poisoned to extinction," states José Tavares, Director of the VCF. "Today there are 60+ breeding pairs, in what is considered one of the greatest wildlife comeback stories of our times."
About the Vulture Conservation Foundation
The Vulture Conservation Foundation (VCF) is an international NGO committed to the conservation of European vultures. The VCF has extensive experience in captive breeding, reintroduction and restocking of vultures, and protection and conservation of vultures in their natural habitats, and is involved in many large-scale vulture conservation projects across Europe, from Portugal & Spain to the Alps, and throughout the Balkans to Greece and Cyprus.
To stay tunes with our work and Europe's vultures, you can sign up to our newsletter.