The results from the first photographic census reveal that the Cinereous Vulture population in Mallorca tripled over the last decade. 
Results of the 2021 Cinereous Vulture census in Mallorca
A Cinereous Vulture census every ten years is one of the actions planned in the Terrasse Plan for the recovery, conservation and monitoring of diurnal birds of prey in the Balearic Islands. During the latest census, a total of 68 volunteers covered 15 observation points in the Serra de Tramuntana, mainly in the central-northern area, for two days in October 2021. The results estimate the population at 332 specimens, while in the previous census in 2008, 123 birds were counted.
"The latest count ratifies the upward trend in the recovery of the species, the result of the recovery work through reinforcement measures and the fight against poison, but we have to continue working to ensure that this species recovers throughout Mallorca", stated Miquel Mir, the Balearic Councillor for the Environment and Territory, who recalled that the species is currently classified as Vulnerable.
The species protection service, the Institut Balear de la Natura (IBANAT), the hunting service of the Consell de Mallorca, as well as volunteers from SEO-Virot, Grupo de Observadores de Rapinyaires de Albercutx (GORA), GOB-Mallorca, Fundación Vida Silvestre de la Mediterránea (FVSM) and Asociación de Fotografía de Natura de las Islas Baleares (AFONIB) have participated in the count.
Cinereous Vulture population and conservation in Mallorca through the years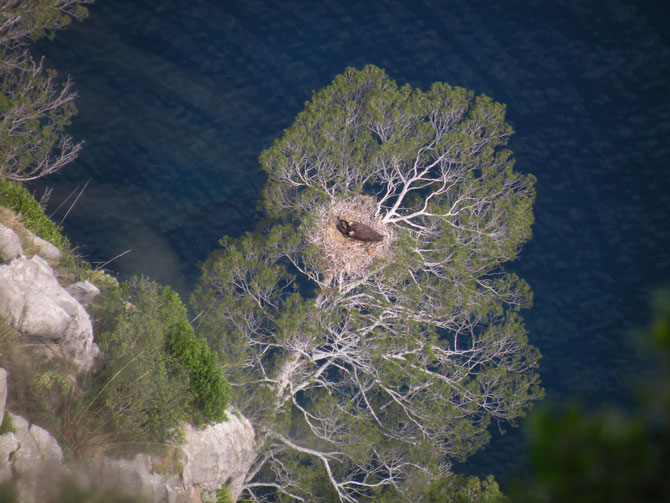 The Cinereous Vulture population in Mallorca has been monitored continuously since 1973. Since the 1980s, when the Cinereous Vulture population was at its worst with around 20 birds remaining, the species has experienced slow but regular growth. From 2010 onwards, the rate of growth has increased.
Several factors contributed to this increase, namely reinforcement of the population, the control of the use of poisons, the provision of food for the vultures, the establishment of good practices in the local livestock farms, and the protection of nests to avoid disturbance.
These excellent results attest to the efforts of FVSM and the Unidad de Flora y Fauna of the regional government of the Balearic Islands, which have invested a considerable amount of resources in the conservation of this species.
Griffon Vultures also started to breed in Mallorca after a group of birds arrived from the mainland during a storm. Currently, researchers from CSIC are investigating if there is any competition or impact of this recent colonization on the Cinereous Vulture population, with support from the Vulture Conservation Foundation (VCF).
Source: SEO