Spain is home to the largest and most diverse vulture populations in Europe, and it is fitting that the European Vulture Conference 2023 will take place in Cáceres, Extremadura, one of the best regions in Spain to observe vultures. This conference will provide a platform for scientists, conservationists, and vulture enthusiasts from around the world to share their research and experiences in vulture conservation.
Are you interested in presenting your work at the European Vulture Conference 2023? Submit your abstract before the deadline on 15 June!  
Vulture populations in Spain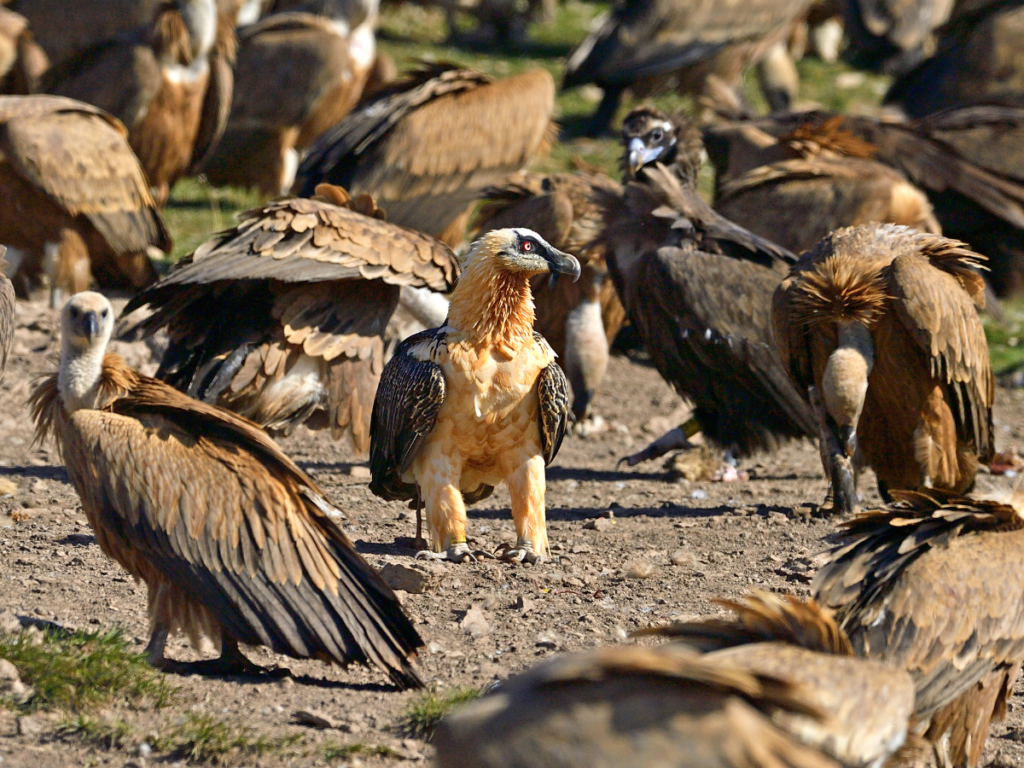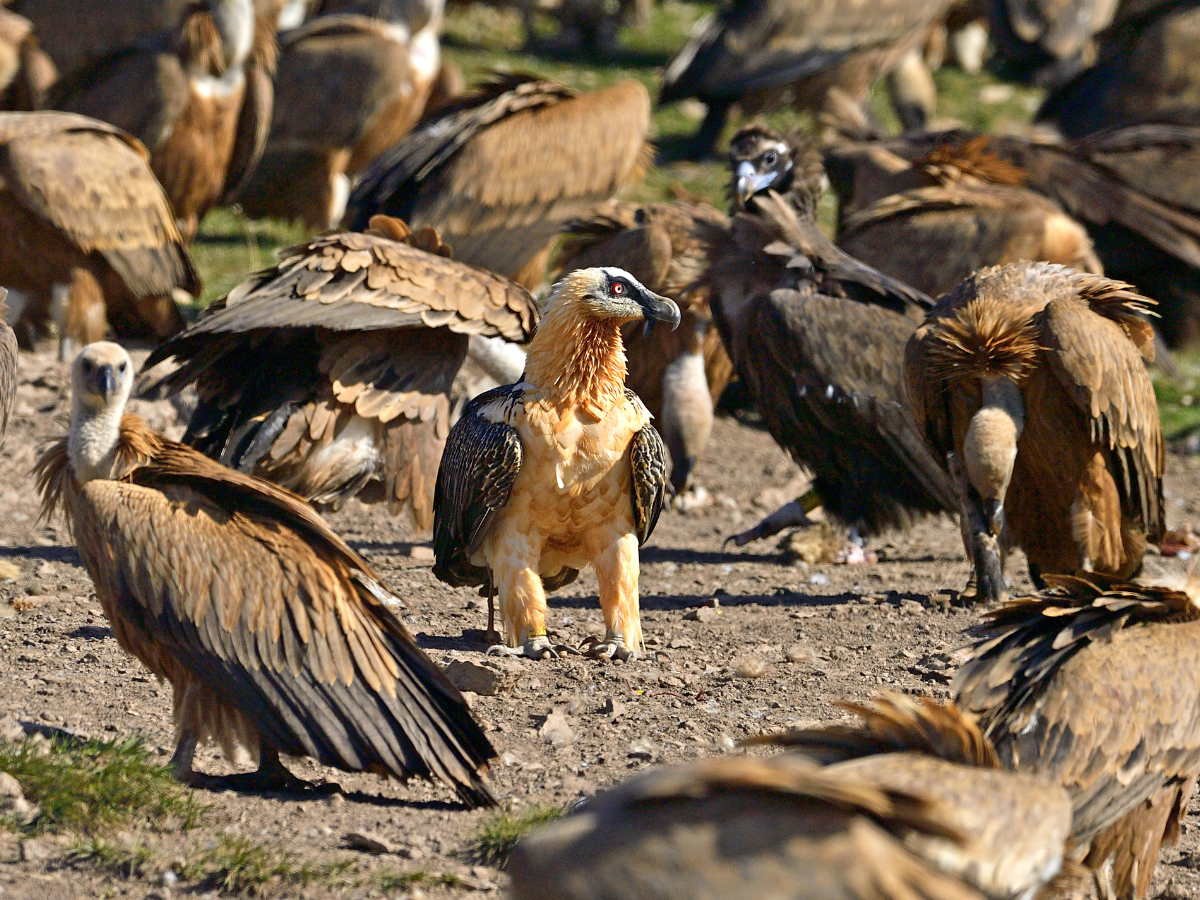 Spain is a crucial hub for vulture conservation in Europe. According to the Vulture Conservation Foundation's 2022 report on vulture population estimates in Europe, Spain's vulture populations are doing well overall.
Bearded Vulture
The Bearded Vulture population in Spain appears to be stable or slightly increasing in the Pyrenees, and new breeding territories have been recorded in areas where the species was recently reintroduced. For instance, five new pairs were recorded in Andalusia, two in Asturias, and one in La Rioja, all within the old distribution range. Currently, there are an estimated 163 Bearded Vulture breeding pairs in Spain.
Cinereous Vulture
Yearly monitoring of local populations has shown that the Spanish breeding population of Cinereous Vultures has continued to grow in several areas since the last census conducted in 2017. The current estimate is around 2,544 breeding Cinereous Vulture pairs in Spain, indicating a moderate increase over the previous years.
Egyptian Vulture
Spain has Europe's largest Egyptian Vulture population, with an estimated 1,400-1,600 breeding pairs. Although the population shows a slight increase at the national scale, there are significant variations between Spanish Autonomous communities.
Griffon Vulture
The Griffon Vulture population trend in Spain is clearly positive, with a 17.6-26% increase over the decade 2008-2018. However, the growth rate seems to be declining since the beginning of the national censuses in the 1980s, suggesting that the Spanish population of Griffon Vultures could be reaching carrying capacity and will stabilise over the coming years. With an estimated 30,100-36,500 individuals, Spain is home to the largest European population of Griffon Vultures.
Extremadura: a haven for birds and important for vulture conservation
The European Vulture Conference 2023 will be held in Cáceres, Extremadura, a popular destination for bird enthusiasts due to its diverse and abundant bird species, including difficult-to-find species not found elsewhere in Europe. Extremadura is renowned for its large number of birds of prey, such as the endemic Spanish Imperial Eagle and Short-toed Eagle, as well as large populations of Griffon Vultures and the less common Egyptian Vulture. Additionally, Extremadura is home to two of Europe's largest breeding colonies of Cinereous Vultures, with a positive population trend. In fact, in 2020, there was a remarkable increase in the number of breeding pairs since 2016. Sierra de San Pedro recorded a 51% increase with 461 breeding pairs, while the Monfragüe National Park recorded a 24% increase with 376 pairs.
During the conference, field trips will be offered, with the support of Birding in Extremadura, to explore the region's diverse wildlife, with opportunities to observe vultures in Monfragüe, one of Europe's best vulture observation sites. The conference is also held within the framework of the LIFE Aegypius Return project, which aims to consolidate the Cinereous Vulture population in Portugal and Western Spain. A key conference supporter, the Junta de Extremadura will share best-practice experiences with Portuguese LIFE Aegypius Return partners on various matters, including improving food availability. The project's goal is to expand the Cinereous Vulture population westward from high-density areas like Monfragüe National Park to SPAs like Canchos de Ramiro y Ladronera, which will benefit both the source population in Spain and the population in the project's target areas in Portugal by reducing negative density-dependent effects on breeding parameters.
Spain is key in supporting vulture conservation projects across Europe
Spain's commitment to nature conservation has led to flourishing vulture populations in recent years. Regional governments and organisations have been particularly supportive of vulture conservation initiatives in Europe and beyond. For example, the Junta de Andalucía has been sharing its expertise in fighting wildlife crime by transferring skills with the Wildlife Crime Academy. Both the Junta de Andalucia and Junta de Extremadura have also generously donated young Griffon Vultures and Cinereous Vultures from the wild to support reintroduction and restocking projects in France, Bulgaria, Sardinia and Cyprus.
Spain has a variety of conservation and research initiatives for vulture species across different regions – from reintroduction programmes with captive-bred birds to efforts combating wildlife crime, intense monitoring actions analysing bird behaviour and movements and cutting-edge vulture research being developed in universities across the country. Experts from various backgrounds will attend the European Vulture Conference 2023 to share their experiences and insights. The conference will allow Spanish conservationists and researchers to meet and discuss with their European counterparts, advance vulture conservation efforts and foster new collaborations. This event is also an excellent platform for early-career researchers and conservationists to network and learn from established professionals in the field. Students are encouraged to participate and can benefit from the discounted registration prices.
Submit your Abstract before the deadline on 15 June 
The VCF invites all vulture conservationists and researchers to submit their abstracts for the upcoming conference. We welcome a broad range of topics related to vulture biology, ecology and conservation worldwide. Additionally, contributions associated with the practical aspects of vulture conservation and management, such as field methods for population monitoring and the evaluation of reintroduction programmes, are also encouraged.
We urge interested participants to submit their abstracts as soon as possible, as the deadline for submissions is fast approaching. The deadline for abstract submissions is on 15 June 2023. Don't miss the opportunity to present your work at the conference. Submit your abstract now! 
The European Vulture Conference 2023
The European Vulture Conference 2023 is returning and will be held in Cáceres, Spain, from 14 to 17 November 2023. This event is the ultimate gathering for vulture conservationists, researchers and enthusiasts alike. It presents an unparalleled opportunity to collaborate with peers, hear from renowned experts and gain valuable insights into the latest advancements in vulture conservation and research across Europe and beyond.
The conference's extensive and diverse programme features regular presentations, speed talks, and posters, providing a platform for presenting a wide range of works. Several workshops will offer focused discussions on specific research and conservation topics with relevant experts to advance vulture research and conservation efforts to the next level. Aside from the scientific programme, attendees can also enjoy cultural visits, a conference dinner, and field trips to explore the vulture-rich region of Extremadura.
Take advantage of the early-bird registration period before they expire on 31 July 2023 to secure discounted prices.
Keep yourself informed with the latest conference updates, and join the conversation by following us on Facebook, Instagram, LinkedIn and Twitter using the hashtag #Vultures2023.
The European Vulture Conference 2023 is organised by the Vulture Conservation Foundation within the framework of LIFE Aegypius Return, co-funded by the European Union's LIFE Programme. It is also receiving significant support from the Junta de Extremadura, Diputación de Cáceres and Birding in Extremadura.