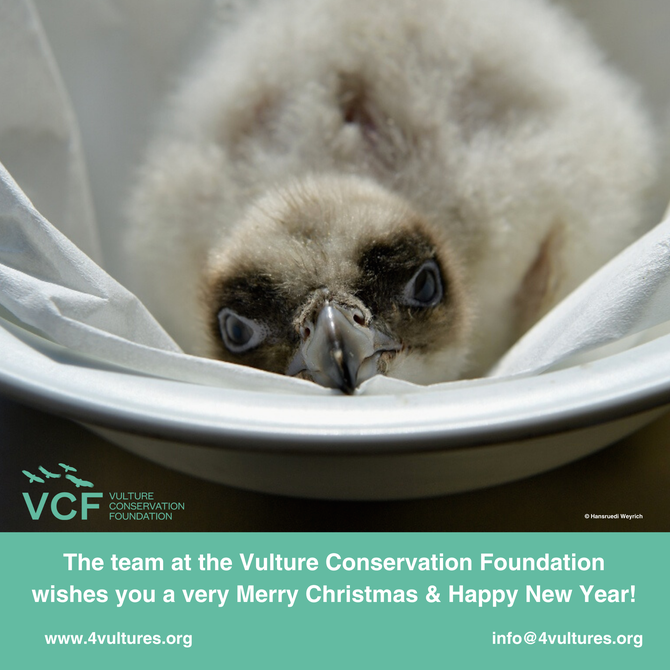 The team at the Vulture Conservation Foundation wishes you a very Merry Christmas & Happy New Year!
Despite the general COVID19-induced lockdowns, our work never stopped, and there is at least something to celebrate in this atypical and negative year:
21 captive-bred Bearded Vultures were released across Europe: 8 in Andalusia, 5 in the Grands Causses, 2 in Vercors, 2 in Baronnies, 2 in Maestrazgo and 2 in Switzerland.
2 wild Bearded Vulture breeding pairs in Andalusia produced 1 fledgling. The population shows a positive trend.
The wild Bearded Vulture population in the Alps continues to grow: 58 territorial pairs successfully fledged 36 young birds.
7 wild Cinereous Vultures from Spanish (Extremadura) rehabilitation centres were released in Bulgaria with Vultures back to LIFE, the ongoing reintroduction project there, while 15 more birds were transported to the acclimatization aviary
Cinereous Vulture population in Portugal now up to 35 pairs, with the newest colony in the Douro fledging two young
In Sardinia, the Griffon Vulture population has increased from 130 to 250 individuals in the last 4 years, in part due to the LIFE Under Griffon Wings, while a pair of Egyptian Vultures bred on the island for the second time, in an extraordinary colonization
Our LIFE RE-Vultures has also certainly contributed to the 22% growth of the population of Griffon Vultures in Bulgaria
Start of the BalkanDetox LIFE project that will follow up on previous work to consolidate the fight against poisoning of wildlife and protect vultures in Albania, Bosnia and Herzegovina, Bulgaria, Croatia, Greece, the Republic of North Macedonia and Serbia.
Our study on Griffon Vulture contribution to ecosystem services in Cyprus estimated that emissions and transport costs could be reduced by up to 61% if vultures consumed livestock carcasses instead of the current system of removal by vehicle and subsequent processing. More than €640,000 could also be generated by vulture-based tourism.
Over 200,000 people read news about vultures and our conservation work on our website and millions on social media
We have learnt, perhaps the hard way, a few things with the current pandemic, notably that we are all interconnected and interdependent among humans and between species. So the Griffon Vulture circling the sky above the Spanish dehesa this afternoon, or the Bearded Vulture foraging above a snowfield in the Alps does matter to you and me.
So, if you want to help vultures, here are three things you could do this holiday season:
Sign up to our newsletter to stay updated, and for offering to help vultures when such need arises
Please donate to the VCF and help us continue our work protecting vultures
Spread the word on social media and pledge to discuss vultures and their importance to three other people this holiday season
Thank you for your support — we hope you are safe and healthy, and have a very happy new year!