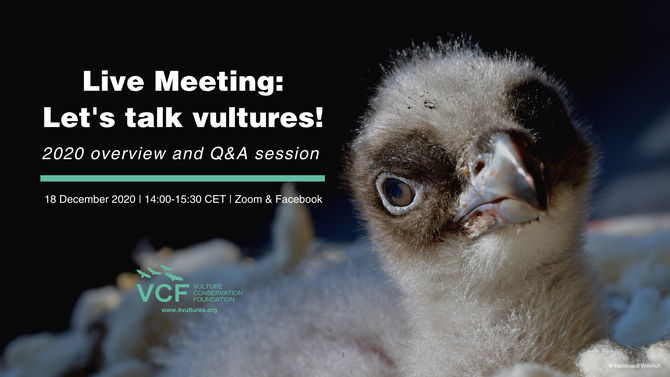 Date: Friday, 18 December 2020
Time: 14:00 – 15:30 CET
Venue: Zoom & Facebook
2020 has been a challenging year for all of us, but it's not all bad. Although we did face some setbacks due to the pandemic, the Vulture Conservation Foundation together with our partners across Europe and beyond did achieve a lot for vultures in 2020 nonetheless! Join us in our upcoming Live Meeting next week to celebrate vultures and hear some conservation optimism stories.
About the Meeting
Participate in the upcoming Live Meeting for the chance to learn about the vulture conservation work carried out by the VCF this year and to answer any questions you might have about our work and vultures.
First, José Tavares, the VCF's Director, will carry out a presentation discussing the 2020 work and achievements of the VCF, which will last around 20 minutes. Following the brief presentation, the participants will have the floor to ask the staff of the VCF any questions they might have, whether these are about vultures, our work or anything related.
How to participate
The Meeting is free and open to all. It will be available on Zoom and Facebook.
To join the Meeting on Zoom, participants need to register here: https://bit.ly/2KdPDJJ
To watch the Livestream of the Meeting on Facebook, participants can do so on the VCF's Facebook page on the day.
We are thrilled to host this Meeting and connect with anyone interested in vultures, whether they work in vulture conservation, are vulture fans or are just curious about these birds!