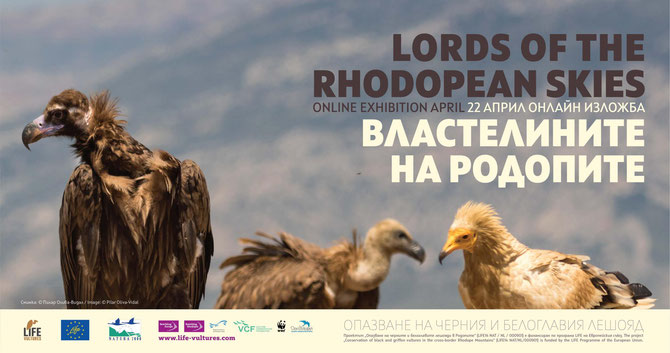 'Lords of the Rhodopean Skies' features 12 images depicting some of the most astonishing natural sights of the Rhodope Mountains rewilding area, with a special focus on the Cinereous, Egyptian and Griffon Vultures. Тhe virtual exhibition, organised within the LIFE Re-Vultures project, will be available online for two weeks on the Artsteps platform.
Lords of the Rhodopean Skies
Through the 'Lords of the Rhodopean Skies' exhibition, which will be available online for two weeks, the 'visitors' will be able to appreciate and learn more about the beautiful landscapes and wonderful flora and fauna of this rewilding area. The nature of this area, which is some of the richest and best preserved in Europe, includes more than 4300 animal and plant species. The most valuable natural hotspots of the Rhodope Mountains are protected by nine Natura 2000 sites. The region is home to Bulgaria's largest breeding colony for the Griffon Vulture and is the most important breeding area for the globally Endangered Egyptian Vulture in the Balkans. The region is also one of the most important Bulgarian strongholds for the wolf and jackal, while even the brown bear has begun to stage a comeback here in recent years.
Impactful wildlife and wild nature photography is always a powerful communications tool. The aim of the 'Lords of the Rhodopean Skies' exhibition is to present the great beauty and drama of the Rhodopes to an extensive audience, reconnecting people (even those living in urban areas) with Bulgarian nature.
Visit the exhibition and learn about the natural sights of the Rhodope Mountain from the comfort of your homes.
For more information and updates, follow the Facebook Event Page of the exhibition.
LIFE Re-Vultures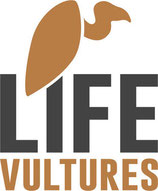 Starting in 2016, the five-year LIFE RE-Vultures project was developed by Rewilding Europe, in collaboration with the Rewilding Rhodopes Foundation the Bulgarian Society for the Protection of Birds, WWF Greece, the Hellenic Ornithological Society and us here at the Vulture Conservation Foundation. The aim of the project is to support the recovery and further expansion of the populations of Cinereous and Griffon Vultures in the cross-border region of the Rhodope Mountain by improving natural prey availability, monitoring movements of birds to help understand the threats they face and carrying out activities that will reduce the mortality of the populations from threats such as illegal wildlife poisoning and collisions with electricity infrastructure.