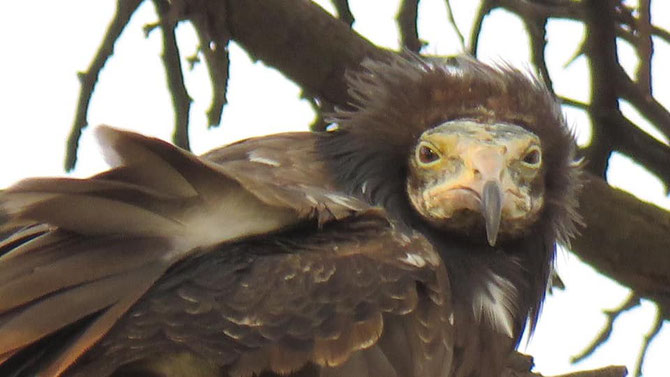 A juvenile Egyptian Vulture was spotted in South Africa in an area never recorded before, the Highveld of Mpumalanga. The species is considered extinct in the country although there have been some sightings in recent years.
Observing the juvenile Egyptian Vulture
The juvenile Egyptian Vulture was spotted in Highveld of Mpumalanga for the first time ever. Dick Jacobs has first spotted the vulture on 10 April and has been sharing its daily updates ever since. The vulture was also seen snacking away at Bankenveld Nature Reserve on some leftover intestines. Many birdwatchers are now impatiently hoping for the lockdown period to stop and meet this rare bird up close, but for the time being, please stay home and keep safe. As with a number of other juvenile/immature birds that have been recorded in southern Africa in recent years, it is suspected that this individual might also be a reverse migrant that moved south instead of back to Eurasia with the onset of the northward migration of this species.
Egyptian Vultures in South Africa
Records of the Egyptian Vulture in South Africa date back as far as 1680, but these globally endangered birds are now considered extinct in the country. However, the species has been sighted in recent years, including at Kruger National Park. Since 1945, there have been fewer than 50 confirmed sightings of the species. The species was present and known to be breeding in southern Africa until about 70 years ago, but is now considered to be regionally extinct with the closest breeding pairs known from east Africa.
Vultures in South Africa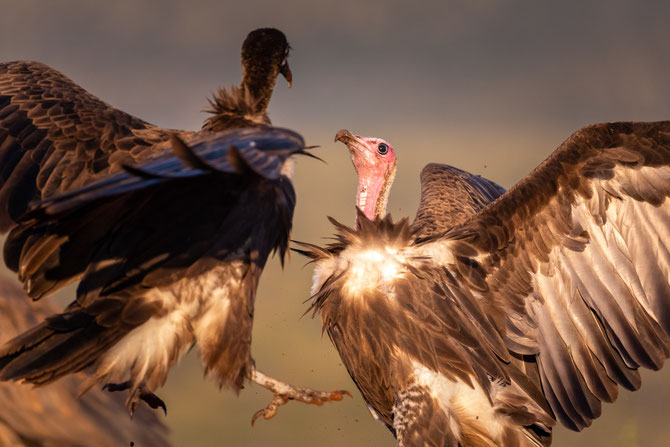 Nine species of vulture have been recorded in South Africa. In addition to the now regionally extinct Egyptian Vulture, the country also boasts the near-endemic Cape Vulture with the bulk of the global breeding population that occurs here. There is also a geographically isolated population of Bearded Vultures that frequent the mountainous regions of the Ukuhlamba-Drakensberg range in Lesotho and South Africa. Currently numbering less than 250 individuals, this species is listed as regionally Critically Endangered. Then we have four tree-nesting vultures that are mostly associated with savanna and other woodland habitats, mostly in the north of the country, namely the globally Critically Endangered African White-backed-, White-headed- and Hooded Vulture as well as the globally Endangered Lappet-faced Vulture. Palm-nut Vultures, although more common and widespread further north in Africa, is largely restricted to a narrow coastal distribution along the KwaZulu-Natal coast. Finally, there have been a number of records of Rüppell's Vulture that have been seen roosting and feeding with Cape Vultures. An individual bird, suspected of having paired up and breeding with a Cape Vulture, is known from the Blouberg colony near Vivo in Limpopo.
Sign up to our newsletter and never miss any vultures news!