Unsettling news from Europe and the Middle East, with several shooting incidents involving Griffon Vultures recently recorded. At least one vulture was shot to death in Croatia, a Serbian Griffon Vulture was also shot in Syria, and two were fortunately rehabilitated and returned to nature after being shot in Spain and France. Despite the protection status of this species and the relevant legislation, illegal poaching still occurs in Europe. The lack of enforcement in most cases continues to allow such harmful wildlife crimes to go down unpunished, threatening vultures and many other birds of prey.
Poaching cases with Balkan Griffon Vultures
A Griffon Vulture (Gyps fulvus) was killed in Croatia, two months after being rehabilitated and released into the wild. The vulture was rescued after falling from the nest into the sea and was rehabilitated at the Beli Visitor Centre and Rescue Centre for Griffon Vultures, on the island of Cres. After the release, the Griffon Vulture flew to the Donji Vinjani region in Dalmatia, where it was unfortunately shot to death, as reported by our partners at BIOM.
Croatia hosts some of the few Griffon Vulture populations that breed in sea cliffs (instead of mountains), with established breeding colonies across the Kvarner islands (Cres, Krk, Plavnik and Prvić). Often, though, young vultures fall from their nest into the water and need to be rescued. The team at Beli Rescue Center rescues and rehabilitates these young birds and several of them are equipped with GPS transmitters ahead of their release. Some of them were tagged within the BalkanDetox LIFE project to act as sentinels to identify and prevent poisoning incidents.  Despite the conservation efforts ongoing in the country, it is estimated that around 500,000 birds are killed by poaching annually in Croatia. As the only vulture species that still breeds in the country, the killing of this bird is a very sad happening and such mortality caused by poaching, poisoning or other human-induced threats can hinder the species' potential for expansion to new areas. Another Griffon Vulture from the Balkans was also illegally shot and was severely wounded, after travelling to another region. 
Griffon Vulture from Serbia shot in Syria
As it happens with other vulture species, young Griffon Vultures disperse from their territories and endure long-distance flights roaming for carcasses, often crossing borders between countries and continents. Some months ago, "Milan," a tagged Griffon Vulture originally from Serbia, was shot in southern Syria.
The young vulture fledged in the Radoinja colony (Uvac population), travelled 1,895 km from its breeding colony in Serbia and was shot near Al Suwayda in Syria. According to the news shared by our partners at DZPPS/ BirdLife Serbia, the vulture was in bad physical condition with severe injuries and a broken wing. After veterinary care, it was possible to stop the bleeding, and a recovery centre for birds of prey in Lebanon offered to take care of Milan's rehabilitation, but unfortunately, the bird died the day after and never made it to the recovery centre.
Poaching is not considered to be a highly severe threat to vultures in Europe as stated in the Multi-species Action Plan to Conserve African-Eurasian Vultures (Vulture MsAP), co-developed by the Vulture Conservation Foundation (VCF) and endorsed by the Convention on Migratory Species (CMS). However, it is still very relevant for countries in the Middle East and Central Asia.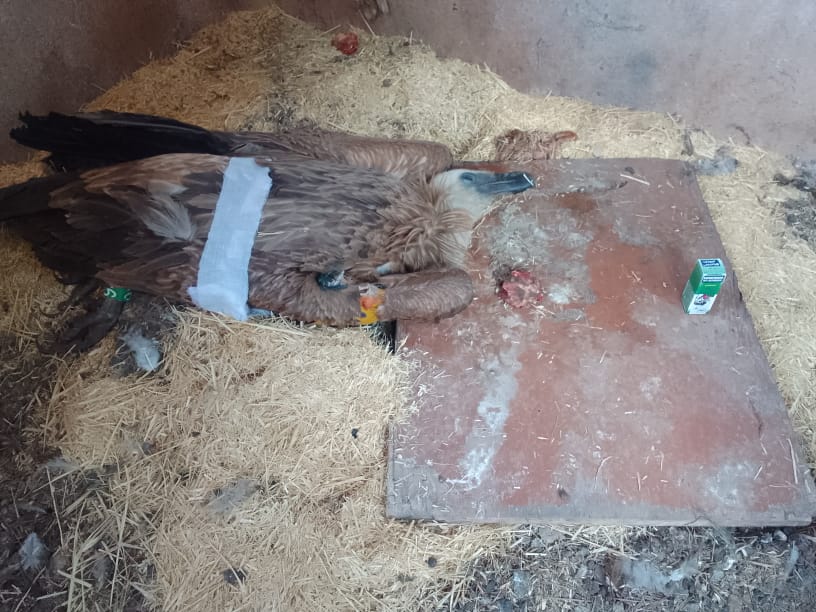 Griffon Vultures recovered from shots in Spain and France
In Spain, in July 2022, an injured Griffon Vulture was found in distress in the region of Madrid, with fractures on its right wing and many lead shot pellets riddled in its body. Despite the serious injuries, the team at GREFA's Wildlife Hospital was able to reverse its condition and restore its health. After months of rehabilitation and care, the Griffon Vulture was equipped with a GPS transmitter and returned to nature in Colmenar Viejo (Madrid) by the end of 2022.
A similar story happened in France back in September 2022, when an injured Griffon Vulture unable to lift its head was found at a river bank by a warden from the Mercantour National Park. The vulture received first aid at the Lingostière Veterinary Clinic in Nice, and the X-Ray revealed a bullet lodged in the back of its skull. The Griffon Vulture survived the sensitive bullet-removal operation and, after three months of rehabilitation, it was released with two other Griffon Vultures in the Gorges du Verdon, as reported by LPO/ BirdLife France. As in other European countries, the Griffon Vulture is a protected species in France, and despite the legal consequences of poaching, liable to 3 years of imprisonment and a fine of up to 150,000 euros, illegal kills still occur. In fact, since 2013, LPO has recorded more than 20 vultures shot in France, including the Bearded Vulture Dolomie, which we reintroduced.
Building capacity to fight wildlife crime: the Wildlife Crime Academy
Fighting wildlife crime is one of our focuses at the Vulture Conservation Foundation. It's urgent to prioritise and fight these crimes head-on by conducting proper investigations and achieving convictions to deter similar cases from occurring again since impunity is often an invitation for people to continue this unacceptable behaviour. 
Within the scope of the BalkanDetox LIFE project, the VCF, together with the Government of Andalusia (Junta de Andalucía) and the Spanish Ministry for the Ecological Transition and the Demographic Challenge (Ministerio para la Transición Ecológica y el Reto Demográfico), launched the Wildlife Crime Academy (WCA), as an opportunity to bridge the knowledge and provide necessary skills to relevant stakeholders to improve investigation and prosecution processes. Since the first training in Spain in 2021, more than 65 professionals from 13 countries have been trained in the forensic criminal investigation of wildlife crime, with participants coming from Europe (mainly from the Balkans and the Mediterranean), the Middle East and North Africa.