A troubling incident unfolded in Cocullo, in the Central Apennines, raising concerns over the suspected poisoning of three wolves and four Griffon Vultures. This event has shed light on the pervasive issue of illegal wildlife poisoning in this region and the urgent need to intensify efforts to combat vultures' most significant threat. 
A shocking discovery of dead wildlife
During routine monitoring conducted by Rewilding Apennines, Salviamo l'Orso, and dedicated volunteers, discovered two wolves and four Griffon Vultures, all dead, in the Cocullo area. Concerns arise that the actual number of casualties might be higher, as the close proximity of the carcasses within a 300-meter radius strongly suggests a poisoning incident.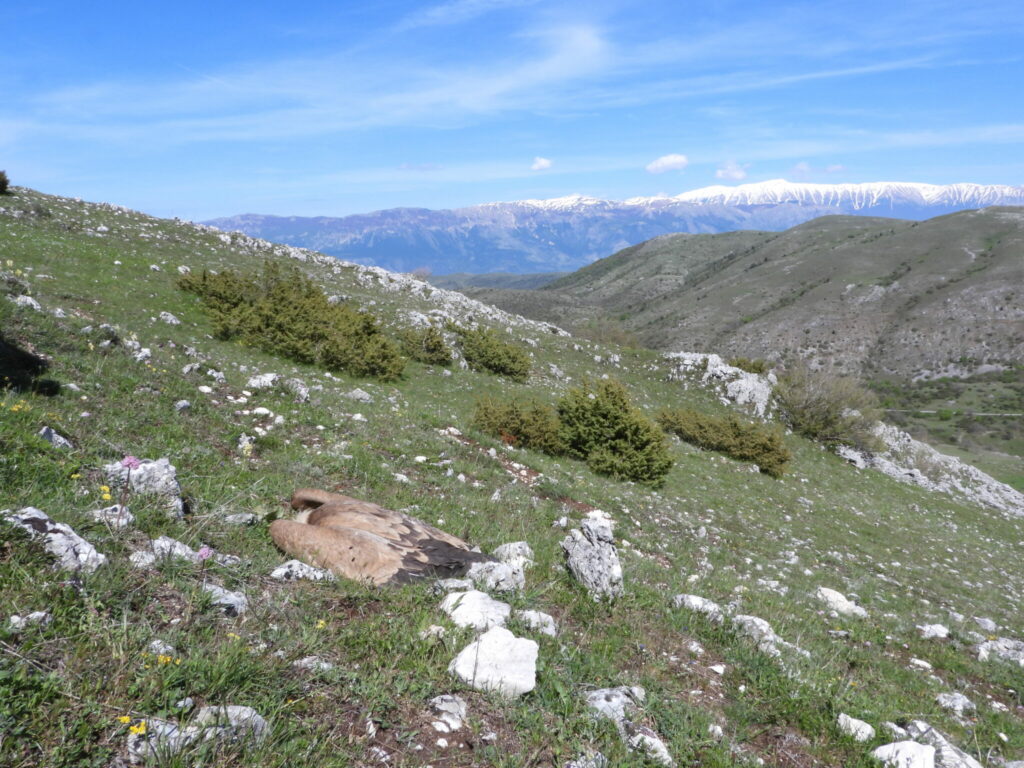 Suspicions point to a mass poisoning event
In the Central Apennines, poisoning cases often occur before the seasonal movement of livestock to higher-altitude pastures, known as 'monticazione.' Conflicts between truffle pickers and hunting activities have also been associated with poisoning incidents. These circumstances raise suspicions of criminal activities, highlighting the widespread use of poison in the region.
Response and investigation efforts
Upon receiving the report, the Forest Carabinieri of the Roccaraso Command Station and the veterinarian of Local Health Authority n. 1 L'Aquila-Sulmona-Avezzano promptly intervened at the site. They granted authorisation to remove the carcasses to prevent further harm to other animals. The deployment of the anti-poison dog units from the Abruzzo, Lazio, and Molise National Park helped ensure a thorough examination of the area and its safety. Regrettably, they discovered another wolf carcass during these operations. Zooprophylactic Institute of Abruzzo and Molise are conducting the necessary necropsy and toxicological analyses to confirm the cause of death.
Just two weeks ago, the Rewilding Apennines team, in partnership with the Forestry Carabinieri of Atina and the Local Health Authority of Frosinone – District of Sora recovered two Griffon Vultures near the carcass of a foal on which they had probably fed on. Also, two years ago, again in the spring, Rewilding Apennines reported another serious episode of poisoning in the area between Cocullo and Goriano Sicoli.
Griffon Vultures as sentinels and conservation protocols
The critical role of Griffon Vultures in detecting and exposing poisoning incidents cannot be overlooked. These scavenging animals serve as true sentinels. Through GPS transmitter monitoring of Griffon Vultures, potential poisoning incidents can be identified, triggering comprehensive protocols to prevent further wildlife deaths and restore affected areas. The BalkanDetox LIFE project also implements a similar initiative, where GPS transmitters monitor all Griffon Vulture colonies in the Balkans. This method has successfully prevented several potential mass mortality incidents in the region.
Improving coexistence and combating impunity
This tragic event serves as a powerful reminder of the urgent need to transform the relationship between humans and wildlife in the region, as highlighted by Mario Cipollone, Team leader of Rewilding Apennines. Shifting from a state of 'conflict' to coexistence is crucial to protecting the lives of vultures and other wildlife. It is imperative to eradicate the culture of poison that harms both the environment and local communities. Furthermore, combating impunity and ensuring punishment for wildlife crimes are essential deterrents for future incidents. Strict regulations, thorough investigations, and preventive measures are necessary to safeguard Griffon Vultures, a keystone species in the region, and other protected species like the endangeredMarsican bears, which are also susceptible to poisoning.
By fostering a culture of coexistence and eliminating the use of poison, humans and wildlife can thrive together, securing a sustainable future for generations to come. Achieving coexistence will bring numerous benefits, including ecological preservation, social cohesion, economic prosperity, and a brighter future for the Central Apennines.
Source: Rewilding Apennines