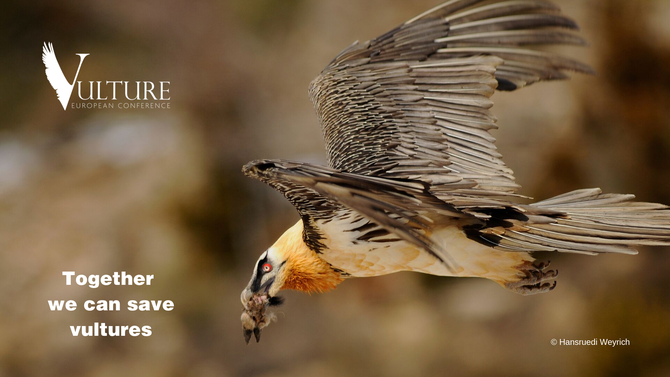 There is only one week to go until the European Vulture Conference! Between 1-4 October in the Algarve, leading professionals in the field of vulture conservation will come together to share the latest insights on vulture conservation and research. In addition to the extensive scientific programme, we are planning many other activities to celebrate vultures together! Have a look below on what to expect.
Scientific Programme
You can now review the final scientific programme of the European Vulture Conference. The programme features the latest insights on vulture conservation and research by world-leading experts, covering various topics on all four of Europe's vulture species.
Download the Scientific Programme
European Vulture Conference – Scientific
Adobe Acrobat Document 307.8 KB
Vultures through art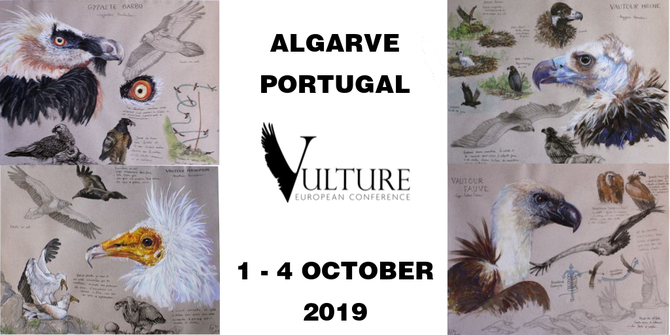 We want the conference to offer participants the latest scientific and technical information about vulture conservation, but we also want to celebrate these amazing birds through a number of different activities! So we developed the Artist Corner – a place for participants to share their love for these birds through various forms of art. 
Scribing – sketching conference talks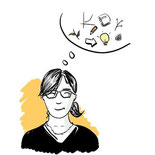 During the three days of the conference, we have invited a scribing artist to join us and capture some of the talks through sketches and drawing. This is an amazing way to summarize scientific and technical information visually. Get to know more about Cirenia's work here. 
4 Vultures Mural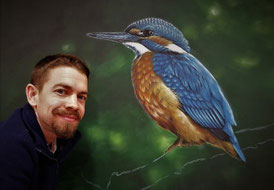 Rory McCann will be painting a live mural of the 4 European vulture species during the three days of the conference. You can learn more about Rory and his work through this video. At the end of the second day of the conference, Rory will give a talk on how you can engage people with wildlife and conservation through art and mural painting.
How to sketch a vulture session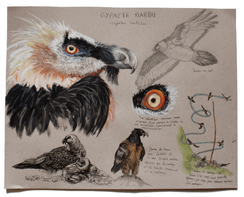 Have you ever been in the field, watching vultures and wanting to know how to sketch one on your field notebook? Claire will show you the way! Claire Lardanchet is joining us to present her amazing vulture drawings, and she has offered to teach participants how to sketch a vulture. 
Books and storytelling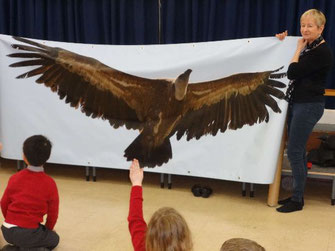 Judith Brulo started writing stories for her grandchildren and ended up writing children books, two of which feature Griffon Vultures as main characters. She has been communicating quite a lot about vulture conservation in her book presentations and school sessions and also using music. Judith will have a stand, where she will present her books, and at the end of the second day of the conference, Judith will be talking to you about how you can engage children with vultures and conservation through storytelling and music.
Silent auction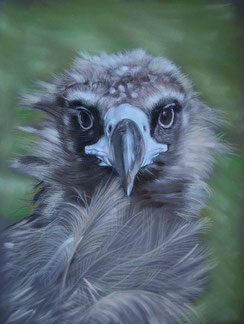 As part of the Artist Corner, we will carry out a silent auction to help raise funds for GPS tags. These will be used to equip Cinereous Vultures being reintroduced in Bulgaria.
The silent auction will have all things 'vulture'! We have a brilliant selection of items lined up, with artwork donated by artists across Europe, as well as the winning photographs of our '4 Vultures – Photography Contest'.
4 Vultures Photography Exhibition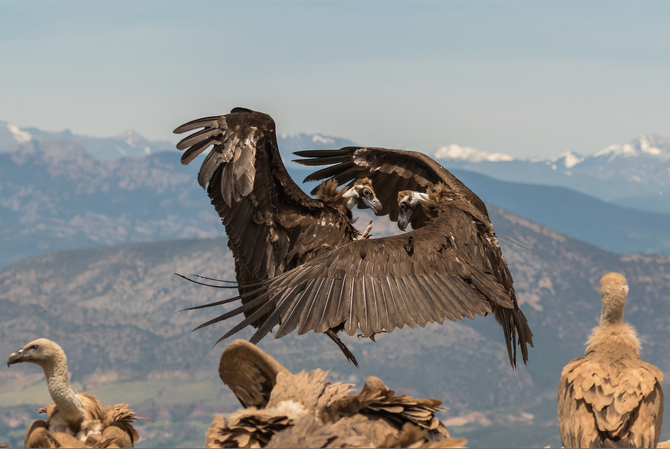 We can never get tired of looking at vulture photographs – can you? Last month we carried out the '4 Vultures – Photography Contest' and we had a fantastic response from the international community that loves vultures!
During the conference, there will be around 30 photographs exhibited, depicting the magnificence of Europe's vultures. The top photographs will be announced soon on our Facebook page – stay tuned.
Field Trips
The fourth day of the conference will be dedicated to field trips, where participants will get the opportunity to leave the conference centre and get out into the field to see vultures and other Portuguese wildlife.
We are preparing a list of very exciting field trips, for participants to be able to relax after the three days of the conference and to get to know some very interesting nature and birdwatching spots in Portugal.
Sagres and São Vicente capes: This visit to the southwesternmost point in Europe will allow for stunning views over the Atlantic Ocean. The area is a migration bottleneck, also for birds of prey, so a wide variety of migrants are likely to be seen.
Algarve wetlands: This excursion will explore several sites along the Algarve Wetlands (Ria Formosa, Castro Marim), where the usual range of Mediterranean wetland species will be seen.
Castro Verde Plains and Guadiana valley: The group will visit the steppes and extensive farming of the lower Alentejo, which provides habitat for the biggest populations of great and little bustard in Portugal, and a range of other steppe and farmland birds. The visit will also include the lower Guadiana valley, where a supplementary feeding site for Griffon Vultures will be visited.
Barrancos: The group will visit Herdade da Contenda, an estate with its typical montado habitat, where there is a breeding nucleus of Cinereous Vulture, a healthy population of red deer and other Mediterranean wildlife, and where a conservation project, focusing on this species, is taking place, including the successful establishment of nesting platforms for this species.
Registrations are now closed, but you might still be able to join us 

Almost 200 people have registered to attend the conference. Registrations are now closed, but we know there are still a few people interested in joining us. For registration requests please contact team LEWIS at 4vultures@teamlewis.com. Requests are subject to validation and will incur an extra cost (Admission+20 euros).
Stay up to date with the latest news and announcements of the conference by following our Facebook Event Page and #Vultures2019 on Twitter, Facebook and LinkedIn.