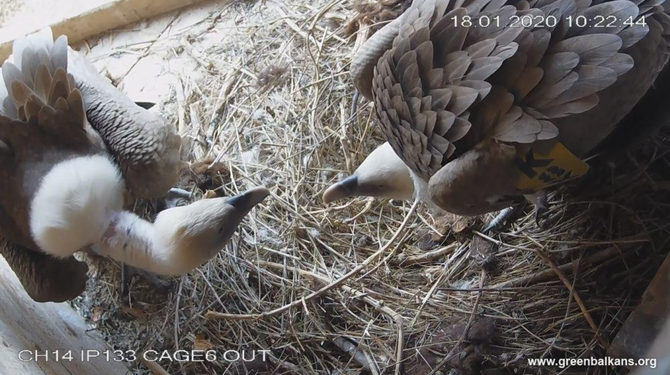 The Griffon Vultures at the Green Balkans' Wildlife Rehabilitation and Breeding Centre were given a chance to lay a second egg, after the first one, for which it is not certain yet if it is fertile or not, was moved to the incubator.
The large vultures breeding program, including the Griffon Vultures and Cinereous Vultures, in the Center is supported by the Vultures Back to LIFE project.
The first clutch of the pair for 2020
Only ten days after the first egg was pulled out of the nest, the birds are already making attempts to nest again. Nest building has started, and copulations occur often.
The team at the Centre decided to remove the first egg from the nest, as it was laid earlier than expected and copulations have not been observed. This methodology has already been proven successful with the first and only Griffon Vulture ever hatched in the Center – Parvolet.
The pair's history
They are quite a new pair – this is their second breeding season together.
The male named Belcho (which means Whity) has been with another partner for a few years, and they became the parents of the only Griffon Vulture that ever hatched in the Center named Parvolet that hatched in 2014. But following that, their breeding attempts were unsuccessful, so the Centre decided to shift the birds and find Belcho a new partner, Nadezhda, which means Hope.
The male came from Sofia zoo and the female from the adaptation aviary in Rakitna village, maintained by the Fund for Wild Flora and Fauna.
Last year they exhibited courtship behaviour, copulated and laid an egg, which turned out to be infertile. This season the pair laid one egg at the end of December, but it is not sure it is fertile or not, as it was laid quite early, so they took it and put it in the incubator. Thus, the Centre gave the pair a chance to lay a second egg, and they are currently working on it. They started building nest and are copulating regularly.
Let's hope their egg will hatch this year!
Source: Green Balkans
Vultures Back To LIFE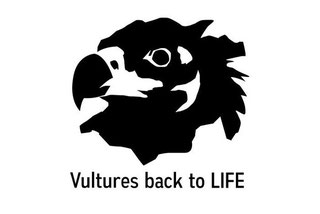 Led by the wildlife conservation charity Green Balkans, with activities also implemented by the Fund for Wild Flora and Fauna, and bringing together partners from Bulgaria, Spain and Germany, Vultures Back to LIFE aims to reintroduce the cinereous or Eurasian black vulture to Bulgaria. The team will transfer and release around 60 birds, some from captive-breeding, but mostly coming from wildlife rehabilitation centers in Extremadura (Spain) into the wild in Bulgaria as well as creating supplementary feeding stations and improving populations of wild herbivores, improving the nesting conditions and creating artificial nest sites and tackling some of the major threats to vultures in the country such as insulating electricity pylons and illegal use of poison in the nature.