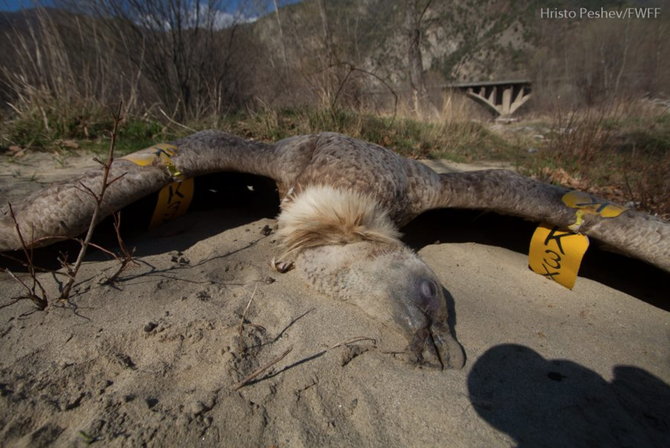 The Bulgarian Council of Ministers might approve amendments in the Hunting and Game Protection Law (HGPL) to legalize the use of poison baits and other non-selective hunting methods in Bulgaria. However, if these amendments are approved, they will pose a significant threat to Bulgaria's nature. Furthermore, this proposal conflicts with several national and international legislation and officially adopted action plans in favour of nature conservation.
On Monday, 10 October, the Vulture Conservation Foundation (VCF) submitted a position statement and contribution to the public consultation regarding the proposed amendments in the HGPL. For several ethical, legal and financial reasons explained in the position statement (found below), the VCF urges the government of Bulgaria to withdraw this proposal.
Overview of VCF's Position Statement
The VCF prepared a statement opposing the proposed amendments in the HGPL to legalize non-selective hunting methods in Bulgaria.
The proposed amendments in the HGPL would legalize the use of poisons, narcotics and explosives, traps, snares and other illegal methods and means of hunting in nature, which would pose a significant threat to biodiversity and the environment in Bulgaria and possibly the wider Balkan region.
These dangerous amendments pose a direct threat to vulnerable species such as vultures that are protected under international, European and national legislation, including international conventions, directives, regulations, laws and bylaws. Wildlife poisoning is vultures' biggest threat and is still preventing the comeback of the species in the Balkans.
Furthermore, it is imperative to mention that the European Commission has invested millions through the LIFE Programme over the last 20 years to support vulture conservation in Bulgaria alone. Most of these vulture conservation projects have implemented actions to tackle various threats, none more important than illegal poisoning.
If these amendments are endorsed, they will push back the progress made over the years to minimize threats like wildlife poisoning, with the likelihood of causing catastrophic effects on vulture populations in Bulgaria.
Please download and review the document below to read the entire position letter of the VCF.
Download the VCF's position letter
VCF Position letter.pdf
Adobe Acrobat Document 206.0 KB