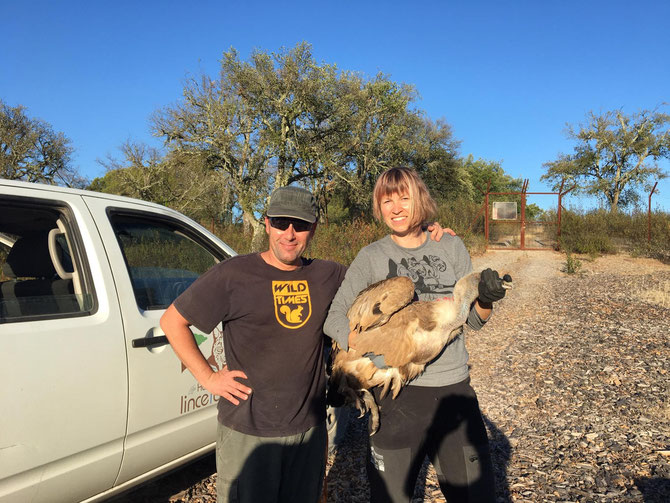 Vulture conservationists always come to the rescue of vultures when in need, and this time was no exception. During a field trip of the European Vulture Conference, our colleagues from Liga para a Protecção da Natureza (LPN) and the Green Balkans dropped everything to rescue an injured Griffon Vulture. What happened?
Detecting the injured vulture
During the field visit, the adult Griffon Vulture was inside the Contenda feeding station, and immediately, the vulture experts visiting noticed that it was somehow injured, apparently limping. LPN's veterinarian had supplied the feeding station early that morning, but the vulture was not there, so it must have landed inside the feeding station to feed before the group arrived.
Recovering the vulture
After the end of the visit, LPN together with colleagues from the Green Balkans who volunteered to help quickly returned to the feeding station to try capturing the bird. Since the vulture was weak and injured in the legs and could not take off and fly away, they quickly captured it. After confirming that it was severely wounded, they decided to take it to theRIAS Wildlife Rescue Centre in the Algarve, to try and save it. Our colleagues drove three hours to the centre and arrived there around dinner time.
Examining the vulture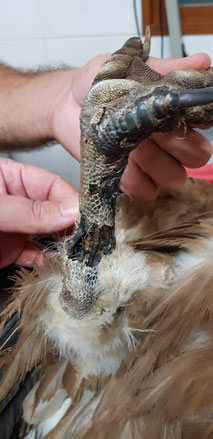 Unfortunately, when they arrived, and the bird was examined, it was confirmed that it was probably electrocuted a few days prior. The electricity had apparently entered by one leg and exited by the other, leaving one leg in complete necrosis and the other leg also without chance of recovery. Both legs would have had to be inevitably amputated (besides other possible internal injuries) and therefore it was decided that it was best to euthanise the Griffon Vulture. This was done that same night. Before euthanising the bird, blood samples were taken for toxicology analysis, and afterwards, it will also be autopsied.
Although they could not save this Griffon Vulture, at least they provided it with the best possible care and stopped its agony. Sadly, this incident highlighted the many threats that vultures still face, namely the risk of electrocution and collision in powerlines, which was also one of the overarching themes during the conference.
We want to thank our colleagues at the LPN, Green Balkans and RIAS for swiftly responding to this incident and for their hard work and excellent collaboration to save this vulture. Even though this vulture could not be saved, this is a great example showing the dedication of vulture conservationists working together for a common purpose – to save vultures.